Weekend Forecast for November 18-20, 2016
By Reagen Sulewski
November 18, 2016
BoxOfficeProphets.com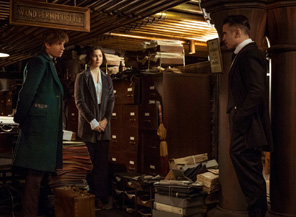 ---
For most of the year, reboots and way-too-late sequels have met with just modest success, if not outright hostility. In most cases, this is because the films have been obvious retreads with no new ideas, and which tread no new ground. The return of one of the more beloved franchises of the new century may break with that pattern by actually having something new to say.

While J.K. Rowling has said she's largely done with Harry Potter proper (and yet – Cursed Child. You in or out, Joan?), the world she's created is clearly still calling to her. So this weekend, we get new material in on the big screen for the first time in five years, with Fantastic Beasts and Where to Find Them, a spin-off based on a zoological textbook of magic creatures in that world. Set in New York in the 1920s, it follows Newt Scamander, renowned magical naturalist (and Hufflepuff!) to America as he loses track of some of his creatures in the midst of anti-magical fervor.

Less obsessed with the deep plot strands developed in the Harry Potter books and films, this is more of a stand-alone adventure film that examines what an American society of wizardry might look like, and how it would fare in society at large. Without the boarding school tradition, it's much less cloistered from the world at large and has to interact with the puzzled American reaction to magic and oddball behavior, but also its more troubled history with witchcraft, with a faction in the film openly calling for persecution.

Eddie Redmayne stars as the lead character, with supporting turns from Katherine Waterston, Colin Farrell, Samantha Morton and Dan Fogler. There are as many as five films already planned for this sub-franchise, which seems ambitious notion, as the Harry Potter films came with a plot arc that people were already hooked into, and we only need look at the Hunger Games series to see how interest can drop off if the conclusion isn't satisfying in a multi-part odyssey (to say nothing of Divergent).

It would be quite the upset for these films to have the same esteem as the Harry Potter films even with Rowling writing the screenplay and David Yates, of the latter, more adult Potter films directing. Its reviews are strong, but not, you know, Harry Potter strong, and while this series has always trended cross-generational, I think the mistake of this one is that it's actually *too* adult focused and may leave the younger audiences behind (although maybe they never really got into it in the first place, so...). Opening super-wide, this should find a solid tentpole-sized audience, but if Warner Bros. is looking for a new mega-franchise, they'll have to let it build. I'd expect to see an opening weekend of about $87 million.

A real rare beast, an actual teen drama, hits theaters this weekend in The Edge of Seventeen, starring Hailee Steinfeld, who's had some difficulty following up her success in True Grit. In the film, she plays an acceptably misfit and outcast high schooler with the typical complicated high school life until her best friend starts dating her brother. Drama!

That's a plot that could go a lot of different ways with wildly varying degrees of quality, but reviews highlight this one as an uncommonly smart script and better than average acting (which, duh, since Steinfeld was a worthy Oscar nominee). Updating John Hughes-style for the social media generation, it feels like a movie that's filled with genuine hilarity and pathos and has received ecstatic reviews to date.

Too bad that there's just barely any audience for teen dramedys these days. The gold standard of recent years, Easy A, managed just $58 million domestic, while last year's surprise breakout The DUFF earned just $34 million. It's just not a genre that breaks out of its very narrow demographics and reviews can only help it so much. Legs are possible, but we're looking at a modest performer at best. With under 2,000 venues this weekend, it should open to about $9 million.

Billy Lynn's Long Halftime Walk is a bit of a experimental movie, and one with a confusing audience. Ang Lee's latest, it's the first major release to be filmed in 120 frames per second, an ultra-high frame rate that allows for unearthly quality. That it's in service of a very personal story with few stars about a soldier returning home from the Iraq War makes it a really odd standout.

Joe Alwyn, in his big screen debut, plays the title role, of a soldier made famous from a photograph after a battle. Receiving the Silver Star for bravery, he's invited back to his home town of Dallas while on leave and asked to be heralded at a pro football game. While home, doubts start to creep in in his mind about his role in the war and whether it was justified in general. Set in 2004, this is about the time when the realities of it started to hit home, and that it had been a bad and costly idea in general. Cutting between this and the realities of what happened in Iraq, it's a film that appears on the surface to be sold as one about service – and it is, after a fashion. This might cause a fair bit of backlash once seen, but it's more likely that it won't, without a big name cast.

Which is not to say there aren't other names in this, they're just in small or odd roles. Vin Diesel, Kristen Stewart, Steve Martin and Garrett Hedlund are some of the other recognizable actors here (and won't this be a trivia question someday), but the film isn't really being sold on any of them and being more famous for the filming technique is not a great sign. In just 1,100 or so venues, it should open to a modest $6 million.

Lastly in new films, we have Bleed For This, a boxing film about the life of Vinny Pazienza. Miles Teller stars as the subject, a whirling dervish of a boxer who won two title fights, nearly became paralyzed in a car accident, then worked his way back into the ring.

So what makes a guy love boxing so much that he's willing to risk permanent disability to keep doing it (though, it's not much of a stretch considering boxing in the first place)? The film digs into the psychology of this, but also just has Teller punching a bunch of people in what is claimed is some of the better boxing scenes in recent memory (but, Creed, so...). Teller, despite appearing in a couple of big films, has not proven to be a box office draw (and is kind of poison, to be honest), and the film is opening in only about 1,500 venues, so it's going to be quite a minor factor this weekend, with just $4 million.

Doctor Strange will yield its top spot at the box office after two weeks and over $160 million. Marvel is simply unstoppable at this point. For its third weekend, look for $25 million.

Trolls, meanwhile, had genuine legs thanks to Veteran's Day and is inching up to $100 million. The sole family film lately, with an argument to be made of sorts for Fantastic Beasts this weekend, it probably won't see as strong a weekend as last, dropping to about $22 million.

With $24 million, Arrival managed about as good as an alien invasion film about linguistics can do, and managed to have some mixed word-of-mouth. While those who loved it *loved* it, was not a universal opinion, with others finding it a bit heady and impenetrable. I'd expect about $14 million this weekend.

Following along is Almost Christmas, which had a modest start at $15 million for its Perry-lite holiday tale, and which should drop to about $8 million this weekend, while Mel Gibson's war movie Hacksaw Ridge drops to $7 million.