Weekend Forecast for November 11-13, 2016
By Reagen Sulewski
November 11, 2016
BoxOfficeProphets.com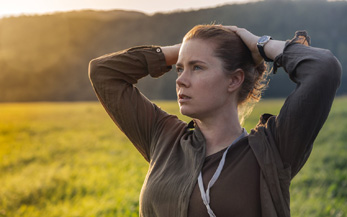 ---
While not headed for quite as lucrative a weekend as last, this slate of new films includes one of the most acclaimed films of the year, making this a very anticipated weekend in some corners.

An alien invasion story of a sorts, Arrival stars Amy Adams as a linguist pulled into action to help translate an alien language after several spaceships touch down at various points around the Earth. Called in to find a way to communicate with aliens with an inscrutable language and unclear intent, it's a race to find meaning before the world's militaries get jumpy and spark an interstellar war that, you know, probably ends in our doom.

So it's heady stuff, hard sci-fi and all that, and doesn't portend much in the way of action. And yet, it's a film that harkens back to the days when thoughtful tentpole pictures existed, like Contact, and to a lesser extent, Deep Impact (a flawed film, but one with its head in the right place). This does not always make for the largest box office (though, if you'll remember, Deep Impact actually opened larger than its noisier cousin Armageddon thanks to a quirk of the calendar) because it's not the antithesis of success by any means, and a slick ad campaign and frankly rapturous reviews that promise something akin to enlightenment, though they may want to watch out for overselling it, just a little.

Directed by Dennis Villeneuve, who has worked his way up through the ranks to become something of a buzzy director (both Prisoners and Sicario have been well regarded among his English language films), and also starring Jeremy Renner and Forest Whitaker, it's short on start power, but long on concept, which likely works out to a medium level hit. The wild card here is the reviews, which when they are so slanted in one direction like this, can make people curious over and above the natural audience. A strangely small venue count of just 2,316 will keep the clamps on the opening weekend total, but it should still be a solid one of about $28 million.

As the holidays approach, holiday movies now arrive, starting with Almost Christmas. Starring Danny Glover, Mo'Nique, Omar Epps, Gabrielle Union, Kimberly Elyse and Romany Malco, it's a story about a strife-filled family coming together for their first Christmas after the death of their matriarch. The hope is that they can stand being together for five full days (hey, even a challenge for families of the non-strife-filled variety).

It's an attempt at heart-warming dramedy, but it really looks like a pile of holiday cliches tied up in a giant novelty bow and presented in the most obvious way possible – and in some ways like a slightly less cartoonish Christmas Vacation (and then in some ways maybe more). Director David Talbert has been responsible for such pabulum as First Sunday and Baggage Claim, but Almost Christmas may prove to be slightly more successful than those other two films thanks to the thematic resonance. With that in mind, even poor reviews shouldn't matter and it likely earns about $19 million this weekend.

Lastly, we have the horror film Shut In, starring Naomi Watts. As a widowed child psychologist with a catatonic son (following a car accident), she takes a troubled child (Jacob Tremblay of Room) to her secluded wintry cabin in the woods... where after exhibiting some curious behavior, he promptly disappears into a snow storm and is presumed dead. Then, suddenly, odd things start to happen. Are they simply manifestations of her guilt, or were those strange behaviors a sign of something more sinister?

Basically it's a classic "spooky child" movie crossed with the "scary house" movie and relies a ton on jump cuts and juuuuust out of field of vision scares – looking a bit like a cousin to the recent Ouija sequel. Watts of course has history in this field of horror with the Ring films, but is much less of a name these days. Shut In appears to be a fairly paint-by-numbers affair, which should land with a bit of a thud at $6 million this weekend.

Absent a fairly stunning collapse or a big breakout, Doctor Strange should get a second weekend at the top of the box office following its strong $85 million opening. While Strange is a fairly popular title within the comics world, it's not one of Marvel's better known characters and just goes to further prove that they can do just about anything they want (Squirrel Girl! Squirrel Girl! Squirrel Girl!) in the movie and TV realm these days. Word-of-mouth is solid but not outstanding, but drop-offs for every superhero movie are high these days, so look for about $47 million this weekend.

Trolls outpaced its expectations as well, with a little over $46 million in its debut. The musical animated film based on the Lucky Troll doll fad should see a decent hold this weekend like most family films do, and hit $29 million this frame.

Hacksaw Ridge opened to $15 million, showing that people are part of the way there to accepting Mel Gibson as an artist – or maybe they are if they just don't actually see him on screen during it. The war movie about a conscientious objector who won the Congressional Medal of Honor, this is an opening weekend that may put it in the discussion for Oscars, but some legs would probably be necessary to show some larger appeal, given its creator. I don't think that arises, and it should drop to $9 million in its second weekend.