Weekend Forecast for November 4-6, 2016
By Reagen Sulewski
November 4, 2016
BoxOfficeProphets.com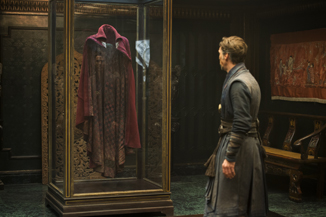 ---
And so finally, after all that slog through October, our rewards begin to appear. I'm not saying it's universal, but hey – watchable, commercially successful films, they're a thing again!

While Captain America 3 started off Phase 3 of the Marvel Cinematic Universe, it's this weekend's Doctor Strange that really sends the MCU in a new direction, changing the battlefield from one of physics to one of metaphysics. Basically, this is where things start to get weird.

Benedict Cumberbatch (swallowing his accent) stars in the title role as Stephen Strange, a talented but reckless neurosurgeon who, after an accident that leaves him unable to perform surgery, embarks on a spiritual journey. He is inducted into a society of mystics who protect reality from attacks of the magical variety. After squeegeeing his third eye clean, he takes on the role of Sorcerer Supreme to fight a former master of the mystic arts bent on unwinding reality as we know it. Basically, it's Batman Begins With Magic.

Borrowing a ton visually from the world-bending effects of Inception, it's a more cerebral take on superhero battles than past Marvel films, but a bit of a risk with the lesser name recognition for the character. Also, there's the jump that's being asked of the audience, to go from explosions to ...whatever they have in store for us. And I'm being vague because the ads have been very light on revealing just what this is about other than the broad strokes.

That's what happens when a company's on the roll of a lifetime, like Marvel Studios is, with a mostly unbroken (*makes handwavy motion towards Ant-Man*) streak of financial and critical success. And they have stomped out a large amount of turf for themselves on various platforms. Their diversity has allowed them to branch out into less likely projects (Jessica Jones, anyone?) and means they have an eager army of supporters willing to go with them on excursions like this.

Directed by Scott Derrickson, known heretofore mostly from horror films, it's an ambitious looking film with a cast full of quirky actors – in addition to Cumberbatch, there's Tilda Swinton, Chiwetel Ejiofor and Mads Mikkelsson, along with Rachel McAdams as a love interest for ol' Bumblybits Cummerbund. What's doing the work in the ads is the spectacular looking visuals, the Matrix-like sense of mystery, and Marvel's built up reservoir of good will (not to mention a surprising dash of humor). Reviews are inordinately strong for Doctor Strange, putting it on par with the best of the MCU, and this should point towards a strong weekend of $85 million.

Family audiences have searched for a popular option for some time, with nothing particularly big since July's The Secret Life of Pets. So here comes Trolls, which may or may not fit that bill for you. While for the most part, celebrity casts aren't that important in these films, it may matter somewhat in this case, as it's Justin Timberlake and Anna Kendrick in the lead roles. They each have a tiny musical following that you might be aware of – Timberlake because duh, and Kendrick from the Pitch Perfect movies. They star as two trolls that march off to rescue a group of other trolls that have been captured in order to steal their magic or some such.

Based, kinda, on the classic troll dolls and brought to life by the Shrek team, it's a syrupy sweet, brightly colored fantasy film that pitches young despite its top shelf cast (which also includes Zooey Deschanel, Gwen Stefani, James Corden, Russell Brand, John Cleese and Jeffrey Tambor). The animation actually looks slightly repellent to these eyes, but I suppose it's the cute kind of ugly, so fine. Building a storyline around a group of decades-old toys is a not-bad idea for a kid's film, and this basically hits that baseline level of trying that a production needs to qualify as a tentpole. But it's the marketing push and DreamWorks' track record that will drive this to a solid $35 million this weekend.

Lastly, we have November's first Oscar relevant film in Hacksaw Ridge, a film about the United States' first conscientious objector to win the Medal of Honor. Desmond Doss saved the lives of 75 wounded men by evacuating them from the line of fire. Following him from his early, traumatic life, through to boot camp and his struggle to be recognized, then to his heroism in battle, it's a little-known tale of patriotism and war, filled with beautifully and terrifyingly shot battle scenes, which would ordinarily put it well up in front of the Oscar discussion.

And yet. Directed by Mel Gibson, previously an Oscar winner for Braveheart ('oh, right', you're saying), it's got... some baggage to carry, though the fact that Gibson has been offered such a mainstream film to direct does show that there's been some level of reconciliation between him and Hollywood proper, or at least part of it. This seems to be the main test of whether Gibson's name has been rehabilitated or whether he's still poison, even when not on screen (it seems a sort of fitting question this election year). That may seem unfair to the film, but reality is what it is.

Andrew Garfield plays Doss in full hayseed mode, with Teresa Palmer, Vince Vaughn, Sam Worthington, Hugo Weaving and Rachel Griffiths adding to the cast. Reviews are strong, but the ads are less than compelling, and Garfield's acting seems more than a bit corny (really his only mode). The film's most obvious connection is Unbroken, the Angelina Jolie directed film about an Olympian captured by the Japanese in WWII, but Hacksaw Ridge has too many hurdles to overcome to reach that film's $30 million opening (which did, of course, include holiday box office). I'd expect this to have a decent $17 million start.

Tyler Perry will yield the top spot after two weeks with A Madea Halloween, taking advantage of the Halloween weekend to have a solid dropoff and break $50 million domestic. That ends now as the normal Tyler Perry activity kicks in, and Halloween moves into the rear view mirror. It should drop to about $7 million.

The latest Madea outing won last weekend thanks to the severe under-performance of Inferno, the latest Robert Langdon film. Opening to just $15 million, this represents more than an 80% drop in opening weekends from The Da Vinci Code, and surely kills this franchise dead, even with the more modest budget this series was hoping to go forward with. I expect things to get worse from here, and just $5 million for this weekend seems likely. Hopefully, Ron Howard and Tom Hanks can avoid further career damage from this.