November 2016 Box Office Forecast
By Michael Lynderey
November 3, 2016
BoxOfficeProphets.com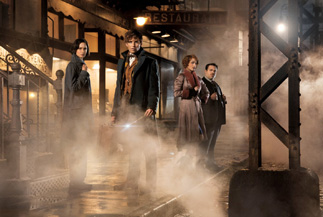 ---
As was also true last year, 2016's November is highlighted by two live-action blockbusters (both fantasies this time) and two big CGI films, along with a stacked deck of Oscar contenders that add up to hours of searing dramatic viewing. 2016 already has a record of eight $300 million+ films. This month may add as many as three more. And we're not even done yet.

1. Fantastic Beasts and Where to Find Them (November 18th)
"Oh, don't worry, we're only going to make five Fantastic Beasts films."
-J. K. Rowling, before making a hasty exit into the nearest side door

Long ago, in the Oscar season of 2014, Benedict Cumberbatch and Eddie Redmayne played two very different British scientists, cryptanalyst Alan Turing and theoretical physicist Stephen Hawking. They played them so well, in fact, that they formed each other's competition for the Best Actor prize, a battle that was ultimately won by Redmayne. Two years later, they're back, each headlining a different fantasy epic, one of which will end up dominating the month of November, if only slightly more so than its rival (and as for their casting, don't ever say an Oscar nomination is worth nothing). The former masters of science are now masters of magic, and I assume Redmayne again has the edge.

That's because Fantastic Beasts and Where to Find Them's intriguing and memorable title is really just a signpost for what is a Harry Potter prequel film, the first in what we now in fact know will be a planned five such titles, sure to dominate unsuspecting Novembers for roughly the next decade to come. This story is set in the Harry Potter world decades before those books and films, with the location switched here to New York City.

The new franchise's existence is part of the now obvious mantra that movie series never have to end, not really, not if you don't want them to. The Friday the 13th films, which used to get flack for producing sequels almost annually in the 1980s, now look positively vindicated; and at least those movies were short (highway billboards with Jason Voorhees' face on them, reading "Miss me yet?" will be going up on the weekend of Star Wars 8's release in December). The Rowling book of the same title, on which this spin-off is based, is 128 pages long, light reading for a spare hour or two, and now slated to be transformed into at least five very long film adaptations. This brings us full circle, because the Harry Potter films were one of the pioneers of the recent trend of splitting up book adaptations into two or three films (for the latest updates on how well this is going, check with Divergent's Shailene Woodley at the maximum security incarceratory facility where she is presumably currently being held).

Stepping aside from passive aggressive pleasantries for a second, I must say at least a token something about the film's box office future, which seems more than reasonably promising. The American setting is certainly a rather brilliant coup, and the film takes some satiric potshots at American history ("We need a second Salem" and all). Redmayne is joined by an array of rising stars (Katherine Waterston, Ezra Miller) and luminaries like Colin Farrell and Ron Perlman, the latter unrecognizable as a goblinish troll. Cumberbatch's Doctor Strange will do well, I'm sure, but this is the more known property, and one could scarcely doubt that its many fans will be in repeated attendance.

Opening weekend: $123 million / Total gross: $350 million

2. Doctor Strange (November 4th)
The Marvel Cinematic Universe returns with Doctor Strange. Stephen Strange, who is indeed a doctor, of nose and throat and the mystic arts, began his august career as the star of a comic book series in the 1960s, entered television in a 1970s film, and was ubiquitous on the great Marvel cartoons of the 1990s. He has been tantalizingly teased by name-drop in one or two Marvel comics films, exciting those who cared to be excited, if I could use the standard lawyerly language I usually use to mask my contempt. Other than Thor (which is really kind of science fiction), this is the only Marvel film to delve blatantly into the supernatural, a realm that will have to co-exist with the nuts and bolts science (okay, "science") of the other characters once Doctor Strange inevitably joins the Avengers.

As usual with Marvel movies, we don't get the same kind of awe-inspiring pre-release mystery we get with, say, a Madea film, because Marvel movies are always screened weeks in advance (sometimes with good reason; the film has already opened in several dozen countries). And yes, reviews, yet again, are uniformly positive, with Rotten Tomatoes scoring a 90% ("one of the best origin stories ever," "his British accent is almost totally undetectable," "will not cure your insomnia," and all the rest). In fact, 14 films in, not one Marvel Cinematic Universe film has ever received a Rotten rating on Rotten Tomatoes, a fact you can make of what you will ("such perfection is creepy" is my take); reviews for next year's big Marvel film are therefore predictable ("he finally gets Spider-Man just right," "his British accent is almost totally undetectable," and so on).

The mass audience may not know Doctor Strange, but that was true for Iron Man and Guardians of the Galaxy, and look how those turned out (really well). There was some whitewashing controversy about the casting of the good doctor's mentor, originally a Tibetan mystic (Tilda Swinton turned out not to be Asian). None of that will dent the film's prospects, which will match those other first-time Marvel openings, I think, or at the very least exceed them.

Opening weekend: $100 million / Total gross: $300 million

3. Moana (November 23rd)
This new Disney animation (sans Pixar) stars Dwayne Johnson as a Polynesian deity lost to time, and newcomer Auli'i Cravalho as his young ward, joining him on adventures through what looks like a meticulously drawn Pacific setting of land and sea. The film's directed by old school hands Ron Clements and John Musker, who previously helmed The Little Mermaid, Aladdin, and The Princess and the Frog, and here make what looks like a seamless transition to CGI for the first time (say, while we're on topic, did we really have to completely give up on the traditional animation format? That seemed a bit rash). For some odd reason or the other, the film reminds me of a mix of Lilo & Stitch and Frozen, combining the Polynesian locations of the former with the surprisingly lucrative late November release of the latter.

The film is also not only a musical, but one with songs co-written by Broadway stalwart Lin-Manuel Miranda, which means that anyone, myself included, who is distracted by the month's live action fantasies is underestimating this film's potential. Even with snow outside, I think this sunny film can play well all through the holidays, especially with the lack of upcoming competition for its target audience. As everyone always says in an unfortunate yet inevitable outburst of punning, The Rock is on a roll.

Opening weekend: $62 million (five-day) / Total gross: $300 million

4. Trolls (November 4th)

Not the South Park kind, I'm afraid, but just the old-fashioned, adorable 1960s dolls turned into a big-budget, mainstream entertainment (although South Park is correct: Troll dolls do, indeed, come from Denmark). Trolls is the kind of animated film that has been opening the post-Halloween holiday season since, well, 2004, when The Incredibles forever staked out this weekend for the CGI animation genre (we've had a CGI release open November just about every year since). The film's theme song, Can't Stop the Feeling!, which is admittedly well-written and performed, has played incessantly on the radio since roughly six months ago, to the point that I and many others have probably developed a severe dislike for its existence.

Still, as the Smurfs and Chipmunks showed, classic children's characters are big box office draws, and the voice cast is carried by Justin Timberlake, in his first big film role since 2013, and by Anna Kendrick, whose filmography, I noticed, consists of an inordinate amount of independent films (11 in just the last four years!). The reviews are positive, of course (it's the rare high-profile CGI movie that gets panned by critics), the title characters are well known and probably reasonably beloved by the moviegoing public, and Middle School: The Worst Years of My Life failed to break out last month, despite carrying the best twist ending of the year (really; watch the film). That means we've had a long period without a successful title for the pre-teen demographic. So Trolls will deliver, as it must, but I think some of its market will be taken away from it by CGI fellow traveller Moana and the two relatively live-action British wizards.

Opening weekend: $45 million / Total gross: $143 million

5. Arrival (November 11th)
It shares the title, almost, of the well-reviewed 1996 alien conspiracy thriller, and indeed this film depicts another extraterrestrial visitation, one billed more as a personal story and less focused on special effects and action scenes. That's not surprising coming from director Denis Villeneuve, whose Prisoners was one of the best films of 2013, and whose subsequent thriller Sicario totally baffled me two years later (how did Emily Blunt's character at all affect the plot?). Arrival holds reviews that can at this point fairly be described as Villeneuve-esque, with 100% on Rotten Tomatoes out of 53, though neither Armond White nor myself have yet weighed in. Arrival is supplied with star power courtesy of Amy Adams, who is working overtime this season, and Jeremy Renner, in another solid, serious role away from the Marvel Cinematic epoch. Even with all these credentials, I don't think Arrival will open all that well, but itself and all the other big dramas this month should play as solid counterprogramming to all the surefire genre blockbusters clogging up screens. Movies about alien invasions (or, in this case, visitations) have over-populated our moviegoing consciousness for roughly the last decade, but room must be made for one more.

Opening weekend: $13 million / Total gross: $62 million

6. Hacksaw Ridge (November 4th)
Mel Gibson rolls back into town, after his laundry list of verbal abuses over the years, and a recent cinematic history that some may have forgotten (his return to starring roles, Edge of Darkness, did fairly in 2010, while the following year's The Beaver remains a curiosity). The man's penchant for war films continues, this time with a difference: the story is about Desmond T. Doss, a World War II hero whose Seventh-Day Adventist faith forbade him from killing, a command he followed, turning his attentions on saving 75 of his fellow soldiers while under enemy fire at Okinawa. Other than stars Andrew Garfield and Vince Vaughn, Gibson has assembled a who's who of rising Australian actors, like Teresa Palmer, Luke Bracey, and, Sam Worthington, he of Avatar, Terminator 4, and the Titans films (whew!). Hacksaw Ridge is perhaps the month's non-genre release with the biggest potential, with reviews that peg it as well-directed and -acted. World War II films always do well.

Opening weekend: $13 million / Total gross: $55 million

7. Bad Santa 2 (November 23rd)
The month's second holiday-themed entertainment is this sequel, an entry far more attune to raunchy humor than the more pleasantly saccharine Almost Christmas. The plot seems to be much as before, though direction and writing are handled by a different team this time (Mark Waters is the director, and hey, he made Mean Girls). Billy Bob Thornton returns to star, of course, and Kathy Bates seems right as his mother, whom he decks across the face right as she comes back into his life. They are joined by some of the original film's most memorable supporting performers, including Tony Cox, who played Bad Santa's chief lieutenant, before breaking out into a string of funny roles in sub-par comedies, and Brett Kelly, whose Thurman Merman looks not to have changed much in 13 years (I will note out of general interest that the original film was John Ritter's last live-action role, released posthumously). The original Bad Santa was the last of a trio of 2003 holiday films (with Elf and Love Actually) that have since been enshrined as classics of the genre (and only Elf was not rated R, by the way). Bad Santa 1 has its fans, then, and if the quality holds up, Bad Santa 2 can play less like a sequel and more like the first film: a decent opening and respectable holds all the way to around the time when the real Santa hits town.

Opening weekend: $21 million (5-day) / Total gross: $53 million

8. The Edge of Seventeen (November 18th)
Hailee Steinfeld headlines this exceptionally well-received teen drama with a to-the point title and poster. Those reviews compare the film to both the by now obligatory list of teen classics (Sixteen Candles, Clueless, and so on) and serious adult dramedies like Terms of Endearment (whose director, James L. Brooks, co-produces here). Such reviews are obviously worthy of notice; it's good to see Steinfeld get what is likely her best role since her Academy Award nomination for True Grit; and Woody Harrelson has a well-received turn as her guidance counselor (the two have a memorable scene that takes up much of the trailer). But the film's biggest limitation may, frankly, be its genre: high school-set teen movies just don't seem to light up the box office like they used to, unless they aim for science fiction or the supernatural. We're a long ways removed from 1999, when it seemed like roughly every other film ended in a high school prom. Young actors these days are busy fighting their high school principles recast as dictators of futuristic dystopias, and wield more bows and arrows than they do pens and textbooks. Having said that, in a season where a film needs really strong critical acclamation to break out, no one can say The Edge of Seventeen doesn't come prepared.

Opening weekend: $14 million / Total gross: $43 million

9. Almost Christmas (November 11th)
The first of several 2016 Christmas films is this sprawling entry in one of my favorite subgenres, the family reunion comedy. In its large, predominantly African-American cast, pictured on the poster, Almost Christmas reminds me of This Christmas, a fairly good family film which broke out to decent numbers over Thanksgiving 2007, and of other cast-heavy titles like The Family Stone. Here, the long-suffering patriarch is Danny Glover, his kin, by both blood and other means, includes Kimberly Elise and Omar Epps, and the cast's live-wire seems to be Mo'Nique, winner of the Academy Award for Best Supporting Actress and the source of most the trailer's best lines. The film opens perhaps too early to have serious legs all the way to the Christmas holiday, but, as the title suggests, it may almost get there.

Opening weekend: $15 million / Total gross: $42 million

10. Allied (November 23rd)
Director Robert Zemeckis delivers one of his trademark old-school entertainments with this tale of World War II espionage and intrigue, set in Morocco, which as every fan of 1940s films knows is a classic battleground against the Nazi threat. Leading man Brad Pitt is a very big star, of course, and has often found himself in the news in months past, which likely helps more than hurts here. His co-star, Marion Cotillard, seems perfectly plausible as a French woman who may be a murderous spy. The film will need some awards buzz and good reviews to break out of what's becoming a heavily composed slate of dramatic films vying for attention. Zemeckis' own The Walk, another French-tinged drama, disappeared quickly last year despite positive notices, a risk this film is also taking.

Opening weekend: $14 million / Total gross: $35 million

11. Rules Don't Apply (November 23rd)
The title holds a film that for cinephiles has to be most notable as the comeback of Warren Beatty, in his first acting role since 2001's somewhat famous Town & Country. Beatty, once a prominent Hollywood leading man, co-directed 1978's Heaven Can Wait, and turned fully to directing with the excellent and underseen early 1900s epic Reds (1981), the relatively early comic book success Dick Tracy (1990), and the political Bulworth (1998). Beatty directs, writes, and stars here, too, playing billionaire Howard Hughes in his later years, while Alden Ehrenreich, recently cast as a slightly younger Han Solo, is the nominal and fictional male lead, and Lily Collins his love interest, also playing a creation of the screenplay. Leonardo DiCaprio covered much of Hughes' life in The Aviator (2004), of course, but there's probably room for another. The title is a little unusual, and it's one of those names that could be used for any number of movies (The Edge of Seventeen, say, could borrow it with little resulting confusion). Rules Don't Apply has been in production awhile, but it looks like some of the early word has been positive, enough to stand out in a crowded slate of dramas.

Opening weekend: $8 million / Total gross: $30 million

12. Billy Lynn's Long Halftime Walk (wide on November 18th)
As surprising as it is, it looks like basically the only film released in September and October to be a contender in the major Academy Awards categories will be Sully, which may receive nominations for Best Picture, Actor, and Director, even if it's not particularly likely to take any of them home on Oscar night.

November more than makes up for this shortcoming by deigning to fill most of the rest of the nomination slots. One expected early contender was, indeed, Billy Lynn's Long Halftime Walk, based on a well-reviewed book, and depicting the post-traumatic affects on a young Texan soldier in modern-day America. Billy Lyn's Halftime Walk premiered at the New York Film Festival last month to criticism, some of which focused on the film's very high frame per second rate (whatever that means; google it), and will likely end up as only the second Ang Lee film not to score a Fresh rating on Rotten Tomatoes. Still, star Joe Alwyn should break out, and could be playing the lead in one of those Marvel or Harry Potter sequels any year now.

The big drama ticket of the month, and perhaps likely to be one of the higher Oscar-bound grossers, is Manchester by the Sea, which has good odds to win not only Best Actor for its star, Casey Affleck, but is also looking to be one of the top two contenders for Best Picture. Loving, about the Supreme Court decision legalizing interracial marriage, should be the month's other big awards player, and will likely also eventually enter wide release. Somewhat smaller films are Miles Teller as boxer Vinny Paz in Bleed for This, which may net Aaron Eckhart a supporting nod (he looks very bald in this movie, so...), Lion, a real life feel-good story with Dev Patel, Nicole Kidman, and Rooney Mara, which gets the Weinstein Company's red carpet treatment, and Miss Sloane, about a lobbyist facing off against the gun industry, which may make an impact for Jessica Chastain's performance. Tom Ford's thriller Nocturnal Animals, which pairs Amy Adams and Jake Gyllenhaal with some wrongdoings in the night, will roll out slowly on its way to a wide release, though its reviews suggest it's more of a pulp film than serious Oscar voters can handle.