Weekend Wrap-Up
Inferno a Domestic Flop; Box Office on Life Support
By John Hamann
October 30, 2016
BoxOfficeProphets.com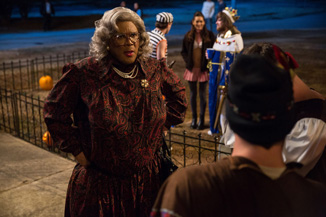 ---
The scariest thing at the box office this weekend is the non-existent ticket sales.

Yes, it is an "ouch" weekend, an ugly one, put upon us by a streak of questionable releases, an odd calendar configuration, and one of the busiest times of the sports season. Halloween parties are abound, and with no new horror titles at the box office, the pressure was on Tom Hanks' and Ron Howard's Inferno, the third film in the Robert Langdon saga. Returns for this franchise have been dipping since The Da Vinci Code opened to $77 million a decade ago. Its international flavor hasn't softened, though, so eyes are on the overseas box office as Marvel's Doctor Strange also gets moving offshore.

Tyler Perry's Boo! A Madea Halloween finishes in a surprise first place, as it leaves Inferno in an embarrassing second. After opening to $28 million last weekend, and a 25% lift from Friday-to-Saturday in the last frame, Mr. Perry seems to have a fair size hit on his hands. In its second frame, Boo! earned a healthy $16.7 million, down a very respectable 42%. It's interesting that the only other Madea title to not drop more than 50% in its second weekend was A Madea Family Christmas, which fell 48% the weekend before Christmas in 2013. Boo! cost only $20 million to make, and now has a gross to date of $52 million, and should finish as the second biggest Madea film to date, behind only Madea Goes to Jail, which earned $90 million at the domestic box office.

Inferno, our second place film, was supposed to open to as much as $25 million, and considering Boo! opened to $28 million last weekend, it should have been a landslide. We knew even $20 million for Inferno was out of the question as early as Thursday, as previews failed to earn even $1 million, coming in at $880,000. That figure told the story of the weekend before it began, as the box office had all of its bets on Inferno since there were no other wide openers this weekend.

The soon to be historic Cubs/Indians World Series game would have cut in to the box office on Friday and Saturday, as did Halloween parties and the kickoff to NBA season as well. All of that competition pushed the combined Thursday/Friday number down to only $5.6 million, and put the Sony release at risk of not finishing at number one, which frankly is a terrible embarrassment for Sony, who put a heavy marketing push forward. The film itself cost $75 million to make, and the marketing likely cost that much as well, so Sony ends up with a lot riding on this one. A domestic flame out wasn't going to help matters.

The rest of the weekend did not improve the fortunes of Inferno. Over the weekend, Inferno earned only $15 million from a very wide 3,576 venues, and the usual Hanks/Howard legs aren't coming. Why? The movie is awful. At Rotten Tomatoes, only 35 critics out of a massive 168 reviewers found something to like, giving Inferno a very rotten rating of 21%. That's worse than the hated Angels and Demons (37%) and worse than the even more hated The Da Vinci Code (25% fresh). On the Cinemascore front, book fans have been recorded for all three films, as Inferno's B+ matches that of Angels & Demons and The Da Vinci Code. This is one of the issues with the Cinemascore process, as fans of the product skew these scores, the same way a couple of the Twilight films earned As.

Domestically, this franchise was hated before the third film was even greenlit, so why make another? The same reason we as a people do anything – money and a potential opportunity to get Ron Howard out of his box office funk. First the money – both Angels & Demons and The Da Vinci Code doubled the domestic gross overseas, with the two films earning a combined $350 million domestic versus a combined overseas amount of $890 million. That's $1.24 billion on two films that cost $275 million to make. As a trilogy, Inferno could make nothing and the franchise is still ahead, and it's certainly not going to make nothing. Overseas, Inferno has brought in almost $133 million so far after going quite wide overseas, and the debuts in Brazil and Germany alone matched the domestic opening.

For Ron Howard, Inferno is just another blow in what has been a growing line of misfires. In the Heart of the Sea opened to only $11.1 million and finished with a domestic total at a puny $25 million. Overseas revenue couldn't bail it out, and it finished with a worldwide $94 million against a $100 million budget. The 2013 car racing feature Rush debuted to only $10 million domestically and finished with $27 million. The overseas total of $63 million did almost bail it out, as it finished with a little over $93 million against a $38 million budget. Prior to that was the comedy The Dilemma, which for some reason cost $70 million and finished just short of that worldwide. Producer Ron Howard does have The Dark Tower coming in February, and I can only hope the appropriate package has been put together (and as a fan I'm glad he's not directing). Inferno will likely end up as a push for Sony and Ron Howard, and with this kind of opening, that will be a blessing.

Jack Reacher: Never Go Back finishes a sad third, as Tyler Perry makes Ron Howard, Tom Hanks and Tom Cruise all look weak. Cruise did it to himself, though, as neither Jack Reacher film has been up to the Cruise standard. After debuting to $22.9 million last weekend, Jack Reacher 2 plummeted in its second frame, dropping 58% and earning only $9.6 million. The sequel cost Paramount $60 million to make, and it will need to earn a lot more than the $55 million it has overseas thus far. The domestic total stands at $39.7 million.

Fourth is The Accountant, as Ben Affleck tries to leg out a win. In its third weekend, The Accountant earned another $8.5 million and fell 38%. The $44 million film has now earned $61.3 million domestically and is slowly rolling out overseas with a $11 million total to date.

Fifth is Ouija: Origin of Evil, a title I thought might hold better than it did this weekend. Ouija the Prequel earned $7.1 million in weekend two, and dropped 50%, maybe a little bit better than the norm, thanks to Halloween. The $9 million film is in good position thanks to its low budget and $24.6 million domestic gross to date.

Sixth is The Girl on the Train, Emily Blunt's latest. Now in its fourth weekend, the thriller earned $4.3 million this weekend and declined 40%. Distributed by Universal, The Girl on the Train cost $45 million to make, and has yet to hit the magic number it needs (three times its production budget) to appear profitable on paper. This one has earned $65.9 million domestically to date and has picked up $56 million overseas.

Seventh is Miss Peregrine's Home for Peculiar Children, which is now in its fifth weekend. The Tim Burton film earned $4 million and fell 33%. A large budget at $110 million is going to sink this one, as it has a domestic total of $79.9 million, and has crossed the $160 million mark overseas.

The Fox flop Keeping Up with the Joneses finishes in eighth. After opening to an embarrassing $5.5 million last weekend, the comedy fell 38% to $3.4 million this weekend. The $40 million film will be lucky to earn $15 million at the domestic box office.

Ninth is the Warner Bros. animated feature Storks, a film that just didn't open big enough despite some decent holds. This weekend, Storks earned $2.8 million and dropped 30%, which follows drops of 30%, 32%, 39%, and 37%. The domestic total for the animated feature has hit $68.2 million, while the overseas has reached $85 million, which isn't enough against a $70 million budget.

Tenth is an Indian film called Ae Dil Hai Mushkil. It earned $2.1 million from only 302 screens, giving it a venue average of $7,070. It features Ranbir Kapoor, who is very popular in India, and was released in conjunction with the Diwali holiday.

Overall, it might seem bad that the top 12 films this weekend earned only $77.1 million thanks to Inferno imploding, but that's nothing compared to what went on last year. Over the same weekend in 2015, the box office really bottomed out, with the top 12 earning only $62.7 million. The implosion of Inferno leaves the door open very wide for Doctor Strange, Marvel's latest with Benedict Cumberbatch in the title role. How big will it be? Check back next weekend to find out.