Weekend Wrap-Up
Jack Reacher, Madea Lift Box office a Little
By John Hamann
October 23, 2016
BoxOfficeProphets.com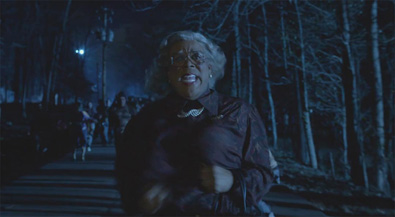 ---
After several weeks of box office failure, movies come to life just a little, thanks to Madea, Jack Reacher and Ouija 2.

Last weekend in this piece, I lamented the lack of any big breakout hit since Suicide Squad opened in August. It has been an ugly run since. This weekend at least brings some hope, as openers include Jack Reacher: Never Go Back, a sequel to one of Tom Cruise's lowest openers, but at the same time, a modest hit. Boo! A Madea Halloween from Tyler Perry also opens this weekend. It's been three years since we've seen a Madea movie, and with Halloween right around the corner, this one had a chance to hit. Ouija: Origin of Evil, a horror movie with decent reviews, also debuted along with Keeping Up With Jones, the lamb to the slaughter.

Our number one film of the weekend is Lionsgate and Tyler Perry's Boo! A Madea Halloween, as Perry points his camera more towards comedy and less towards the family dramas that have carved away at the bigger openings earlier in his career. Perry's last four films drive home this point. Tyler Perry Presents Peeples, admittedly a film Perry only produced, opened to a dreadful $4.6 million in 2013 and finished with less than $10 million (ouch). After that came Tyler Perry's A Madea Christmas, which opened to a large $16 million and finished with $52.5 million. Next up was Tyler Perry's Single Moms Club, which was another disaster, opening to $8 million and finishing with $16 million. So, you can see the results of his family dramas versus more comedic efforts, and now with Boo!, we can also see that Tyler Perry may want to stick with big holidays going forward.

Getting back to Boo! A Madea Halloween, this one opened to a large $27.6 million after starting on Friday with $9.4 million. Tyler Perry hasn't had a film open over $20 million since Tyler Perry's Temptation: Confessions of a Marriage Counselor, which had Kim Kardashian as a co-star. That one opened to $21.6 million, and it feels like it's been a long road back to over $20 million for Perry. When looking at Madea films specifically, this opening is right in the middle – similar to Madea's Witness Protection and Madea's Big Happy Family, both of which opened to $25 million. Reviews are not a great bellwether for this one, as just 11 were counted (and only five were positive). The Cinemascore came in at a fantastic A, though. It is still going to need some help financially. Boo! cost $20 million to bring to the big screen, so it is going to have to approach $60 million domestic to earn a profit.

Second place goes to Jack Reacher: Never Go Back, another sequel with a colon and no numeral (which I hate, because when four of these films are made, I can never figure out what order to watch them in on Netflix). Jack Reacher 2 (isn't that better?) got started on Thursday, earning what seems to be the usual $1.3 million that night (we've had a number of Thursday previews earning that much over the last few weeks). From that number, we knew that again the box office wasn't going to see a $30 million number for what seems like the zillionth weekend, but we also are not going to see abject failure.

The good news for Cruise is that this Jack Reacher was going to improve on the ugly opening weekend of the original, as the first Jack Reacher opened to only $15.2 million in December 2012 before hitting the Christmas box office lottery and finishing with $80 million domestic. Overseas sales saved the film, earning $138 million fron international venues, bringing the worldwide gross to just short of $220 million. The original was made smartly, costing Paramount only $60 million and giving Tom Cruise another shot at a franchise. The sequel's combined Thursday/Friday came in at $8.9 million – second behind the Madea Halloween movie.

Jack Reacher: Never Go Back earned $23 million over the weekend, putting this film in excellent position considering the budget ($60 million again), and the reception the last one got overseas. Jack Reacher 2 represents smart financial moviemaking, as if this had cost $150 million, it would have never had a chance; however at $60 million, Paramount is going to see a decent windfall here.

While the movie is in good financial position going forward, reviews for Jack Reacher 2 put the franchise as risk. The original Jack Reacher was a popcorn movie that earned a 62% fresh rating; the sequel is only a 39% fresh and is being called a popcorn movie in the worst way (formulaic, averse to risk, by-the-numbers). The good news is that the Cinemascore came in at a B+, decent given the reviews, and only one step back the original's score, which landed at an A-. For Tom Cruise, this opening fits with his smaller movies like Collateral ($24.7 million) and Valkyrie ($21 million). Really, though, the sequel's performance is better than the original – and had to be, as Christmas isn't coming to save Never Go Back. It already has $31 million from overseas venues.

Third spot goes Ouija: Origin of Evil, prequel to a not very good 2014 original that earned $50 million against a $5 million budget – and another $50 million overseas to bring the cash home for Universal as that would have been one of the biggest cost-to-gross ratios of that year. The problem is the original was 7% fresh, so getting that audience out to those levels again was going to be massively difficult. Thus, Universal set out to make a very good horror film, and it would appear they did. At Rotten Tomatoes, Ouija 2 stands as the best reviewed film of the weekend at 81% fresh, oddly enough giving it the best reviews since Sully opened eons ago. Unfortunately, the Cinemascore came in at C, but horror is always low with Cinemascores.

Did making a good movie pay off? Yes and no. Ouija: Origin of Evil opened to $14.1 million this weekend - a decent score, but well off the $20 million the original opened to. What Universal is hoping is that word-of-mouth will spread (given that it's a good movie), and the movie will leg it out as Halloween approaches. Even if it doesn't, Universal has once again put itself into position to win by only spending $9 million on this film (the only recognizable name is Henry Thomas, the kid in ET). What this could do is open the door for another film in the franchise, as it should play well on VOD going forward and will likely make money theatrically.

With all of this new product, Ben Affleck's The Accountant moves from number one to number four in only one weekend. The Accountant earned $14 million, off 43% compared to last weekend (anything above a 50% drop is a win). With a $44 million budget, The Accountant has now picked up $47.9 million stateside and $10.2 million overseas. Like the Jack Reacher movie, smart financing is going to pay off here, as The Accountant should see $90 million stateside and will likely at least match that internationally.

The Girl on the Train is fifth, and after a $12.2 million frame last weekend, the Emily Blunt starrer has another decent weekend. The thriller earned another $7.3 million and dropped 41%. This Universal effort was made for $45 million (plus what had to be a huge ad budget) and has a gross to date of $58.9 million. Add another $45 million overseas, and this is easily heading toward profitability.

Miss Peregrine's Home for Peculiar Children drops to sixth. The Tim Burton film earned another $6 million and fell 33% from its $9 million gross last weekend. The $110 million family film has now earned $74.4 million stateside and has eclipsed the $220 million mark worldwide.

New release Keeping Up With the Joneses is a sad seventh this weekend, as somehow a film with Jon Hamm, Zach Galifianakis, Gal Godot and Isla Fisher did not work with critics or at the box office despite a ton of talent. Joneses earned only $5.6 million for Fox, and has a box office result as bad as its reviews, which came in at a distasteful 17% fresh. The B- Cinemascore taps it all off, and this one will likely disappear quite quickly.

Eighth is Kevin Hart: What Now?, as the concert film falls dramatically as it finished third last weekend. The box office is just as bad. After opening to $11.8 million last weekend, What Now falls a nasty 65%, earning only $4.1 million this weekend. Made for only $10 million, this one is all of a sudden in trouble after a strong opening frame. It has a gross to date of $18.9 million.

Ninth is Storks, the animated release that hasn't exactly lit a fire at the box office. This weekend, Storks earned another $4.1 million and declined 28%. The total for Storks has hit $64.7 million stateside, and it is going to need more than the $83 million it has earned so far overseas, because it cost $70 million to make before marketing.

Landing in tenth is Deepwater Horizon, Mark Wahlberg's drill station action movie (that failed). The $110 million film could find only $3.6 million (dropping 43%), as it struggles to get its domestic tally up to $55.3 million. Overseas won't help, as that total has not hit $40 million despite being out to most markets already.

Overall, the box office trend is finally broken this weekend. The top 12 films earned $113.9 million, ahead of last year's $95 million tally, when The Martian was on top in its fourth weekend. Next weekend will be interesting for two reasons: Inferno, the latest in the DaVinci Code series opens on 3,400 screens. With Halloween coming on Monday, will we see a huge hold for Ouija and Boo! next weekend? I wouldn't count on it.