Weekend Forecast for October 21-23, 2016
By Reagen Sulewski
October 21, 2016
BoxOfficeProphets.com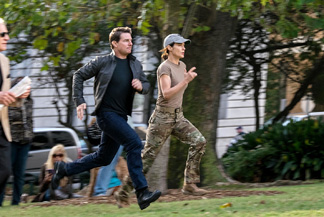 ---
This October weekend takes the shotgun approach with four wide release films aiming at rather disparate audiences. No hits, of course, in keeping with the anemic month so far, but hey, they're trying to get all of you out.

Tom Cruise returns to an unlikely franchise with Jack Reacher: Never Go Back. Unlikely in that the original 2012 film, in which he plays a nomadic ex-military police officer who roams the country solving crimes and cracking skulls, like a weaponized The Littlest Hobo, only grossed $80 million over the Christmas season. That's a pretty low take for a straight up action film staring someone who was, at least one point, the unquestioned king of the box office.

Part of this is no doubt due to the seeming implausibility of the 5'7" (on a good day) Cruise playing an enforcer who's supposed to be 6'5" and a bit of a brute. But hey, it's the movies. More is likely due to the lasting damage to Cruise's wattage after the craziness he displayed after dumping Nicole Kidman. Outside of the Mission:Impossible films, he's been largely unmarketable, although he's managed a bit of a comeback of late as the couch-jumping fades from our minds. Never Go Back is attempting to capitalize on a combination of this improved reputation, what was probably a sub-optimal release date, and the Reacher series' growing reputation on home video. A solid international gross probably doesn't hurt either, though that's a side benefit at best.

In Never Go Back, Reacher finds himself pulled into a conspiracy where people he's served with are being targeted, and he's now been framed for various treason-like crimes. Luckily, this can all be solved with a hearty application of fist to face (and window, as the case may be). Directed by Edward Zwick, a thoroughly average director who's had some success with Cruise before (The Last Samurai) and co-starring Cobie Smulders, Aldis Hodge and Robert Knepper (that's... a bit of a drop off in fame there), it should improve slightly on its predecessor in both opening weekend and quality, but let's not expect miracles here. It's more Bourne Legacy than Bourne Supremacy, and should start with about $22 million.

In a proof that we do not live in a just universe, Tyler Perry is back with another Madea movie, this time a Halloween parody. Set up with the barest of framing devices, it takes Perry's sassy Madea character through all the tropes of horror movie and wants us to pretend that Scary Movie wasn't a thing, nor all those Marlon Wayans movies that we didn't want to watch anyway.

In a tone that I would describe as "aggressive and hostilely unfunny," Perry aims at being something akin to low-rent Eddie Murphy in "The Klumps" but in reality looks about as funny as a tire fire. The only reason this isn't being placed in the "all time bombs file" is the latent popularity of the Madea character. Of Perry's films, the Madea-specific ones have generally had the highest openings, but this seems one step too far, and away from the high 20/low 30 openings of those, we should see a $17 million opening, and weeping for the death of cinema.


More traditional horror is handled by Ouija: Origin of Evil, a movie that exists for some reason. A prequel to a 2014 film you vaguely remember, it revolves around an evil ouija board that actually summons evil spirits and causes possession, yada yada bargain basement Exorcist.

Credit where credit is due, though. The film cuts an excellent trailer with a great look thanks to a 1960s setting and a faux-Technicolor vibe. Reviews are solid, largely on the strength of the performance of child actress Lulu Wilson, who rides that innocent/unnerving line perfectly. This will likely suffer some on opening weekend in comparison to the $19 million of the original, but may show what qualifies as legs for a horror film if it can live up to the hype, and if Halloween weekend actually treats it well (never a sure thing). I'd expect $16 million.

Lastly of new films, there's Keeping Up With The Joneses, the second comedy in a month headed by Zach Galifianakis, after September's Masterminds. While that film had delays to blame, this one has little excuse and may not fare better. He and Isla Fisher star as a married couple whose new perfect-seeming neighbors, Jon Hamm and Gal Gadot, turn out to be international spies. Getting roped into their latest mission, hilarity and wackiness theoretically ensue with the clash between the suburban normalcy and debonair outsiders, but it's a premise that by all appearances falls flat.

Outside of the Hangover movies, Galifianakis really only has The Campaign to hang his hat on as far as far as hits. Even then, it seems as though he's generally rejected as a lead, faring much better as a supporting comedy character. This makes some sense, as he's quite a polarizing presence. Add in a Fisher performance that seems to lean to the shrill, and we're in tough sell territory. Hamm and Gadot are untested as comedy leads as well, making this a film that looks good on paper but that's fallen apart in execution, with stale, tired jokes and a cheap appearance. This seems destined for a weak $6 million opening.

The Accountant had a solid if unremarkable $24 million opening last weekend to lead the frame, and average word-of-mouth should keep it at about $14 million in its second weekend. Ultimately, this isn't bad for a truly odd premise for an action film, and it mostly serves to prove that Ben Affleck still has some heat as a solo lead.

The Girl on the Train took a huge dive in its second weekend. Getting cut in half to $12 million, it looks to top out at around $75 million, less than half of the comparable Gone Girl.

Kevin Hart's standup/action hybrid movie What Now opened to $11.7 million, showing some nice improvement over his previous concert film. Still, these are routinely one-weekend wonder films, and it should drop to about $6 million, while Miss Peregrine should hang around in relevance for one more weekend at about $5 million.