Weekend Wrap-Up
No Surprises Again at the Box Office; Hart, Affleck Mediocre
By John Hamann
October 16, 2016
BoxOfficeProphets.com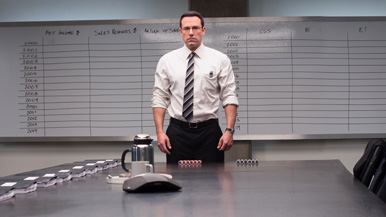 ---
The box office this weekend is AGAIN frustratingly mediocre, devoid of winners or losers, as moviegoers bide their time, waiting for either Newt Scamander, Rogue One, or Tom Hanks with a funny haircut.

Way back on August 5th, Suicide Squad opened to $133 million over three days. Since then, the biggest openers at the box office have been Sausage Party ($34.3 million), Sully ($35 million), and The Magnificent Seven ($34.7 million). We've gone more than two months without a $40 million opener, and while other seasons have seen similar stretches, this one feels particularly blasé. Why? Because the reverse is true as well. In the last nine weekends, flops have been as rare as hits, as Ben Hur, which debuted on August 19th to $11.2 million, was the only out and out disaster, earning less than $100 million worldwide against a $100 million budget. Deepwater Horizon with its $110 million budget is the season's other big disappointment, as it doesn't look like it's going to get picked up overseas the way that Miss Peregrine's Home for Peculiar Children did.

Our number one film this weekend is The Accountant, a film that sounds as boring as its box office gross, at least until you look under the hood. The film stars Ben Affleck as the title character, one part mathematician and one part hit man. Affleck seems to be going for the high points of his pal Matt Damon's career, hitting the Good Will Hunting and Jason Bourne films in one comparator. Box office wise, this is Affleck without a comic book character backing him up, or taking advantage of the post-Oscar glow from Argo, which makes The Accountant a bit of a risk. This is the Affleck of old, trying to open a film with no net. The risk becomes a result like Runner Runner ($7.7 million opening) or State of Play ($14 million opening), with Warner Bros., the distributor on The Accountant, hoping for a result like The Town ($23.8 million). Tracking was looking for something between The Town and Sate of Play, with a result approaching $20 million, but likely not crossing it.

The Accountant got started on Thursday night, earning $1.4 million from previews. The preview amount was as blah as everything else this fall, not really pointing to success or disaster, but a sub-$15 million debut seemed out of the question. The combined Thursday/Friday number eliminated any sign of a flop (or breakout), as it came in at a combined $9.1 million. That's better than the $8.3 million The Town saw on opening day, and is a great start for a film that cost $40 million to make.

The weekend total for The Accountant came in at a better-than-expected but still bloody boring amount of $24.7 million. Warner Bros. opened The Accountant at 3,332 venues, and Ben Affleck achieved a middle-tier success in a career that has been all over the map. Everything was middling about The Accountant - except the only thing that can still help it, the Cinemascore. Reviews for The Accountant were split down the middle; at Rotten Tomatoes, 67 were positive and 64 were not, so the Gavin O'Connor flick earned a 51% fresh score. The Cinemascore was much better, coming in at an A, slicing Argo's A+ and Gone Girl's B. That's a solid score for a film that is polarizing critics and could keep legs going next weekend, when four films clog up almost 12,000 venues. Affleck will take the checkmark for The Accountant and move on to his awards season flick, Live by Night, where he stars and also directs.

Finishing second is Kevin Hart: What Now?, a cheap-to-produce concert film that will rake in the cash for Hart and Universal. Kevin Hart has experience with a film like this, as Kevin Hart: Let Me Explain earned $32 million theatrically against a production budget of $2.5 million. Concert films must make sense financially, as Netflix is paying Chris Rock $40 million for two specials. What Now? proves these concert films work, as it had an opening day of $4.8 million, and was sure to be heading for similar opening from of Let Me Explain, which debuted to $10 million over three days, and $17 million over five days (it opened on a Wednesday).

Kevin Hart: What Now? finished the weekend with $12 million, a solid debut for a concert film, and opens ahead of its predecessor. The difference between What Now? and Let Me Explain is breadth of release. Let Me Explain was such a hit because it debuted on only 876 screens, whereas What Now went much wider, debuting at 2,567 venues. The budget was also much higher at $10 million, which means Universal will have to wait longer to collect their profits. With Universal distributing, this might get more play overseas than the earlier film did. Kevin Hart: What Now? is just another film serving as filler between Suicide Squad and Doctor Strange.

The Girl on the Train is third this weekend after opening in top spot last weekend with $24.5 million. In its second frame, the Emily Blunt starrer earned $12 million, and fell the requisite 51% in its second weekend, almost like clockwork. This $45 million film has earned a solid $46.6 million stateside, but the better news is that its being embraced overseas as well, with a take of $17 million earned prior to the start of the weekend.

Miss Peregrine's Home for Peculiar Children is fourth this weekend, and after a 47% drop in weekend two to $15.1 million, the hold improves a bit this weekend. Miss Peregrine's kids earned another $8.9 million this weekend and fell 41%. The Fox release is doing okay with a domestic take of $65.8 million to date, and another $100 million overseas, but with the massive $110 million budget, it still has miles to go before entering the win column for the studio.

Fifth is Deepwater Horizon, which also carries a $110 million budget, and this one is sinking fast. After earning $11.5 million last weekend, the Mark Wahlberg starrer loses another 45% and pulls in only $6.4 million. Deepwater Horizon has earned $49.3 million stateside, and despite being out to dozens of markets overseas, had not hit the $30 million mark prior to the weekend. This is going to be just another expensive Lionsgate disaster, where they save themselves by unloading overseas rights to unsuspecting companies. How long can that strategy really last?

Storks is sixth, as the animated film is another film struggling versus its budget. This weekend, its fourth, Storks earned $5.6 million and declined 33% versus its $8.3 million take last weekend. Storks has now earned $59.1 million domestically and $71 million overseas. Storks cost Warner Bros. $70 million to make, so it still has a ways to go to see profitability.

The Magnificent Seven is seventh in its fourth weekend, having now been passed by Storks. The Denzel Washington film earned another $5.2 million and fell 42% this time around. The $90 million film is another film struggling, as it has a domestic take of $84.8 million and overseas gross of just about $60 million.

Eighth is Middle School: The Worst Years, a YA adaptation that debuted last weekend to $6.9 million. This small film (made for less than $10 million) held quite well, dropping 38% compared to its opening. So, given the small budget and good hold, Lionsgate may actually have a film that makes money stateside (I'll give you a second to fathom that). The domestic tally for Middle School: The Worst Years has hit $13.8 million.

Ninth is Sully, the only true hit of the fall. Now in its sixth weekend, Sully pulled in another $2.9 million and dropped 41%. The total has risen to $118.4 million domestically against its $60 million budget, and the film has added another $55 million in overseas sales.

Tenth goes to Oscar hopeful Birth of a Nation, but it is struggling at the box office, given the history of actor/director Nate Parker. After debuting to $7 million last weekend, the bottom falls out this weekend, with Birth earning only $2.7 million and dropping 61%. That's not supposed to happen with type of film, and now it has a gross to date of $12.2 million.

There was another film opening this weekend – on more than 2,000 screens to boot – and pretty much no one knows it's occurring. Max Steel, which is a co-production with Mattel, opened to only $2.2 million from 2,034 screens for Open Road Films, and is destined to be either a drinking game or hard-to-get trivia question. Max Steel becomes the fourth film released in the past two years to join the top ten worst openings for a film released on more than 2,000 screens. Way to go!

Overall this weekend, the badness continues. The top 12 films earned only $88.5 million, well short of last year's $111.6 million, when Goosebumps led. Next weekend brings lots of product, but a hit out of this batch might be a stretch. Tom Cruise opens Jack Reacher 2, but the original only opened to $15.2 million. We also will see Ouija 2: Origin of Evil, which has at least had an interesting campaign. Fox opens Keeping Up With the Joneses, and Madea is back in Boo! A Madea Halloween. Sounds like something for everyone, I guess.