Weekend Wrap-Up
By Tim Briody
October 9, 2016
BoxOfficeProphets.com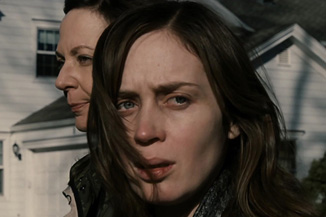 ---
The first weekend of October is traditionally the one that's supposed to jump start the box office as it leads out of a lukewarm September and prepares us for the November blockbusters. This weekend…does not do that, but at least they tried.

The past few years have seen big hits in the form of Gravity ($55.7 million), Gone Girl ($37.5 million) and The Martian ($54.3 million) open on this weekend in October. Hollywood went with another popular novel adaptation this time in the form of The Girl on the Train.

The Girl on the Train is the number one movie on the weekend, but with a middling weekend of $24.7 million. Universal was hoping for a Gone Girl-like performance, but that had a few other things going for it that Girl on the Train did not despite being a bestseller. Namely, a notable director (it became David Fincher's biggest hit ever), a top line star (Ben Affleck) and good reviews (88% at Rotten Tomatoes). Unfortunately, the director is something called Tate Taylor (who did direct The Help, to be fair), the lead actress is Emily Blunt (whose performance is getting rave reviews even if the movie is not, though she's far from A-list) and it rates at just 44% Fresh over at Rotten Tomatoes. All that leaves you feeling like there's been money left on the table.

The saving grace for The Girl on the Train is its reported negative cost of just $45 million. It'll make that back in North America without needing any of those international grosses we've become so fond of. With a B- CinemaScore, don't expect much beyond that as a total, though.

Second place on the weekend goes to last weekend's winner Miss Peregrine's Home for Peculiar Children, directed by Tim Burton. It took a 48% hit to earn an estimated $15 million and gives it $51 million after 10 days in theaters. The young adult book adaptation reportedly cost $110 million to make, so it'll need a lot of help from overseas audiences if it hopes to become a franchise.

Deepwater Horizon is in third for the weekend with $11.7 million, down about 42% from last weekend, giving it $38.5 million after two weekends in theaters. Still a weird real life event to make an action movie about, it's the drawing power of Mark Wahlberg that is keeping it afloat so far. It also has a reported $110 million negative cost, which it won't come close to. I'm not sure this will play well overseas given the subject matter, so the Lionsgate/Summit release is going to be a money loser when all is said and done here.

The Magnificent Seven remake is in fourth place with $9.1 million, down 41% from last weekend. Standing at $75.9 million after three weekends, it's headed towards its $90 million budget before the end of its run, but I'm not sure there's enough left in the tank to get it to $100 million. This places it straight into Denzel Washington's box office wheelhouse; for such a consistent draw at least with openings, he's only had a handful of $100 million earners. Sony was probably hoping for much more, but since foreign earnings will likely push it to profitability, they shouldn't complain about it all that much.

Fifth place goes to animated entry Storks with $8.4 million and it has now earned $50.1 million in three weekends. That's down 37% from last weekend and despite the dearth of animated releases since the summer, Storks is going down as a huge disappointment. The WB release is headed towards about an $80 million total.

Down in sixth place we finally have our next opener, The Birth of a Nation. Once a near lock for major awards attention, the controversy of a 1999 sexual assault case involving director and star Nate Parker derailed any hype before any major ad campaigns could start. That definitely had an impact on the financial performance of Birth of a Nation, leading Fox Searchlight to start it in just 2,100 theaters and resulting in a weekend performance of only $7.1 million.

While it's impossible to to say how much money the controversy surrounding the film cost it in the long run, the Sundance darling considered a shoe-in for a Best Picture nomination now sees just a 79% Fresh rating at Rotten Tomatoes and its awards chances rapidly falling apart. While sometimes there's no such thing as bad publicity, "the creative force here might happen to be an awful person," does not fall in that category. While it's still one to watch as we get closer to the end of the year, it's hard not to associate the film with the problematic issue.

The third opener of the weekend is seventh as Middle School: The Worst Years of My Life (to which I say, just wait until high school, kid) earns $6.9 million. It hit its target audience and didn't really expand on that, which was to be expected. Based on a kid-lit series by James Patterson (yes, that one), Lionsgate is also hoping for a small bump on Columbus Day when schools are closed. The good news is it cost less than $10 million to make, so it'll likely come out ahead over the next couple of weeks.

Sully continues to wind down its solid run, taking in another $5.2 million in its fifth weekend and giving the Tom Hanks/Clint Eastwood collaboration a total of $113 million. It's headed to a total of $125 million, which would be the third best performance by an Eastwood helmed film, after Gran Torino ($148 million) and American Sniper ($350.1 million, a number that still astounds me).

Long delayed comedy Masterminds gets a second weekend in the top ten with $4.1 million, giving it $12.7 million in two weekends. Held up by Relativity's bankruptcy last year, the comedic adaptation of a real life money heist won't be getting them out of that situation as it actually cost about $25 million to make and won't quite make $20 million, a shame given the comedic talent involved.

Finally, Queen of Katwe is in tenth place with $1.6 million, and has now earned $5.3 million after two weekends in wide release. While not a world beater at the box office, it's gotten exceptional reviews and I still think you have to consider Lupita Nyong'o as a contender for her second Oscar nomination based on the raves for her performance.

Overall, it's another bad weekend for Hollywood as the top 12 films this weekend managed just $96 million while last year's took in $110 million. Next weekend they'll try again to buck the trend, as Ben Affleck returns as The Accountant, while Kevin Hart debuts his latest stand up special, What Now?