Weekend Wrap-Up
Burton, Wahlberg Send September Slump to October
By John Hamann
October 2, 2016
BoxOfficeProphets.com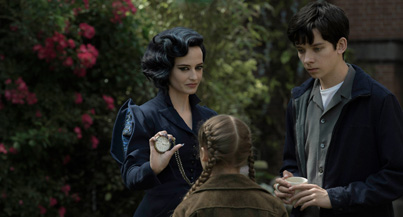 ---
A year ago, The Martian opened to an awesome $54 million on this very weekend. This year, films from Tim Burton and Mark Wahlberg can't even combine to meet that mark, as we spend our seventh consecutive weekend without a $40 million plus earner.

Even the good films are heading off to die this fall box office season, as movies do not seem to be too high on anyone's to-do list. It could be due to it being the best sporting time of year (baseball, football, hockey, golf), or that it's been a good fall TV season (if you haven't seen Atlanta on FX, track it down), but new movies are definitely not it again this weekend. Feeble openers include Miss Peregrine's Home for Peculiar Children, Tim Burton's latest weird fantasy film, this time based on popular piece of kid-lit, Deepwater Horizon, a "based on true events" type flick with a cast including Mark Wahlberg, Kate Hudson, and Kurt Russell, and Masterminds, the film that carried the most hope for Relativity as it came out bankruptcy protection. Unfortunately, it behaved more like The Disappointments Room than a successful comedy. The box office will have to wait another weekend to get rid of its limp.

At least opening at number one (which will likely be its only claim to fame) is Miss Peregrine's Home for Peculiar Children, the latest from Tim Burton. The legendary director was trying to stop a pretty nasty losing streak with this fantastic effort but failed, and adds to a recent list of losers that includes Big Eyes, Frankenweenie, and Dark Shadows. None of these are truly bad films; they just failed to click Burton's quirkiness with audience taste, and that happened again this weekend with Miss Peregrine's Home for Peculiar Children. Tim Burton's hits like Sweeney Todd, Charlie and the Chocolate Factory, Corpse Bride are all over 80% fresh, while Miss Peregrine is lower, currently at 63%.

Miss Peregrine's Home for Peculiar Children may have provided a round peg for an audience with a square hole. The film got started decently on Friday, earning $9 million, but this wasn't enough for a big budget film based on a popular children's book. The books are aimed at girls, and with this result, it looks like only book fans showed up for the movie. Fox was hoping for big matinees due to the YA target, but they failed to materialize, and Miss Peregrine's Home for Peculiar Children opened with a disappointing three-day take of $28.5 million. Fox went wide with this one, putting it out to 3,522 venues, and had more of Looking Glass result than an Alice in Wonderland outcome. The film I think about the most as a comparison is Lemony Snicket's Series of Unfortunate Events, another high stakes fantasy gamble aimed at the older kit set, and it imploded similarly, despite the presence of Jim Carrey and Meryl Streep. That one opened to $30 million domestically and finished with a little over $200 million worldwide, creating a large loss for that $140 million film.

Miss Peregrine's Home for Peculiar Children has the same problem that Lemony Snicket had, and The Golden Compass before that. All of these films cost too much. Lemony Snicket cost $140 million, The Golden Compass cost $180 million and earned $372 million worldwide, and only $70 million from the US. Miss Peregrine's Home for Peculiar Children cost Fox $110 million (or more), and it looks like it won't match that budget stateside. That means the pressure will be on overseas audiences to make up the $200 million plus shortfall. The Cinemascore sits at a B+, which should help the legs a little going forward.

Deepwater Horizon is in even more trouble than Miss Peregrine's Home for Peculiar Children, as it cost $118 million after tax credits, and is more of a domestic tale than Miss Peregrine's. The Mark Wahlberg flick got started with a $7.1 million opening day, which meant a $20 million opening weekend was the best this big film was going to see (it finished with $20.6 million). This result shouldn't make sense. It was a large, disaster-type flick, big effects and a couple of money shots, a decent star package and a veteran director in Peter Berg (no one remembers Battleship). This should have worked better, like The Martian did last year. Reviews, at 81% fresh, were at least in the same ballpark as The Martian, but it was the marketing that the Fox film had that Deepwater Horizon did not.

Somehow, Lionsgate struggled to create decent awareness for Deepwater Horizon, despite this film having literally everything going for it. The studio seemed to cheap out a bit on the marketing, as Relativity seemed to have more spots for Masterminds that Lionsgate did for Deepwater, and that is saying something. Deepwater Horizon does have the best Cinemascore of the weekend at A-, but with the low opening and high production cost this will be a very tough climb up a steep hill. Will Deepwater Horizon play in Poland? Lionsgate likely doesn't care, as its normal model is to sell off its foreign rights to reduce risk of these bigger budget adventures.

The Magnificent Seven had a tougher weekend than expected as well, as older audiences didn't prop up it enough to clear the 50% second weekend drop. The Denzel Washington flick earned $15.7 million in its second weekend, and drops a hurtful 55% compared to its debut. Magnificent Seven was off compared to last weekend as was Sully, and Deepwater Horizon didn't open at all. What is happening to that older moviegoer? The Magnificent Seven has a gross to date of $61.6 million, and an overseas gross at $46 million. The western has a long way to go for a film that cost $90 million to make.

Storks is fourth, as this animated disappointment strives to stay relevant in its second frame. The Warner Bros. release earned $13.8 million in its second frame, off an okay 35% compared to last weekend. Storks cost $70 million to make and has so far earned $38.8 million on the domestic side and $38 million overseas.

Sully is fifth, as the Tom Hanks flick hits a milestone this weekend. Sully earned $8.4 million this weekend, off 38% compared to last weekend. The big news for the $60 million Clint Eastwood film is that it cleared the $100 million domestic mark on Saturday, its 23rd day of release. Sully should finish with $140 million at the domestic box office, and already has $46 million in overseas sales.

Sixth is Masterminds, a film with some of the best comedic actors working today, including Kristen Wiig, Zach Galifinakis, Kate McKinnon and Jason Sudeikis. The plot seemed funny and had all the hallmarks of becoming a hit. Unfortunately, Masterminds was shot in summer 2014, more than two years ago, as the release was delayed while Relativity Media worked through its bankruptcy situation. Originally, this was supposed to be a 2015 summer release, before all things Relativity blew up.

Audiences obviously caught a whiff of the struggles that Masterminds had coming to the screen, and like usual, they avoided it like the plague. Masterminds could only muster $6.6 million from 3,042 venues this weekend, driving another nail into Relativity's coffin. Reviews didn't help with it coming in at 38% fresh, and the Cinemascore was awful as well at B-. Budget data seems to be forgotten as this was shot so long ago, but a guess would put it at $40 million.

Queen of Katwe finishes in a quiet seventh spot this weekend, as Disney expands this small film about chess to 1,242 venues. The result is mixed, as Queen could only come up with $2.6 million from the small amount of screens it was given this weekend. If there is a film that could grow, it is likely this one. It is 91% fresh at RottenTomatoes and supports a cast that includes David Oyelowo and Lupita Nyong'o, Still, audiences probably only have one more weekend to give this one a significant push. So far, it has a domestic gross of $3 million.

Don't Breathe earned $2.4 million for Screen Gems and brings its domestic total up to $84.7 million. The $10 million budgeted film has pulled in almost $45 million internationally, giving it a worldwide take approaching $130 million against that tiny budget.

Bridget Jones's Baby is ninth with $2.3 million, giving it a drop compared to last weekend of 50%. It has a domestic take of $21 million, an overseas take right at $100 million, turning it into a good $35 million bet for Universal. Snowden is tenth, earning $2 million. It has a domestic take of $18.7 million against a budget of $40 million.

Overall, the box office is significantly down from last year again. The top 12 films this weekend earned $106.4 million. Last year, The Martian led the top 12 to $142.7 million, and the year before, Gone Girl took the box office to $140 million. Next weekend, Fox will try and pull us out of this funk with Birth of a Nation, The Girl on the Train finally opens (advertise that one much?) and something called Middle School: The Worst Years of my Life opens, and at least the title is apt.