Weekend Wrap-Up
Storks, Seven - Not So Magnificent
By John Hamann
September 25, 2016
BoxOfficeProphets.com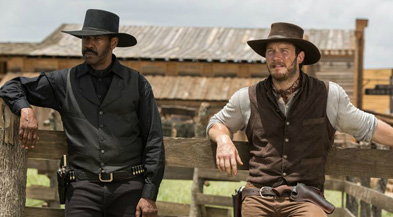 ---
This weekend featured a blockbuster with Denzel Washington and Chris Pratt and our first big kids pic since Kubo and the Two Strings opened more than a month ago. These two films should be big, right? Right?

Yes, it should be that turnaround weekend in September where we move from the dumping ground into the usually much more lucrative late-September time frame. Last year, the same weekend brought Hotel Transylvania 2, a Sony-animated release that opened to just short of $50 million. It was joined by the Robert De Niro/Anne Hathaway comedy The Intern, which opened to $17.7 million and finished with $200 million worldwide. This weekend provides fertile box office ground for the $90 million budgeted remake of The Magnificent Seven and for Warner Bros.' Storks, which cost $70 million to bring to the screen. However, instead of one of these films opening to $50 million, they have to combine to pull in the same amount.

Our number one film of the weekend is The Magnificent Seven, a film that stars box office superstars Denzel Washington and Chris Pratt, as well as Ethan Hawke and Peter Sarsgaard, just to name a few. It had a lot going for it - a remake of a well-known classic, and itself a remake of Kurosawa's Seven Samurai. It also had a solid director in Antoine Fuqua (The Equalizer, Training Day, Southpaw), a helmer who combines art with commerce, although he has only one over $100 million domestic earner (The Equalizer at $101.5 million). The Magnificent Seven got started with Thursday previews, but despite all it had going for it, only pulled in $1.75 million on Thursday night, a pedestrian score for a film with this kind of swagger.

The opening day gross, which combines the Friday gross with the Thursday preview amount, came in at $12.7 million, a number that would certainly keep the three-day gross below $40 million. The opening day for The Magnificent Seven was only on par with The Equalizer, which had an opening day of $12.5 million. The Magnificent Seven's Friday was less than the $13.6 million that the Washington/Ryan Reynolds combo Safe House earned, and well off the opening day of Washington's biggest, American Gangster, which had a first day of $15.9 million, on its way to an opening weekend at $43.6 million. Suffice to say that The Magnificent Seven was not going to be Washington's biggest debut, but it was going to open at the higher end of his usual $16-$35 million wheelhouse. Washington remains likely the most consistent box office draw of this era.

Over the weekend, The Magnificent Seven earned a softer than expected $35 million from 3,674 venues for Sony. With a budget of $90 million, Sony will have to hope that The Magnificent Seven reaches $100 million domestic, with overseas picking up the remaining $150 million. Washington is usually good for a 3.0 multiplier, so at least $100 million is still in play. Reviews were split fairly evenly, with Seven receiving a 63% fresh rating at Rotten Tomatoes and most critics saying "meh." The Cinemascore came in at an A-, the same score that The Equalizer earned. Considering that this a remake of one of the greatest film ever, there is very little to get excited about here. The marketing was the same - boring and uninvolved - and I would have rather seen Quentin Tarantino or the Duffer Brothers take on this remake.

In this day and age, it is hard to get moviegoers excited about a western. Oaters these days need to be pretty spectacular to work, with films like Dances With Wolves, True Grit and Unforgiven jumping to mind. Even Tarantino had a small miss with The Hateful Eight, a film that also had some strong casting going for it and an electric release date over Oscar season, yet it still only made $54 million at the domestic box office. Luckily for The Weinstein Company, The Hateful Eight was big overseas, earning $101 million, thus saving the $44 million film. Sony and The Magnificent Seven will need the same kind of help overseas, or this expensive, $90 million production will be in trouble as well.

Finishing second is Storks, which has an even more disappointing result than The Magnificent Seven, as both films suffer from middling reviews. Treasured remakes of classics cannot have a 63% fresh rating and succeed, and these days, animated films with the same score can't either. Storks, despite its seemingly gorgeous animation, also scored a 63% fresh rating at Rotten Tomatoes, and that was the beginning of the end for this one. The opening day for Storks laid an egg - coming in at only $5.7 million, lower than anyone expected, with most looking for at least $30 million. The opening day was less than Penguins of Madagascar, another recent disappointment that debuted to $6.1 million (on a Wednesday), and lower than the $8 million that Mr. Peabody and Sherman opened to in March 2014, which was another expensive disappointment as the domestic gross ($115 million) failed to outdo the budget ($145 million).

Over the weekend, Storks could only manage $21.8 million. The studio put this out to 3,922 venues thinking they had something - Andy Samberg, Jennifer Aniston and Danny Trejo form part of the voice cast so there was some star power with this one as well. Reviews hurt, but the A- Cinemascore will hurt more. This is the same Cinemascore as something like Hotel Transylvania 2, as well as being the same or poorer than all of the Ice Age films except the most recent one.

This is a second tier animation performance, putting Storks at a lower level than anything that Pixar has put out, and lower than anything that Illumination Entertainment has released. With a $70 million production cost, Warner Bros. will have to hope that Storks can get to $90 million stateside, before relying on overseas to bring in the additional $120 million this one will need. It got a China release this weekend, so that should go a long way to making up the less-than-stellar result stateside.

Sully holds very nicely, as the appeal for the Tom Hanks film keeps it going strong this weekend. On Friday, Sully was only off 36% compared to the previous Friday, as it enjoyed a $4.2 million third Friday. Over the weekend, the Clint Eastwood film earned a very nice $13.8 million, giving it a drop of only 36%. Bridge of Spies, Hanks' most recent hit, opened lower at $15.4 million, but then had 26% drops in two consecutive weekends, with its third frame only at $8.4 million. Sully is behaving more like Captain Phillips, which opened to $25.7 million (lower), and then dropped 36% and 29% in its second and third weekends (better). Captain Phillips though had $70 million after three weekends of release, whereas Sully is at $92.4 million after three frames and should be busting through the $100 million mark next weekend (it took Captain Phillips seven weekends to do the same). Overseas totals have hit $25 million, with many more international markets still to come, including the UK in December.

Because last weekend's openers were so tragic, there is a chasm between third and fourth. Finishing fourth is Bridget Jones's Baby, which at least moves ahead of Blair Witch this weekend. Bridget held well this weekend, but after last weekend's $8.6 million debut, this one was dead - at least domestically- at liftoff. In its second weekend, Bridget Jones's Baby earned $4.5 million, off 47% compared to the open. Bridget has a domestic total to date of $16.5 million, against a budget of $35 million. Universal could make that much in the UK alone, after a $10 million debut there last weekend. The overseas gross already sits at $67 million, so with that number plus an expected $35 million domestic gross, Universal may squeak out a winner.

Fifth is Snowden, Oliver Stone's plea to pardon this muckraker. Snowden earned $4.1 million in its second frame and dropped 48%. Snowden cost $40 million to make, and will be lucky to earn $25 million domestically, as it has a gross to date of $15.1 million. It is going to have a heavy reliance on overseas grosses, where Snowden will be less known than in America.

Sixth is the Blair Witch, which looks like a massive failure, but is actually a winner, because it cost only $5 million to make. In its second weekend, after opening to $9.6 million, Blair Witch could only manage $4 million in sales, falling a nasty 59% from its debut. But the domestic gross rises to $16.1 million - puny of course - but it puts it on course to be potentially profitable (potentially as the marketing costs are not known). Overseas venues add another $5 million, so it's not like Lionsgate will take a Gods of Egypt type loss on this one. It certainly didn't blow the cover off the baseball, but it didn't hurt either.

That puts the very old or the very bad in the lower spots in the top 10. Seventh is Don't Breathe, the small, $9.9 million horror-thriller that's been in the top ten for five weekends. This weekend it earned $3.8 million, off 33% from last weekend's $5.6 million take. The total for this one has reached $81.1 million, and it has picked up an additional $30 million plus overseas as well.

Suicide Squad is eighth, and is in its eighth weekend in the top ten. Suicide earned another $3.1 million and fell 34%. The domestic gross has now reached $318.1 million, with the overseas total at $413 million.

When the Bough Breaks is ninth. This Screen Gems release has done the opposite of its other release, Don't Breathe, as this one failed to open and then fell 61% in its second weekend. This weekend is the same - Bough broke again, earning only $2.5 million and dropping 54%. This one cost $10 million to make and has a gross so far of $26.6 million, so Screen Gems shouldn't hurt from this one.

Tenth is Kubo and the Two Strings, the other animated film on the chart. Now in its sixth frame, Kubo earned $1.1 million and declined 57%. The overall domestic total is $46 million, and the film has also earned a little over $12 million from overseas venues.

Overall, the box office was well back of last year, when Hotel Transylvania 2 led the top 12 to $127.8 million. The top 12 this year pulled in $95.9 million - at least close to the totals of previous years. Next weekend could be big - Deepwater Horizon opens, as does Tim Burton's Ms. Peregrine's Home for Peculiar Children, along with Masterminds from Relativity.