Weekend Wrap-up
Sully Leads Again; Blair Witch Scares Nobody
By Tim Briody
September 18, 2016
BoxOfficeProphets.com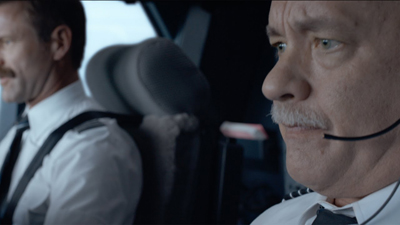 ---
Two previously thought moribund franchises returned to theater this weekend, along with Oliver Stone in his first film in four years, and, um, nobody really noticed. Sully won its second straight weekend with incredible ease.

The Clint Eastwood/Tom Hanks collaboration Sully earned $22 million on the weekend, down a very solid 37% from last weekend. It's the right combination of star power that's playing well with older viewers and turning Sully into a solid hit. It's got $70.5 million after just 10 days and is well on its way to the $100 million mark.

In a distant second place on the weekend is the top opener, Blair Witch, earning $9.6 million. Believed to be a generic horror entry filmed under the working title The Woods until a Comic-Con trailer premiere revealed it to be a third Blair Witch film, continuing the franchise that launched the found-footage genre and had been dormant since 2000's absolutely awful Book of Shadows.

Blair Witch was met with generally poor reviews (37% at Rotten Tomatoes) and with this opening, it's showing that audiences would much prefer the next big thing when it comes to the horror genre (see: Don't Breathe) rather than a found-footage retread. The good news despite the soft under $10 million opening is that it cost just $5 million to make but I don't think we have to worry about this franchise any longer.

Continuing that trend, third place goes to Bridget Jones's Baby, with $8.2 million. It's been 12 years since Bridge Jones: The Edge of Reason, a film with a weird release pattern that I remember discussing on this site back then about how badly it backfired (It was released in just 530 theaters in November 2004, earning $8.6 million, then expanded to 2,450 theaters the following weekend and earned $10 million) and killed off the franchise (even though there weren't any other Bridget Jones books at that point).

Bridget Jones's Baby is also Renee Zellweger's first acting role in about six years, so it's hard to blame her for falling back on an old reliable to reintroduce yourself. The film is actually the best reviewed new release of the weekend by a wide margin, but audiences couldn't bring themselves to care about it anymore. Not that the Bridget Jones franchise was ever really a barnburner, even Bridget Jones' Diary earned just $71.5 million domestically and The Edge of Reason took in just $40 million, a figure that Bridget Jones's Baby won't match (the first two films earned $281 and $263 million worldwide respectively, which also explains why they eventually made a third).

In fourth place we have Snowden, Oliver Stone's biopic on the man responsible leaking large amounts of classified surveillance information, starring Joseph Gordon-Levitt. Earning just $8 million, it's shaping up to be a disappointment. It's actually one of the lowest openings in Stone's career. He hadn't had a wide release open to less than $10 million since 1998's U-Turn. The topic is something people generally don't like to talk about, and given that Stone essentially portrays Snowden as a hero, it's not a film with a big audience. The cast (also Nicolas Cage, Timothy Olyphant, Shailene Woodley, Melissa Leo and Zachary Quinto) may have drawn a few people in, but I don't think they got what they were expecting. It'll disappear quickly from here.

Horror hit Don't Breathe is in fifth with $5.6 million, down 32% from last weekend. It's earned $75.3 million in four weekends in theaters. It's made its reported $10 million budget back many times over, and is one of the biggest horror hits of the year. It's headed to a total of about $90 million.

African-American targeted thriller When the Bough Breaks takes a big hit in its second weekend, down a big 61% to sixth place and $5.5 million. That's generally par for the course for this genre; September 2014's No Good Deed and September 2015's The Perfect Guy each had over 60% declines in their second frames after solid opening weekends. When the Bough Breaks has earned $22.6 million in 10 days and is headed to about $40 million, just fine for its $10 million budget.

Suicide Squad isn't ending its run without a fight, it takes seventh place on the weekend with $4.7 million, off 18% from last weekend. After some concerns it wouldn't hit $300 million after a $133 million opening, its now earned $313 million in seven weekends in theaters. The jewel(?) of the DC Cinematic Universe is headed to $330 million.

Animated entry The Wild Life surprised last weekend and holds pretty well with $2.6 million, down 21% from last weekend. With nothing else out there for younger audiences, it's made $6.6 million on pure "well, gotta take the kids to see *something*" alone.

More animated entries occupy the bottom of the top ten, as Laika's Kubo and the Two Strings is in 9th with $2.5 million, giving it $44.2 million in five weekends and Pete's Dragon takes tenth with $1.9 million, putting it at $72.8 million in six weekends.

Outside the top ten, faith-based entry Hillsong looked to crash the top ten after taking eighth place on Friday with $628,000, but its $1.3 million weekend was only good for 13th place.

This weekend of box office couldn't hold a candle to last year, when Maze Runner: The Scorch Trials and Black Mass both opened well, giving the top 12 films $98.6 million, while this year's top 12 could only manage $74.6 million. Next weekend, The Magnificent Seven remake looks to turn things around, as well as something new for families in the form of the animated Storks.