Friday Box Office Analysis
By John Hamann
September 17, 2017
BoxOfficeProphets.com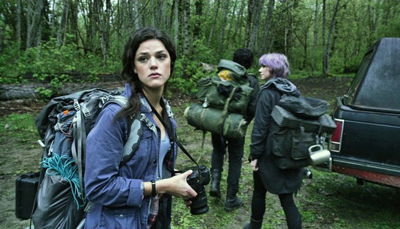 ---
It must be September. Movie theatres are looking like old folks homes these days, as the box office brings four openers to challenge Sully, most aimed at a much younger demographic, and for the most part, swinging and missing. It would seem that people are no longer interested in the Blair Witch or Bridget Jones franchises, and Oliver Stone's named paired with Snowden failed to draw much of a crowd either.

It's a busy month – September brings 15 wide releases to movie screens, and it's a dog eat dog world for box office dollars. This weekend's group is a bit of a dog's breakfast – a horror sequel, a rom-com sequel, a biopic and faith-based documentary, so the spread should have been wide enough for each to succeed (or fail) on their own merits. This weekend, North America gave the collective shrug to each and every one of them, and instead of what could have been a very strong weekend overall, we are left with a hole in the box office calendar.

Blair Witch was the top new release on Friday, surprisingly coming in second behind Sully on opening day. Where was the mad rush that propelled the original Blair Witch Project to $140 million domestic in 1999? This retread could only find $4.1 million on opening day, after earning less than $1 million from Thursday previews. With the usual low horror flick multipliers, Blair Witch will barely cross $10 million for the weekend, with an estimated $10.5 million. Tracking was looking for more than $20 million, so this is going to fall into the pile of recent Lionsgate disappointments, and another franchise fails to launch. However, with a cost of only $5 million to make (plus a significant amount to market it of course), Lionsgate will have a decent result, but failed to capture the magic (and return) of the original.

Bridget Jones's Baby feels about as wrong as the spelling of 'Jones's', and audiences agreed. In North America, Bridget 3 was met with a yawn, with an opening day gross of only $3 million, and earned less than Snowden's piddly $390,000 from Thursday previews. Renee Zellwegger hasn't been in a film since 2010, and this franchise has been dormant since 2004, with no one really crying out for another one. Like Blair Witch, the good news is that it didn't cost very much – coming at $35 million for Universal and partners. If it can manage close to $30 million stateside, overseas should get it to a reasonable profit. Reviews were decent at 78%, and the Cinemascore solid at a B+, so it should play well in the United Kingdom. Look for a domestic opening weekend estimate of $9 million, and an actual around $8.8 million..

Oliver Stone's Snowden had an opening day gross of $3 million, and if a film met expectations this weekend, this is it, as tracking wasn't looking for it to exceed $10 million. This one had a decent need-to-see factor in some circles, but weaker than expected reviews (57% fresh) may have kept it down. Interestingly, the Cinemascore for Snowden was excellent at an A, so we will see if Open Road expands it from the 2,442 screens it saw this weekend. Snowden cost $40 million to make, so it is going to need all the help it can get to earn that back. I'm looking for a weekend around $8.5 million.

The other opener, Hillsong – Let Hope Rise earned a decent $628,000. The faith based film will finish the weekend coming close to $2 million, but will depend on whether it sees (or is estimated to see) a big Sunday bump. It should be a win for the faith-based sector, but not a large one.

That leaves Sully in top spot for the weekend, after the Tom Hanks, Clint Eastwood combo earned a solid $6.6 million on its second Friday night. The Friday to Friday drop comes in at 46%, solid considering Sully's open included $1.6 million from its Thursday preview. That puts it on target for a second weekend above $20 million, the first time that's happened since Suicide Squad opened more than a month ago. This hold solidifies Sully as a $100 million plus finisher, and will cement this one in the minds of Oscar voters going forward.