Weekend Forecast for September 16-18, 2016
By Reagen Sulewski
September 15, 2016
BoxOfficeProphets.com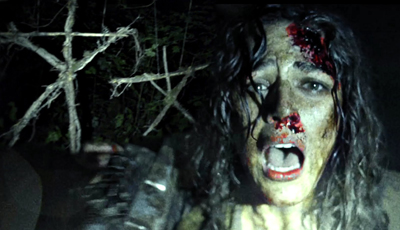 ---
It's an extreme throwback weekend as two franchises, each over a decade away from their last appearance in theaters, return to multiplexes with Hollywood's hopes (official motto: Please. We're *totally* out of ideas!) riding on them to jump start an anemic fall season.

Perhaps the first "viral" movie, The Blair Witch Project snuck up on audiences in 1999, launching the found footage genre with its novel idea of instead of writing a scary movie, just scaring the hell out of its actors. While the results were ultimately mixed for audiences, it was an undeniable successful film thanks to the legend of its making, and its "craft services truck" budget. The following year, a more traditionally shot sequel was... less successful, although it had its fans. The reaction to it was so severe that it basically killed the franchise in its cradle.

Now, 16 years later, someone has dipped their toes back in that water with the simply titled Blair Witch, which goes back to the shaky-cam footage conceit, making Heather Donahue's character's brother the main focus, as he hunts for what happened to her in the Blair Woods. There with a group of filmmakers, they discover that the tricks the woods play on you are all too real, and we're back to all the intense first-person horror and barely-seen scares.

There's a big proportion of movie watchers who are permanently burned on this concept and simply won't be brought in, either because of hate on the first film or disgust at the second, and that limits the ceiling of this significantly. However, it is a project with cultural cachet, or else this wouldn't have been made under this concept in the first place. Made in secret under the title The Woods, the idea that it was actually a sequel was made very late in the game, and caused a minor furor when it was revealed. The director, Adam Wingard, is a veteran of indie horror, responsible for the cult You're Next, along with parts of the V/H/S anthology series, and creates a legitimate sense that it could be quality, although reviews are middling at best. Giving it the horror mid-tier opening weekend bump, this should be able to manage around $27 million, fairly average for the genre.

Unfortunately, this summer's warnings that retreads aren't selling particularly well did not arrive in time to kibosh the Bridget Jones sequel that arrives this weekend, which welcomes the title character into motherhood. Bridget Jones's Baby sees Renee Zellweger return to one of her most successful leading roles (not a large statement), after getting pregnant by either Colin Firth or Patrick Dempsey. The comedy of embarrassment ensues as the 40-something Jones makes a late stab into motherhood with her typical social misfittery.

The Jane Austen parallels are starting to stretch in this series, which has mostly outgrown its audience and relevance, which is too bad in that it would be nice to have more proven female draws, and to not feel like we're putting actresses out to pasture at the age of 35. And yet, with the stale "ha ha pregnancy is like getting fat" and "oh I punched the father (maybe)" jokes, it's very much not the project that's going to break the glass ceiling. Even within the franchise, there were signs of it being tired, as the 2004 film barely grossed half of the original's take (opening weekend take is difficult to compare because of a strange limited roll out). All I sense from this film is a tired sigh from audiences, and this should open to about $9 million.

Oliver Stone returns to conspiracy filmmaking with Snowden, a biopic about NSA leaker Edward Snowden and his flight to Russia. Joseph Gordon-Levitt plays the title character, who Stone naturally portrays as something of a hero, conflicted over his role with the US's spy agency and his growing discomfort with the level of surveillance being conducted on citizens. Also starring Nicolas Cage, Zachary Quinto, Shailene Woodley, Melissa Leo and Tom Wilkinson, it's a high profile film about a topic I think most people would rather ignore or otherwise just not think about. Add in Stone's controversial reputation and politics, and it's a film that's going to play to very limited audiences. Add in tepid reviews that imply that Stone's just delivered a dud of a film, and we're looking at a small opening weekend of about $6 million.

Returning films are led by Sully, which captured $35 million in its debut. The combination of Eastwood and Hanks as director and star proved potent and the familiar subject matter drove a lot of business. I'd expect solid word of mouth for this combination, with about $20 million this weekend.

Thriller When The Bough Breaks had a modest $14 million opening weekend, but like other films of this genre, should have a difficult time holding the line, dropping to about $7 million in its second weekend. It's significantly below films like The Perfect Guy and No Good Deed, and has to represent a mild disappointment.