Weekend Wrap-Up
Sully Soars; Other Openers Crash and Burn
By John Hamann
September 11, 2016
BoxOfficeProphets.com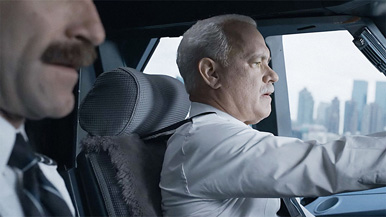 ---
Tom Hanks is back, as Sully enjoys his biggest live action opening since Angels and Demons in 2009.

Yes, it feels like Oscar season is early, as Tom Hanks brings an awards-quality film to the early-September marketplace. Sully, the story of the famed pilot Chesley Sullenberger, seems made for award consideration, with director Clint Eastwood on board, and a supporting cast that includes Laura Linney and Aaron Eckhart. Also opening this weekend is When The Bough Breaks, another late-summer Screen Gems release with Morris Chestnut, The Disappointments Room, a horror film with Kate Beckinsale from the nearly dead Relativity Media, and The Wild Life, one of those low-budget animated releases. Sully was going to work; we knew that. The other three? Well, it's September, and the month can be a graveyard.

Opening at number one this weekend is Sully, the Clint Eastwood-directed Tom Hanks-starrer that kicks off this year's Oscar season. It feels like Hanks is a month early – both Bridge of Spies and Captain Phillips, two of Hanks' recent triumphs that drew Oscar attention, were released in mid-October. Bridge of Spies opened to $15.4 million, and had an incredible multiplier, finishing with $72.3 million domestic and a worldwide haul worth $165.5 million – all against a $40 million budget. Captain Phillips opened to $25.7 million and also had a great multiplier, finishing with a domestic total of $107 million and a worldwide take of $219 million, against a $55 million budget. Both of those films served their intended audience (the older, more discerning adult) and found the legs usually associated with that demo. With Sully, Hanks is ready to repeat history and maybe get back to Oscar glory.

Sully got started with an impressive $1.4 million on Thursday night – more than expected, and indicated that tracking estimates of a $20 million opening were going to be beaten. Audiences were responding to the marketing, and that really showed in the combined Thursday/Friday number. Sully had a hot opening day gross of $12.2 million, putting it on track for a $30 million plus opening weekend. Not the type of film to open big on Friday and drift the rest of the weekend, the Clint Eastwood film finished the weekend with a very strong $35.5 million, giving Hanks his biggest debut since Angels and Demons, and Eastwood his second biggest opening behind only American Sniper. That puts Sully in the list of top 10 biggest openers for September ever, and gives it a very healthy start over what should be a very long run. Should Sully find the same legs that Bridge of Spies had, it could reach $150 million domestic.

How did Eastwood, Hanks and Warner Bros. find this level of success? Intelligence. By putting Tom Hanks and Clint Eastwood together for the first time, in another Eastwood "American Hero" story, the table was already set for success. Add to that good reviews (certified fresh at RottenTomatoes, currently at 84% positive), and a debut on the opening night of the Telluride Film Festival, Sully became a discussion topic before it opened, and caused Thursday night previews to spike. The rollout also likely convinced some younger people to buy tickets, especially on the east coast. Audiences liked what they saw (which is the most important thing for this type of older demo flick), giving Sully an A Cinemascore. It joins both Captain Phillips and Bridge of Spies as Hanks films with A Cinemascores, as it seems like a Tom Hanks renaissance at the box office.

I remember when I lost Tom Hanks out of my life – it was May 2006, when The Da Vinci Code opened. Like many, I hated that film, and the central performance in my opinion did away with a lot of the really good work Hanks had done previously. After that, there were films like Charlie Wilson's War and Larry Crowne, more films I didn't like, from a man that had brought favorites like Big, Saving Private Ryan, The Green Mile, and maybe his best and most underseen movie, The Road To Perdition. For me, he didn't make a good live action film until Cloud Atlas (and I know many of you might not see that as the classic that I do), and that film broke the streak, as he did Captain Phillips, Saving Mr. Banks, and Bridge of Spies shortly after. Next up is Inferno, the third film in the Robert Langdon oeuvre, and let's face it, these films are made for overseas audiences, as the last, Angels and Demons, earned $133 domestically, and a whopping $352 million from overseas audiences. Will we see Tom Hanks representing Sully on Oscar night? I think so.

Second spot goes to another opener, When The Bough Breaks, which is successful compared to its small, $10 million budget, but not to the breakout degree some were expecting. From Sony and Screen Gems, When The Bough Breaks reunites Morris Chestnut and Regina Hall, who were seen together in The Best Man franchise, but to lesser results than before. Bough bowed on Friday with a decent $5.3 million, earning more than half of the $10 million production budget on opening day. Screen Gems was able to commute the opening day number into a weekend haul of $15 million, pulling that in from only 2,246 venues.

When The Bough Breaks is fairly review-proof, which is a good thing for a film like this. The Screen Gems release is currently 0% fresh at RottenTomatoes, but there have only been eight reviews counted at the site, so maybe the sample is just small. Those eight reviewers all call this a destined-for-cable movie, but audiences seemed to find something to like. The Cinemascore came in at a decent (considering the reviews) score of a B, well off the A- earned by The Perfect Guy, which opened to $26 million and finished with $58 million (against a $12 million budget). Screen Gems has a good thing going with these smaller budget films, as this $10 million effort joins Don't Breathe in the top ten, and that one had over $60 million in the bank (against a $9.9 million budget) before the weekend began.

Speaking of Don't Breathe, this horror thriller is still in third despite being out for three weekends, and it is still holding above the average drop for horror. This weekend, the other Screen Gems release pulled in another $8.2 million and fell a decent 48%. That hold is decent because we are coming off of a long weekend, which pushes amounts up the previous weekend and can create bigger drops in the following frame. Don't Breathe pushes its domestic take up to $66.8 million – an awesome total for this $9.9 million release. The overseas gross is approaching $10 million, as Screen Gems has a real hit on its hands. It is currently the sixth biggest Screen Gems release ever, and will move past Think Like a Man Too ($65.2 million) and Obsessed ($68.3 million) very shortly.

The rest of the top ten has some traditional September sadness. Suicide Squad is fourth, but really just by default, as it has been out now for six weekends. This time around, Suicide Squad earned another $5.7 million and dropped 43%. Its domestic total is up to $307.4 million, and the worldwide take is $700 million.

Fifth is new release The Wild Life, an animated feature starring no one. Kids gave this one the collective shrug this weekend, as it earned only $3.4 million. This will be gone next weekend, so there is no point spending time on it.

Kubo and the Two Strings is sixth. This weekend, the Focus Features/Laika release earned $3.2 million and declined 49%. It's too bad – Kubo is 97% fresh at RottenTomatoes but has a domestic gross of only $40.8 million against a $60 million budget. Kubo has earned only $8 million overseas, but is rolling into some bigger markets this weekend.

Pete's Dragon is seventh, and like Suicide Squad, is simply a deflating balloon at this point. This weekend, Pete and his Dragon earned another $2.9 million, dropping 54% compared to last weekend. The $65 million release has now at least matched its production budget stateside ($70 million), but the overseas is currently not enough at $32 million and is running out of countries to open in. I have not liked how Disney has handled their overseas rollouts this summer, as I believe they left money on the table with both Finding Dory and Pete's Dragon.

Bad Moms is eighth, as its run is coming to a close. Bad Moms earned another $2.8 million this weekend, bringing its domestic total up to $107.5 million. Overseas, it has earned $44 million, and has accumulated all of that against a production budget of only $20 million.

Hell or High Water added another 145 screens but was not able to keep the momentum it had last weekend, when it boosted its venue count by 400 screens and earned $4.4 million. This time around, Hell or High Water earned $2.6 million and fell 41%, the first time it has dropped since it opened. The $12 million Lionsgate/CBS Films release has now brought the domestic total up to $19.8 million and has become a rare platform release success. Lionsgate's marketing division has done a remarkable job with High Water, even if it's not a huge theatrical success. This one will make money eventually, after it's sold to Netflix, Hulu or one of the other streamers.

Sausage Party is tenth, and it's funny how this one has seen diminishing returns as school gets back in session. This weekend, its fifth, the animated adult release earned another $2.3 million and dropped 56%. Even if this one goes quickly away, it is still a smashing success. Made for $19 million, Sausage Party has earned $93.2 million domestically and $20 million overseas. It still has over a dozen overseas markets to open in.

Missing the top ten this weekend is The Disappointments Room, the first release from Relativity Media since coming out of bankruptcy protection. Not only did it miss the top ten, it earned only $1.4 million, finishing 17th. The gross is ugly, and so are the reviews and Cinemascore. Like When the Bough Breaks, this is currently 0% fresh at RottenTomatoes (only seven reviews), and it earned a impressively bad Cinemascore of D. Is it just me, or did there seem to be zero marketing for this film?

Overall this weekend, despite Sully, the box office could only keep up with last year, instead of beating it. This weekend's top 12 came in at $85.8 million, just ahead of last year's top 12 total, which came in at $85.2 million. Next weekend will be very interesting. Oliver Stone's Snowden opens, which is splitting critics into love it or hate it camps. Also opening is the Blair Witch reboot, which is getting glowing reviews, the same as Bridget Jones' Baby – two films I thought would crater with critics.