Friday Box Office Analysis
By Kim Hollis
September 10, 2016
BoxOfficeProphets.com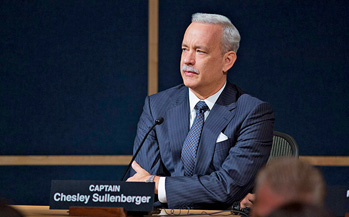 ---
September can be a sleepy month, but festivals are in full swing with Telluride having finished last weekend and Toronto taking place right now. As a result, we can officially say that awards buzz is under way, and thanks to a movie with solid box office and critical performance, we have our first 2016 film to really enter the Oscar conversation.

Tom Hanks has found fairly consistent success over the years, particularly in cases where he works with top-level directors. Collaborations with Steven Spielberg (Saving Private Ryan, Catch Me If You Can, Bridge of Spies), Ron Howard (Splash, Apollo 13, The Da Vinci Code), Robert Zemeckis (Forrest Gump, Cast Away, The Polar Express) and Penny Marshall (Big, A League of Their Own) have allowed him to stretch his limits as a performer from comedic to serious, adventure and magical realism. Despite the fact that Hanks has worked with innumerable talented forces over the years (others include the Coen brothers, Garry Marshall, Brian De Palma, Nora Ephron, Jonathan Demme, Frank Darabont, Sam Mendes and Mike Nichols), one director he had never worked with was Clint Eastwood.

One can only imagine that this pairing was pretty volatile, with Eastwood a far-right Republican and Hanks's politics falling on the opposite end of the spectrum. Nonetheless, they came together to tell the story of the heroic efforts of Captain Chesley "Sully" Sullenberger as he makes an emergency landing of a commercial plane in the Hudson River. You'll almost certainly remember the real-life tale on which Sully is based, primarily because Sully himself is such a likable, accessible figure. It's a true story of human ingenuity, much along the lines of last year's The Martian, and exactly the type of thing that audiences respond to positively.

Combine Eastwood's loyal audience (whose ardent fandom seemed to increase as American Sniper became the highest grossing film of 2014) with Hanks' reliability and you obviously have a recipe for success. Reports came that Sully received standing ovations at Telluride, and reviews backed up that notion, with Rotten Tomatoes grading the film at 84% fresh. The Cinemascore is an A as well. So, while we can normally sleepwalk a bit through the month of September, this weekend, we've got a pretty good story to tell.

Sully started its debut weekend with a $12.2 million weekend, more than twice as much as the closest competitor and easily exceeding tracking expectations. Given the powerful word-of-mouth and the fact that Eastwood and Hanks both attract older audiences, we can expect a stellar carryover into Saturday and Sunday. $34.2 million seems likely, though I wouldn't be surprised if it came in at $36 million plus.

Apparently, Screen Gems has scoped out this weekend as requisite for thrillers targeted to the African-American demographic (one that remains disappointingly underserved, by the way). In 2014, No Good Deed, featuring the awesome combo of Idris Elba and Taraji P. Henson, debuted with $24.3 million and went on to earn $52.5 million. Last year, the Morris Chestnut/Sanaa Lathan/Michael Ealy film The Perfect Guy started with $25.9 million and took in a grand total of $57 million at the domestic box office. Chestnut returns for this year's edition, When the Bough Breaks, which basically looks a lot like The Perfect Guy but with a gender flip for the insidious character.

It does appear that the audience has fatigued of the formula a bit, as When the Bough Breaks came in with $5.3 million. That's a few million less than both The Perfect Guy and No Good Deed, and probably a bit discouraging since these films all tend to follow the same general trajectory of opening huge on Friday and then continuously declining. Assuming that happens to When the Bough Breaks, it should have a weekend total of $13.8 million.

Our other two new releases of the weekend barely rate a mention. The Wild Life, a terrible-looking animated version of Robinson Crusoe (and sadly not a re-release of the 1984 quasi Fast Times at Ridgemont High sequel) earned just $729,000 yesterday. Audiences have gotten pretty good at sniffing out stinkers in the animated genre. Even with the best multiplier imaginable, this one is only going to finish with $3 million.

Relativity's 0% fresh horror film The Disappointments Room earned only $475,000 yesterday, and should fall completely off the map quickly. Its probable $1.3 million weekend total means it's not going to come within sniffing distance of its conservative $15 million budget.