September 2016 Box Office Forecast
By Michael Lynderey
September 1, 2016
BoxOfficeProphets.com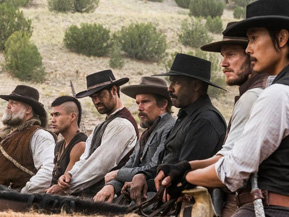 ---
This September is a little harder to predict than most of the rest of the year, with the release of roughly a half-dozen films with great credentials and potential for long box office runs ( ...and one of them has Chris Pratt in it). The Oscar season launches again, as it must (must it?), but September 2015 failed to produce even a single film that received a nomination in the major categories, and something tells me this month isn't necessarily going to do much better (are you there, Hanks?).

1. The Magnificent Seven (September 23rd)

This remake of the 1960 film seems like the month's easy box office champion, but first, a recap: with Suicide Squad seeming to be on the verge of raking in $300 million after all, that gives 2016 eight $300 million grossers in as many months (easily beating 2015's new record of six. Easily!), and so the question is: Will the trend continue? Will four more films gross $300 million over the year's remaining four months? If there's a candidate this September, The Magnificent Seven must be the one. This is a film, after all, that combines the talents of one of the most consistent box office stars in recent film history, Denzel Washington, with the presence of Chris Pratt, an "up-and-coming" (lol) actor whose very existence seems to inspire cinemagoers to rush madly to the movie palaces and purchase as many tickets as legally possible (to restate the man's crimes: Pratt delivered a ridiculous $94 million opening to Guardians of the Galaxy in 2014, before totally breaking the weekend record with Jurassic World less than a year later).

Beyond the two leads, the Seven consist of a diverse array of cast, including Ethan Hawke (presumably as the nice-guy cowboy), Vincent D'Onofrio (not playing the villain, oddly), and Lee Byung-hun (who was the short-lived Terminator in last summer's new film), while mustache-twirler Peter Sarsgaard plays the villain, who must presumably be shot and killed for everyone in the film to be happy (by the way, to be a bit less charitable about it, if faced up against Denzel Washington and Chris Pratt, what chance does Peter Sarsgaard really stand of making it through this one?).

Director Antoine Fuqua and star Washington recently teamed up for The Equalizer, which crossed $100 million, and this film follows the former's release strategy, premiering at TIFF and then opening wide towards the end of the month. Still, the September 23rd date is odd: isn't a summer opening more suitable for what will presumably be a sunny action-adventure with great location shots? Or how about a leggy December release date, the kind that did marvelous things for the True Grit remake? One theory of mine, however unlikely, is that the respective box office powers of Washington and Pratt will somehow cancel each other out. That's not plausible, I know, although there seems to be a rational limit to how much a generally-traditional western film can open with, even with such star power in tow. Then again, Pratt has redefined the rules as consistently as Washington has insisted upon them.

Opening weekend: $58 million / $165 million

2. Deepwater Horizon (September 30th)
Other than Mr. Washington and Mr. Pratt, September 2016's box office seems unduly dominated by three major films depicting extremely recent events in American history. One (Sully) has a happy ending, the other one (this) not too much, and the third (Snowden) is, I guess, yet to be determined. Deepwater Horizon is about the same-named off-shore oil rig's multi-week spill right outside the shores of Louisiana, and is also one of two upcoming films directed by Peter Berg and starring Mark Wahlberg to re-tell a recent American tragedy (the other, Patriots Day, about the Boston bombing, will get an awards-friendly platform date in December).

Berg previously directed Wahlberg to great unexpected success in the military thriller Lone Survivor (2013), so we know this is a filmmaking pair that works. Playing one of the oil rig employees, Wahlberg is surrounded here by a blend of recognizable faces, all who seem plucked from different compartments of the acting world (Kurt Russell, Gina Rodriguez, Kate Hudson, and Dylan O'Brien, who is himself no stranger to workplace accidents [sorry]). The other big cinematic version of a 2010 disaster, the Chilean miners film The 33, came and went last year, but this story is more down-home, and Wahlberg, who exudes the right working-class star power, opens this kind of film extremely well.

Opening weekend: $40 million / Total gross: $110 million

3. Sully (September 9th)
Two iconic and very different symbols of American filmmaking, and indeed, of American masculinity, team here as Clinton Eastwood directs one Thomas Jeffrey Hanks in the film that presumably officially opens the fall season of serious, adult-aimed entertainment. The story is of course about the "Miracle on the Hudson," title pilot Chesley "Sully" Sullenberger's miraculous 2009 landing of a full passenger plane in the idle waters of Manhattan, and the subsequent investigation as to the self-apparent worth of his aeronautical talents. It's a story that recalls the 2012 Denzel Washington film Flight so much so that you can imagine one must have been inspired by the other. Hanks may not have seemed like the most obvious choice for Sully, but he looks and feels right in the role, and there is a sort of continuity after his recent turn playing Captain Phillips in a film based on a different 2009 three-day news story (a film I still say should have had a slightly more Hollywood ending, with Hanks' captain storming the island lair of the pirate king, in the tradition of Arnold Schwarzenegger in Commando). Eastwood is also atop a very long career high, following American Sniper, which was his biggest commercial success, the highest domestic grosser of 2014, and so on.

So, these two veterans of many an Oscar-season battle are a hell of a draw. The release date is very early as far this kind of prestige film goes, but that shouldn't take away much from what I assume will be a critically-successful title, and one that has already identified and advertised to its target audience: I expect that the sort of people who perhaps sit out the summer months of moviegoing these days are ready to go back to the cinemas.

Opening weekend: $28 million / Total gross: $85 million

4. Miss Peregrine's Home for Peculiar Children (September 30th)
Tm Burton's latest fantasy adventure is based on what would be termed a "YA" book, published in 2011 and seemingly ready-made to find itself turned into a rather prototypical Burton film: after the conventional and well-made drama Big Eyes (2014), Burton returns inevitably to his natural form of depicting the odd and fantastical, residents here of an island getaway where their unusual talents are far more appreciated than on the muggle-infested mainland. Asa Butterfield, whose name sounds more than vaguely like a Burton creation itself, is the star, headlining no less than his fifth book adaptation (after The Boy in the Striped Pyjamas, Nanny McPhee 2, Hugo, and Ender's Game), and a big attraction in the cast is the Miss herself, Eva Green, who was memorable and great as a villainess in Burton's Dark Shadows, and who seems like a most natural fit as the director's new muse.

The trailer is duly quirky and includes a great number of examples of the Peregrine Home's title residents (an invisible boy, a weather manipulator, a mouth-breather whose mouth is in the back of her head, and so on). The villain is the imaginatively-cast Samuel L. Jackson, adorned with burning white eyes, and there's a lot more that happens in the book that isn't in the advertising. Burton's recent critical record with fantasies is somewhat hit-and-miss, and where that review needle lands on this time will determine the film's box office fate. Even with Storks around, I think there's a lot of space here for Miss Peregrine's Children to do well between its release date and Halloween, which I will reasonably assume is Tim Burton's absolute favorite holiday.

Opening weekend: $22 million / Total gross: $75 million

5. Storks (September 23rd)
Opening two weeks after the somewhat minor-seeming animated release The Wild Life, Storks looks to establish itself firmly as September's definitive CGI film, and what more can I saw about such an endeavor? As with most CGI extravaganzas, it features a premise that makes stabs at cleverness (baby-delivering storks branch out into more lucrative pursuits), it has a lively voice cast (Andy Samberg, Kelsey Grammer, Keegan-Michael Key, and so on), it carries occasionally distinctive advertising and an easy to remember name, and it may receive positive critical notices, as such films often but not always do.

Still, 2016 has already firmly gone through to the CGI well over and over, first with Zootopia, and then with Finding Dory and The Secret Life of Pets (in descending order of quality, by the way), all of which grossed exorbitant amounts of money and must have at least somewhat exhausted their young audiences. We still have Trolls, Moana, and Sing to go, too, so Storks may get stuck somewhere in the lame-duck session. I may or may not be under-guessing this one, but really, can you blame me? Surely not every CGI film simply must gross $100 million? Say, $60 million ain't bad.

Opening weekend: $25 million / Total gross: $60 million

6. When the Bough Breaks (September 9th)
This Screen Gems release is a relatively low-budget thriller with an African-American cast, a fact I note only because those were the exact same fundamentals shared by No Good Deed (2014) and then The Perfect Guy (2015), two very successful recent suspense films that opened much bigger than anyone thought, on the exact same September weekend. After No Good Deed, which had been held in the studio vault for about two years, became a surprise hit, the studio seized on a hit formula, and When the Bough Breaks seems very naturally in the same ballpark. These films mostly follow a plot that roughly recalls all those early 1990s thrillers like The Hand That Rocks the Cradle or Consenting Adults, about mild-mannered suburbanites acquiring seemingly benign and helpful new acquaintances who turn out to seethe with homicidal rage (not that there's anything wrong with that). Here, a couple is terrorized by an initially friendly and kind young woman they've hired as a surrogate mother, and I imagine the plot will touch all the usual bases - the husband is tempted but does not go all the way, the surrogate kills one or two nosy family friends, the couple's love survives this unpleasantness, and so on. The trailers are slick and make extremely good use of a pop song ("The Boy is Mine"). They sell this movie well, and depending on how Sully goes, it's not all that implausible that this is the film that wins next weekend.

Opening weekend: $26 million / Total gross: $58 million

7. Blair Witch (September 16th)
Blair Witch was initially called The Woods, until what looked like another shaky-cam horror film was revealed in fact to be the sequel to the shaky-cam horror film, the original Blair Witch Project. As always with such decades-spanning franchises, I simply must recite history: blazing past the G-rated The Legend of Boggy Creek (1972), The Blair Witch Project became the most successful horror pseudo-documentary of all time. Billed as real found footage of the last days and nights of a crew of unlucky myth explorers, the Blair film debuted to howls and raves at Sundance 1999, before turning a limited platform release date into a wildly successful theatrical run during the summer of 1999, becoming a pop culture phenomenon, and taking in $140 million for its troubles. The world naturally assumed that such a ravishing success on a measly small budget ($60,000) would inspire a horde of imitator shaky-cam films to launch into theaters in the early 2000s... but the hordes never came. Book of Shadows: Blair Witch 2 was a conventionally-made and occasionally intriguing horror sequel released a year later to little fanfare and a total box office of just $26 million, and then a promised Blair Witch 3, a prequel, never materialized (though all these years, I have been waiting).

Time passed, and then Cloverfield in 2008 was the film that ended up unleashing those shaky-cam found-footage horror movies upon our planet, giving all the filmmakers who had been coming up with ideas in the post-Blair years a chance to finally take them to film. And thus the trend that weirdly did not materialize in 2000 came out in full force many years later.

Which brings us to Blair Witch, in 2016. This, too, is a direct sequel, but whereas the unlucky travelers in Book of Shadows were depicted as curious viewers of the first Blair Witch film (yes, it turned the universe into a film-within-a-film), this sequel returns to the original continuity, with one of the woodsy travelers here being a sibling of the Witch's original film's most famous victim, Heather Donahue, who delivered that famous monologue in her waning hours. And the found-footage style is back, too. So, what are we to make of this? Do millennials who remember the original still care all that much about it? Does the Blair Witch sell tickets? And why was that man standing motionless in front of the wall at the end of the original film? (Betcha we won't find out). A couple of recent horror films (Lights Out, Don't Breathe) have certainly over-performed their early forecasts, so the terrain might be friendly. This one is helmed by Adam Wingard, who previously commandeered well-directed horror scenes in both You're Next (2013) and The Guest (2014), but that likely won't stop an expected second weekend drop.

Opening weekend: $22 million / Total gross: $45 million

8. Snowden (September 16th)
Oliver Stone brings to the screen the wacky misadventures of one Edward Snowden, a man who was simply unable to attend the 2015 Academy Awards for "some treason" (to quote host Neil Patrick Harris). Stone's earlier political films were incendiary in both plotting and editing, often running for hours and hours on end on a breakneck pace that blazed through scenes, cast members, and dialogue (the underseen and underrated Nixon, 1995, is my favorite), but his last political film, the George Bush biopic W. (2008), was shorter, slower, and less prone to fits of manic exasperation. Judging only by its trailers, Snowden seems to follow much in the same suit, with Joseph Gordon-Levitt's title character speaking oh so slowly in what sounds like a variation of a satire of an accent that may fit somewhere in the midwest, if it fits anywhere. The supporting cast is an overall plus, with Shailene Woodley finally getting her first non-Divergent role since The Fault in Our Stars, along with the increasingly prolific Scott Eastwood and the always-working Tom Wilkinson. Gordon-Levitt recently headlined another biopic with a questionable accent, The Walk, a film that received fairly positive critical acclamation but faded from view last fall. Given the somewhat thorny issues involved here, I'm not sure Snowden is a particularly easier sell to a mainstream audience, and in a way, Edward Snowden has already made Stone's main theme almost redundant: it's not much of a secret conspiracy theory that everyone's watching you when the whole film is about how they really are.

Opening weekend: $11 million / Total gross: $34 million

9. Masterminds (September 30th)
Like many other films this month, light comedy Masterminds is in fact inspired by a true story, even if much less obviously so (it's the big Loomis Fargo robbery in 1997, which netted close to $20 million, and many years of incarceration, for the participants). Forecasts of this motion picture are sort of obligated to outline its tumultuous path to release, I suppose, so I will also (it was delayed from last year by the various financial setbacks of its studio, Relativity Media, which really could have used that 20 million dollars). The title is ironic, and so the story depicts this particular inside-job heist as being led by rubes, played by Kristen Wiig, Owen Wilson, and Zach Galifianakis, in what is really his first starring role since The Campaign (2012) and The Hangover Part III (2013). The trailers have a fair share of laughs, and through some fortuitous bit of casting, the credits include not only Wiig but two of her fellow Ghostbusters, Kate McKinnon and Leslie Jones, in smaller roles now given a bigger highlight by the marketing. That may not matter all that much, though: the film will do well if it's good, and probably fade from the scene reasonably quickly if it's not.

Opening weekend: $13 million / Total gross: $32 million

10. Bridget Jones's Baby (September 16th)
Two of the great iconic characters of the early 2000s are back with us, as the Blair Witch and Bridget Jones face off for comeback glory on the same weekend. Directed by the original film's helmer Sharon Maguire, Bridget Jones 3 continues the romantic travails of the love-struck Londonite of the title, played for the third time by Renée Zellweger, in what is her first film role since Case 39 'six years ago' (really?!? wow). The first Bridget Jones arrived in 2001 as a combination of its best-selling source material (Helen Fielding's 1996 novel) and the Richard Curtis factory of charming and chivalrous English romantic films, ones usually prone to the presence of Hugh Grant and/or Colin Firth (and the first Bridget Jones, indeed, settled for no less than including them both).

The sequel film was not so well received in 2004 (though I liked it, if anyone really wants to know), but Bridget still had her fans, a third book was published, and, even though this new film apparently draws little inspiration from its written source material, here it is anyway. Grant's cad is replaced by Patrick Dempsey's, while Firth returns as the increasingly put-upon Mark Darcy, and the characters are then placed here into an unfortunately rather literal game of who's-your-daddy (no, really. Bridget is pregnant, see...). Their shenanigans may well inspire a reasonable opening weekend fueled by those who fondly remember Bridget Jones, even if the film will likely be one-upped by those who fondly remember the Blair Witch.

Opening weekend: $13 million / Total gross: $30 million

11. + 12. Morgan and The Light Between Oceans (September 2nd)
The first weekend of September is headlined by this pair, the former a horror picture about a pseudo-murderous semi-robot (or a pseudo-robotic semi-murderer), and the latter Derek Cianfrance's adaptation of the book of the same name, starring two actors, Michael Fassbender and Alicia Vikander, who tend to attract a lot of awards attention just by showing up. The reviews for the Oceans are better than those for Morgan, as I suppose they must be, but both films will likely play only modest business in what has increasingly been a weekend left bereft of competitive releases (last year's sole new Labor Day movie was The Transporter reboot). These new films' critical fates will likely be reversed on the box office stage, with the horror film winning out and likely pawing a bit past a $10 million opening, while the drama might not get much past single digits. You take your victories where you can.