Weekend Wrap-Up
Ben-Hur a Disaster at the Box Office
By John Hamann
August 21, 2016
BoxOfficeProphets.com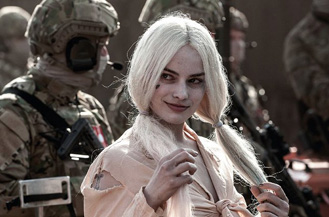 ---
The good news this weekend is that we have six films earning more than $10 million. The bad news is that only one touched $20 million, and that is the flailing, three-weekend-old Suicide Squad.

These late August weekends can be a tough time to open a film. Over the last 10 years, only one film – Quentin Tarantino's Inglourious Basterds, managed to open at #1. Every other year, a holdover has claimed top spot, whether it be Straight Outta Compton last year (top opener was Sinister 2 in third), The Expendables 2 in 2012 (Premium Rush was the top opener – in eighth), or Superbad, which was a holdover number one in 2007, while Mr. Bean's Holiday opened in fourth. One might think this is not the weekend to roll out your $100 million epic in Ben-Hur, or even the other two smaller openers in War Dogs or Kubo and the Two Strings. However, with more product than weekends these days, something had to open, and the victim this year is Ben-Hur.

Our number one film is not Ben-Hur or even War Dogs. Instead, we are stuck with the third weekend of Suicide Squad on top. One might think that with the three main openers struggling to come up with $40 million, Suicide Squad would be in a much better position to hold. After falling 67% last weekend (much like Batman v Superman's 69% second weekend dip), Suicide Squad was looking to again improve on Dawn of Justice's third weekend of $23.4 million and 55% third weekend plunge. Suicide Squad started its weekend with a $6 million take, about $50,000 worse than the third Friday for Dawn of Justice. If there is good news, the Friday-to-Friday drop for Suicide came in at 54%, a few points better than Batman v Superman's 60% Friday-to-Friday drop. Unfortunately, it's all lipstick on a pig, as both of these films performed horribly after opening weekend.

Over the weekend, Suicide Squad picked up another $20.7 million, off 52% compared to last weekend's $43.5 million take. The good news for Warner Bros. is that Suicide Squad will earn more than two times its opening weekend, something that Batman v Superman failed to do. The bad news is the same – between these two films, Warner Bros. and DC Comics have left about a half-billion on the table, as the domestic gross for Suicide Squad has meandered its way up to $262.3 million. Does Suicide Squad make it to $300 million domestic? It will be close, but I think it will. Overseas, box office over there has crossed the $300 million mark. Suicide Squad has been able to cross $500 million worldwide, but will never match the promise it had prior to opening.

It's a tight race amongst members of the top five this weekend, and for now, second spot goes to last weekend's surprise, Seth Rogen's Sausage Party. The R-rated animated comedy earned $34.3 million to open in a healthy second last weekend, and performs admirably again. Sausage Party earned $15.3 million in its second frame and fell 55%. It's important to remember that films like Sausage Party can hit their opening weekend and then completely disappear over the weekends that follow. The target (college age) is small, and an R-rated animated comedy isn't going to break out. The fact that Sausage Party has earned $65.3 million already is a huge success for Sony, and even better news is that it cost only $19 million to make. It will be interesting to see if this plays overseas – it is off to a hot start in Australia, where it's already picked up over $2 million.

Third spot finally brings us to our first of three openers, but it's not the $100 million Ben-Hur. Instead, it's the $40 million action comedy War Dogs, starring Jonah Hill and Miles Teller (who wants to be remembered for Whiplash, not Fantastic Four). Fans of Jonah Hill and director Todd Philips showed up this weekend, and War Dogs got started with a little over $1 million via Thursday previews and then scored a combined $5.5 million on Friday. We knew at this point that War Dogs was not going to break out, but could do okay versus that small budget. Over the weekend, War Dogs picked up $14.3 million, an opening frame more like Hill's Get Him to the Greek ($17 million opening) than his 22 Jump Street ($57 million opening).

Mixed reviews and a questionable release date dogged War Dogs. At Rotten Tomatoes, War Dogs is 57% fresh, with 68 reviews to the good and 47 to the bad. The Cinemascore was worse, coming in at a sullen B, which does not indicate good legs for this one. That's the same Cinemascore that Get Him to the Greek had, and it had great legs ($17 million open, $61 million domestic finish), so one never knows. It will need some overseas help; however, with the two leads it should pick up $40 million it needs to find a profit.

Animated Kubo and the Two Strings is fourth this weekend, as two very small films bet up on ol' Ben-Hur. Kubo, from Laika but distributed by Focus Features, saw the usual result from one of their stop motion, animated films. Other Laika films have included Coraline ($16 million opening), ParaNorman ($14 million opening) and The Boxtrolls ($17.3 million opening). Kubo got started with a $12.6 million frame, slightly lower than the usual, but given the title and the different kind of story here, I am not surprised that it's a little bit lower.

The Laika films are often the same, start in the teen-millions, and then leg out some success pushing the total above the $50 million mark. Then, given the foreign nature of this one, it should outgross the domestic side overseas. Kubo and the Two Strings cost $60 million to make, so it will have to do well overseas in order to find a profit. The A Cinemascore is going to push it along nicely, so there is still hope.

That leaves Ben-Hur in a sad fifth spot, and in a hole much too deep to dig its way out of. It "started" on Thursday, but failed to even earn a million dollars from Thursday previews, despite a heavy marketing push to faith-based audiences. Friday was no better. Combined with the preview, the Friday number came in at only $4.1 million, which meant an opening weekend below $15 million, even if the faithers drive the Sunday number was way up. Remember, this one cost $100 million to make, so it needs $300 million worldwide to find a profit for MGM, who put up 80% of the budget, and Paramount, who put up 20%.

Over the weekend, Ben-Hur could only manage $11.4 million, far too low for any spin to be put on this one. Reviews for the remake of one of the most treasured movies ever were simply awful, a complete reversal from the winner of 11 Oscars. Ben-Hur is 30% fresh at Rotten Tomatoes, with almost all critics complaining pretty hard about this one. Personally, the original didn't seem long. So how does one cut one hour out of a three hour movie, and still tell the same story? You don't. The Cinemascore was better at an A-, but that score is influenced the same way the Suicide Score was – people already in love with the idea give the score a thumbs up regardless of what they just saw. It was a bad idea to put Mark Burnett and Roma Downey in charge of remaking a treasured classic. MGM has been hot of late (Creed, Spectre), but this result is going to burn through any profits made there. Unless Ben-Hur is some sort of weird hit overseas, this one is going down in flames.

Sixth spot goes to Pete's Dragon, last weekend's $20 million plus opener. While Pete's Dragon didn't hold as well as Disney hoped, it still did okay considering the debut of Kubo and the Two Strings. Pete's Dragon pulled in $11.3 million in its second weekend, but dropped a higher than expected 47%. This one cost a respectable $65 million to make, and has a gross after 10 days of $42.9 million. This Disney release is now going to have to work hard the rest of the way and then hope for a huge showing overseas.

Seventh is summer smash Bad Moms, which keeps its roll going this weekend. After earning $11.4 million in its third weekend, the STX release continued its strong run, earning another $8.1 million and dropping a not bad 29%. That brings the total for the $20 million film up to a mammoth $85.8 million on the domestic side, and it has pulled in another $15 million overseas.

Eighth is Universal's Jason Bourne, which pulls in another $8 million this weekend. That's a drop of 42% compared to last weekend, but the result overall remains underwhelming. Made for $120 million, Jason Bourne has a domestic gross to date of $140.9 million, and it has picked up $140 million overseas. It still needs another $100 million to earn a profit for the studio.

Ninth is The Secret Life of Pets, which is also impacted by the launch of Kubo and the Two Strings. Pets earned another $5.8 million but declined 36% compared to last weekend. After seven weekends of release, this Illumination Entertainment/Universal release has picked up $346.7 million domestic and over $250 million from overseas sales.

Finally in tenth is Florence Foster Jenkins, the Meryl Streep film that expanded to 1,528 venues last weekend, and the same amount this weekend. Paramount should have kept the expansion going, as this weekend, Florence Foster Jenkins earned only $4.3 million, a drop of 35%. Given the drop, I wonder if Paramount will go wider with this one. The film has now earned $14.4 million and has picked up another $8 million overseas.

Overall this weekend, the top 12 films earned $118.4 million. While lower than what we've seen over the last few weekends, it is ahead of last year, when Straight Outa Compton led the top 12 to $91.4 million. Next weekend we get the return of Jason Statham in The Mechanic: Resurrection; Hands of Stone, the boxing movie with Robert DeNiro; and Don't Breathe, a critically acclaimed horror flick from Screen Gems.