Weekend Wrap-Up
Suicide Numbers Plummet; Sausage Parties
By John Hamann
August 14, 2016
BoxOfficeProphets.com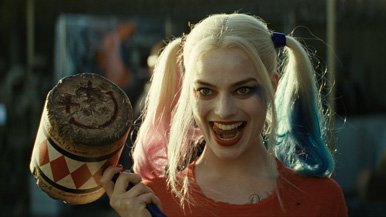 ---
I hate to say I told you so, but Suicide Squad fell 67% in its second weekend, much like Batman v Superman's 69% drop. What do these films have in common? They both suck for the non-fanboy.

Following a weekend where the very poorly reviewed Suicide Squad and Nine Lives stunk the place up, Hollywood gives us three new films this weekend with glowing reviews. The first, Sausage Party from Seth Rogen, is an R-rated, vulgarity-filled animated comedy, which at first glance you would assume critics would hate. Oddly enough, Sausage Party is certified fresh at RottenTomatoes, and carried a ton of buzz into its opening frame. For the younger set is Pete's Dragon, another re-imagining of a beloved Disney film. This one was done smartly, with the budget kept down at $65 million, and an excellent product issued. Our last opener is Florence Foster Jenkins, as Meryl Streep looks for another Oscar nomination from an August release. Unfortunately, the box office result was more Ricki and the Flash than The Devil Wears Prada.

Our number one film of the weekend is Suicide Squad, but this weekend's race for number one wasn't even supposed to be close. Suicide Squad was supposed to win the weekend by $15 million plus; instead, the Warner Bros./DC Comic release lost to animated sausages on Friday and didn't recover much over the rest of the frame. On Friday, Suicide Squad earned $13.35 million, off almost 80% from the opening Friday gross of $64.9 million. Yes, last Friday's number included Thursday preview amounts, but as BOP's Tim Briody pointed out yesterday, if one removes the Thursday preview amounts, the Friday-to-Friday drop is still 70%. That is a collapse unlike anything we've seen since… well, Batman v Superman, which had an 81.6% Friday-to-Friday drop. Same audience, same box office behavior, same brand. Not good news for DC Comics.

Over the weekend, Suicide Squad earned $43.8 million, off a nightmarish 67% compared to its opening weekend. While it doesn't reach Batman v Superman's epic 69% drop, it does indicate that despite having the 20th biggest opening weekend, Suicide Squad will likely not reach $300 million domestic and will struggle to double its opening weekend gross at the domestic box office. I am not saying Suicide Squad won't be profitable – it cost $175 million so it needs a likely half-billion plus worldwide, a number it will have no trouble reaching. The problem that DC and Warner Bros. have is the stink of failure on their manufactured franchise - again. Suicide Squad has a domestic gross to date of $222.9 million and will likely finish around $280 million. Overseas, it has earned $242.5 million, which means Suicide Squad has a worldwide total of $465.4 million.

Sausage Party breaks out, as Seth Rogen has a winner with the animated comedy for adults, which is much more South Park than Finding Dory. The breakout was signaled on Thursday night, when Sausage Party earned $3 million (oddly, after the Thursday gross was announced, Variety was still calling for a $15 million weekend). That was about double my expectations, and indicated the breakout was coming. The combined Thursday/Friday came in at a wild $13.5 million and now Sony has a hit on its hands. The thing to remember about Sausage Party is that it cost only $19 million to make, a number it had earned by Saturday night.

Over the weekend, Sausage Party dimmed a bit, as expected, but was still very strong. It earned $33.6 million from 3,103 screens, a huge gross for this type of film. Often, these types of films are embraced by the fanbase over the first few days, but after that, the scope of the required audience is very small, making it hard to sell tickets without very strong word-of-mouth. South Park: Bigger, Longer, Uncut, earned $20 million over its first five days (it opened on Wednesday), and then topped out at $52 million, but it did pick up $30 million overseas back in 1999. Sausage Party was adored by critics – it carries an 83% fresh rating, but the Cinemascore was lower at a B (I would imagine some people saw a movie they didn't know anything about). The South Park Movie was essentially the same – well reviewed at 81% fresh, but then struggled with the Cinemascore (B-). It will be really interesting to see if this holds up next weekend.

Pete's Dragon opens in a decent third and is my pick for the leggiest flick for the month of August. Following excellent reviews, Pete's Dragon, a remake of the trippy 1977 live action/animation combo, could be one of those quieter openers that grows if it catches on with kids. This version removes the weirdness, and instead creates more of a live-action How To Train Your Dragon type of film. The move appears to have worked for Disney, but their film is going to need some legs, and show up overseas. Pete's Dragon earned a decent $21.5 million from 3,702 venues this weekend, right around where estimates had it.

Disney has gotten very good and remaking/reimagining their classics. Reviews for Pete's Dragon were very good (85% fresh at RottenTomatoes), and the film had the best Cinemascore of the weekend with an A, which should give Disney great hope for its future. These Disney remakes have also done well overseas, from Cinderella to Maleficent to The Jungle Book. Pete's Dragon cost Disney $65 million to make, and should work out for the studio in the long run. The family film will have direct competition next weekend, but I am not sure how well Kubo and the Two Strings will work.

Jason Bourne recovers from the Suicide Squad drubbing it took last weekend, when it fell 62% against its opening frame. This time around, things are better, as Jason Bourne earned $13.6 million, dropping a much improved 39%. The Matt Damon film still has a long way to go to get to profitability, as it cost $120 million to make. It has earned $126.8 million stateside and crossed the $120 million mark overseas this weekend. It will need to see $375 million worldwide to be a hit for Universal.

Bad Moms has a huge hold this weekend, and could be turning into We're the Millers, one of those August comedies that never stops. After opening to $23 million and dropping 41% in its second frame, Bad Moms earned another $11.5 million in its third frame, and dropped a tiny 18% this weekend, an absolutely fabulous hold. The Millers opened to $26.4 million before falling 32% in weekend two and 27% in weekend three, eventually taking in $150 million domestically. Bad Moms is a small, $20 million comedy from upstart distributor STX Entertainment that has now earned $71.5 million domestically and is starting to pick up steam overseas.

The Secret Life of Pets is sixth, and is in its sixth weekend of release. Pets earned another $8.8 million this weekend, a drop of only 23%. That brings its domestic total up to a stellar $335.9 million, and is accompanied by an overseas total over $250 million. Remember, this Universal/Illumination release cost only $75 million to make, so the gross versus spend here is going to be one of the best of the summer.

Star Trek Beyond continues its decent into the nether regions of the box office. This weekend, it earned only $6.8 million and drops 32%. Paramount will be facing a write-down on this one, as the cost here was $185 million, and the domestic gross has reached only $139.7 million. The overseas gross isn't much healthier, sitting at $66 million prior to the start of the weekend.

Newcomer Florence Foster Jenkins opened this weekend, but only on 1,528 venues, starting small and hoping for word-of-mouth and legs in its future. This weekend, it earned $6.6 million after opening strongly in limited release last weekend. Reviews were of course great at 87% fresh, thanks to stellar performances from Meryl Streep and Hugh Grant, and the Cinemascore was excellent at an A-. The opening here is equal to Ricki and the Flash ($6.6 million), which was Meryl's last August release, but the reviews and Cinemascores are much better with Florence Foster Jenkins.

Talking cat movie Nine Lives manages to stay in the top ten despite its 8% fresh rating. In its second weekend, Nine Lives earned $3.5 million and fell 44%. It has made $13.6 million so far, and should not be seen by anyone.

Horror flick Lights Out continues its strong run this weekend. This small, $4.9 million thriller earned another $3.2 million and declined 46%. The domestic gross has reached a stunning $61.1 million, but it has also earned over $35 million from overseas cinemas.

Overall, the box office remains solid, as the top 12 films this weekend stayed ahead of last year. A year ago, the top 12 films were led by Straight Outta Compton, and the top 12 earned $136 million. This weekend, the top 12 pulled in $157.8 million, as the wealth was spread beyond the top two. Next weekend should be a bit bizarre. The remake of Ben Hur opens (why not just go straight to Gone With the Wind?) and is another summer film that likely won't work. Also opening is the animated feature Kubo and the Two Strings, and War Dogs, the latest Todd Phillips flick, which features Jonah Hill and Miles Teller.