Weekend Wrap-Up
Suicide Squad – Hot Now, Dead Later
By John Hamann
August 7, 2016
BoxOfficeProphets.com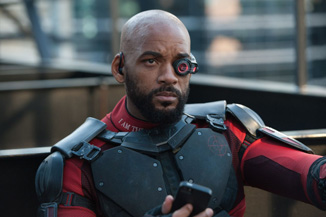 ---
Suicide Squad continues the bizarre summer of 2016, as the WB/DC combo lights up the box office despite one of the largest critical drubbings in a summer filled with disappointments.

Yes, it's that weekend. Suicide Squad - one of the most anticipated movies of the year hits screens this weekend, and according to a heavy majority of critics, none of us should go. They warned us about Batman v Superman as well – only four months ago – and North America didn't listen over that opening frame, either, at least not at the beginning.

Batman v Superman: Dawn of Justice launched to a massive $166 million, the eighth biggest opening of all time, and Warner Bros. must have been ecstatic. Problem is, at the domestic box office, Batman v Superman failed to even double its opening weekend, as it topped out domestically at $330 million. The only other big opener to meet that fate was Fifty Shades of Grey, another critically-derided, 25% fresh film that opened to $85 million and topped out at $166.2 million. More than likely, the same fate will befall Suicide Squad, which means it won't earn $300 million at the domestic box office despite opening to a massive $135.1 million.

After the review-bomb went off on Tuesday, Warner Bros. upped the marketing, and Suicide Squad got to work for real on Thursday with its preview. Numbers were very strong, with the preview coming in at $20.5 million (my suspicious mind thinks it was below $20 million, but who really knows). That's well below the $27.7 million that Batman v Superman earned in its preview (-26%). That's also below Captain America: Civil War ($25 million Thursday), but did beat both The Avengers ($18.7 million) and Jurassic World ($18.5 million). Advance ticket sales are both a win and a loss for the movie business. Too many people are buying before they understand if the product is any good or not.

The combined Thursday and Friday number came in at a big $65.1 million, off 20% from Batman v Superman's $81.6 million. The "true Friday" (Friday gross less Thursday preview amount) came in at $44.6 million, moving closer to Batman v Superman's "true" Friday of $54.3 million (-18%). Suicide Squad enjoyed the 18th biggest opening day, but was $2 million behind The Dark Knight and more than $10 million behind The Dark Knight Rises. On the other hand, for a film that has a bunch of characters that no one has seen on film before, it did very well, almost matching The Hunger Games' opening day of $67.2 million. Warner Bros. did a great job of keeping the buzz up through TWO Comic-Cons, but again, box office returns here are support for the build up to the film, not the film itself. We will see how people really feel about Suicide Squad next weekend.

The Saturday number came in at $38.8 million, off 41% against the combined Thursday/Friday, but more concerning is that it was off 14% compared to the real Friday number at $44.6 million. The Sunday was estimated at $31 million, so the weekend is estimated at $135.1 million. That gives Suicide Squad the 19th biggest opening ever, maybe a little closer to Deadpool's $132 million debut than Warner Bros. would have liked. This result also shows that once advance tickets were used up, Suicide Squad was already softening after the first half of the weekend, and a betting man says the estimate is high and will come down when actuals are released on Monday.

Personally, I would have thrown out the Batman v Superman model for Suicide Squad, easing up up on the darkness and raising the level of language so that it had more of a Deadpool tone. Repeating the look of Batman v Superman didn't help critically. David Ayers basically recreated the Zack Snyder model (dark and nonsensical). Reviews were again terrible, coming in at an ugly 26% fresh, with top critics at Rotten Tomatoes liking it even less at 20%. Will Warner Bros. get my $15 bucks? Not theatrically, no way. I hate paying for something that just pisses me off.

The best news for Warner Bros. is that Suicide Squad cost $75 million less than Batman v Superman, so the pressure to earn top dollar will be less. With a cost of $175 million, Suicide Squad is going to need $525 million worldwide for Warner Bros. to see a profit, a much easier figure to beat than BvS's $750 worldwide need, due to its much higher $250 million production cost. Unlike Batman though, Suicide Squad likely won't see $300 million domestic, so it will need about $250 million overseas to see a profit. All of this won't be a problem for the studio – they likely have a financial winner.

The problem Warner Bros. has (again) is that this is another nail in coffin of the WB/DC comic universe.

Eventually, Warner Bros.'s insistence on issuing crap will catch up with them - it's just a matter of when. Wonder Woman will likely be okay (they need a good film to save the franchise, though), but if Justice League is the same pile of crap, eventually Warner Bros. is going to feel it in the pocket book. While this is a great start for Suicide Squad, the pain is coming – and that will be the story much longer than this opening weekend is.

Let's say that Suicide Squad was embraced by fans and critics alike. With an opening like this, it would be on its way to $400 million domestic with no problem and would earn a lot more than that overseas. It would have also opened the door for some very big sequels, and if the sequel was good, it would easily be a billion dollar earner. Instead, this version of Suicide Squad will be lucky to hit $600 million worldwide, and if the expected sequel is just as bad as the original, it will lose money, as the cost will be higher due to demands from the cast. By releasing a bad movie like this, Warner Bros. could be leaving a billion dollars on the table, just because they fail heavily at Quality Control.

If there is good news for Suicide Squad it comes with the Cinemascore, which came in at a B+, better than Batman v Superman. One could argue that a ton of advance ticket buying, DC fanboys would have been filling out the surveys, which could have helped its score. It doesn't reach the heights of The Dark Knight and The Dark Knight Rises, which both earned A's, or even Man of Steel which earned an A-. That Cinemascore tells me we will see a 65-70% drop next weekend when Sausage Party and Pete's Dragon open, taking some of the demo away.

In the end, Suicide Squad opens better than I thought it would with the negative reviews, but will still fold up like a chair in the weeks to come. The overseas figure came in at $132 million for the weekend, so things are coming up roses for Warner Bros.

Jason Bourne takes it on the chin thanks to Suicide Squad, but unlike the Warner Bros. film, this one can recover. Over its second Friday, Jason Bourne dropped a huge 71%, earning only $6.6 million compared to last weekend's opening day of $22.6 million. It recovered a little over the rest of the frame, but finished with only $22.7 million for its second weekend. That gives it a troubling drop of 62%, but I think it will recover a bit next weekend. So far, Jason Bourne has earned $103.4 million stateside and has picked up a little over $90 million overseas, all against a budget of $120 million. Bourne won't be a bonanza for Universal, but it should see a theatrical profit.

Bad Moms gets the hold it needed this weekend, as despite the money vacuum that is Suicide Squad, the second frame, female-centric comedy still held. Bad Moms earned $14.2 million in frame number two, and drops an okay 40%. The weekend to watch will be the next one, as a sub-30% drop should make it a late summer hit. So far it is doing very well, earning $51 million against a $20 million budget for STX Entertainment.

The Secret Life of Pets moves to fourth but enjoys another weekend with a gross above $10 million. The Universal/Illumination production earned another $11.6 million and fell an okay 39%. Pets crossed the $300 million mark last Tuesday, its 26th day of release (one day faster than Despicable Me 2), and now has domestic total of $319.6 million.

Star Trek Beyond continues its freefall, but at least that's a little more expected this weekend with Suicide Squad opening. Beyond earned only $10.2 million this weekend, and drops tragically again, losing 59%. The domestic total has reached $127.9 million, and overseas revenue is not going to save this expensive, $185 million production.

Nine Lives, the other new release this weekend, is barely worth mentioning. The talking cat movie (with Kevin Spacey no less) earned only $6.5 million, large considering its 5% fresh rating. Hopefully it doesn't make the top 12 next weekend.

Seventh is Lights Out, as the well-reviewed thriller holds nicely for the genre. The Warner Bros. release earned another $6 million and declined 44% as word of mouth spread. So far, this small film with the $4.9 million budget has earned $54.7 million domestically and another $31 million overseas.

Eighth is Nerve from Lionsgate, a title where the studio was looking for a better hold. Nerve earned $4.9 million in its second frame, down 48% from last weekend. Word-of-mouth was supposed to be strong for this one, but the demographic was dominated by the Joker and Harley Quinn. Nerve has now earned $26.9 million stateside.

Ninth goes to Ghostbusters, another failed, great hope. In its fourth weekend, the reboot earns $4.8 million and fell 53%. That's the third consecutive 50%+ drop, and the total stands at $116.7 million.

Tenth is Ice Age: Collision Course, as it ends its short time in the top ten. This weekend, it earned only $4.3 million and dropped a woeful 61%. It has earned only $53.5 million in North America, but has raised $234.6 million on the international side.

Overall, the top 12 at the box office was white hot thanks to Suicide Squad. The top 12 films hit $223.9 million, the new high water mark for the month of August. A year ago this weekend, Fantastic Four was falling apart, and the top 12 could only muster $120 million. Next weekend brings three interesting titles that are unlike most summer weekends. We have two originals and a remake opening, as Seth Rogen brings his R-rated Sausage Party to screens, Disney opens the well-reviewed Pete's Dragon, and Meryl Streep tries to sing in Florence Foster Jenkins.