Weekend Forecast for August 5-7, 2016
By Reagen Sulewski
August 5, 2016
BoxOfficeProphets.com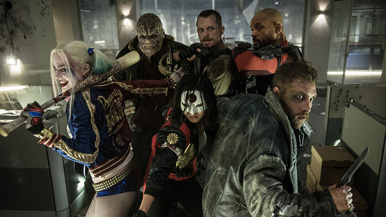 ---
At the start of the summer, most people circled this weekend as one of the most interesting and anticipated of the season. And, I mean, it made sense at the time, okay?

As DC Comics and Warner Bros attempt to build their own cinematic universe to rival Marvel's, it's only natural that they would get around to some of the unknown or more marginal characters, expanding their roster of potential films. DC being DC however, they've decided to do things somewhat backwards, putting most of their group movies first while shunting their individual, character establishing movies after the fact. Thus, we have Suicide Squad, a moderately popular title, albeit fairly obscure to norms, becoming a film before Wonder Woman, The Flash or a stand alone Batffleck film. It's pretty clearly their challenge to the Guardians of the Galaxy phenomenon, which leveraged a bunch of Marvel's characters that basically no one had ever heard of into a nearly $100 million opening weekend, and over $300 million domestic.

The idea behind it is more or less comic's Dirty Dozen – a bunch of captured supervillains put together in a team to go on hyper-dangerous black-ops missions in exchange for reduced sentences. Sending a bunch of bad guys against another bunch of bad guys (eventually revealed to be led by The Joker) seems like such a great idea that it's hard to believe no one's thought of it before!

In an ordinary situation, Will Smith's Deadshot would be the highlight cast member of the film, but from early on, Margot Robbie's Harley Quinn has stolen the show. A hyper-sexual, hyper-violent acolyte of The Joker with a big sense of whimsy, she's the one character that has some buzz outside of hardcore comic readers. In many ways, she embodies the chaos promised by this film and its early trailers, filled to the brim with mayhem and humor that revels in being the bad guy. Everything looked on track for DC to finally score a non-Batman (kinda) win.

And then reviews started to trickle in. Apparently panicking after the critical drubbing they received on Batman v Superman earlier this year, Warner Bros started tweaking writer/director David Ayer's (End of Watch, Fury) work to sand some of the edges off it, taking it all the way down to a PG-13 film. This appears to be one of the biggest mistakes they could make, and shows they've learned nothing from the success of Deadpool, which embraced its dark side and "wrongness" all the way to $400 million-plus domestic. What had seemed like a slam dunk of a film has run into the buzzsaw of critical reception, and has garnered worse reviews than Batman v Superman, a notion that probably seemed impossible in March.

Of course, it's worth noting that Dawn of Sadness ended up opening to over $150 million anyway, thanks to fanboy insistence. There's probably enough out there still true believing to keep Suicide Squad's opening weekend quite high, but this has undoubtedly chased some of the audience away, and terrible word-of-mouth seems inevitable. What looked to be a massive debut may be downgraded to just "massive," as it brings in $126 million this weekend.

In an epic case of counter-programming, we have Nine Lives, which features Kevin Spacey as a businessman turned into a cat. ... Am I expected to take this seriously? I'm kind of mad I have to talk about this. So, $7 million, I guess and I judge us harshly as a society that this it's even that high.

Jason Bourne will give way from first spot this weekend after a middling $59 million opening last weekend. While a higher number might have been anticipated, this film fell a bit into the "why do you exist?" category, without a great hook in the ads to justify why it was made. Word-of-mouth is middling at best, and this should fall to about $28 million.

Star Trek Beyond had the typical franchise drop in its second weekend, and with $24 million last frame, seems headed towards about $160-175 million domestic, a number that may make a call on future films in this series a bit less likely. More troubling is the fact of the opening weekend declines through this series, and how that might manifest in a fourth film. I expect $12 million this weekend.

Raunchy female-centric comedy Bad Moms had a solid $23 million opening weekend and has some shot at legs thanks to demographics – I'm reminded of the weeks long run in the top 10 for Bridesmaids with a similar opening weekend. That still needs to be proven, however, and I'd give this $15 million in its second weekend.

The Secret Life of Pets crossed the $300 million milestone mid-week and appears headed for about $360 million. This would be the family film story of the summer were it not for Finding Dory, but this also has the nice advantage of being a fresh property, where a third Finding movie is harder to conceptualize. Look for $13 million this weekend.