August 2016 Box Office Forecast
By Michael Lynderey
August 4, 2016
BoxOfficeProphets.com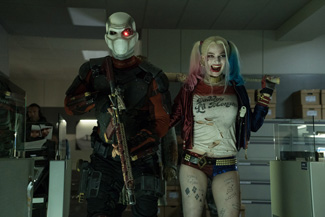 ---
2016 now has seven $300 million+ movies to its name, beating 2015's record by one, and we've got more on the way. August brings one major contender to join the list, towering high above the rest of the month's films, genre entries of one sort or the other, most of which seem divided into roughly the same mid-level box office bracket.

1. Suicide Squad (August 5th)

The unquestionable alpha dog of August 2016 is this buddy movie headlined by a group of bloodthirsty DC supervillains (perhaps in the tradition of Marvel's never-made The Sinister Six). And while the studio's recent releases (Man of Steel, Batman v Superman) have produced somewhat mixed results, I have a soft spot for the burgeoning DC cinematic universe - their films allow the kind of imperfections that sometimes create brilliance.

Suicide Squad's trailers open by announcing a version of the dilemma that has befallen superhero films in recent months: "What if Superman... decided to fly down and rip off the roof of the White House... Who would have stopped him?" It's a good question, but by the end of the film, they're presumably still trying to answer it, because a physical confrontation between Superman and any or all of this film's lead characters would be very brief and very painful.

Suicide Squad is helmed by David Ayer, maker of macho or pseudo-macho (I can never tell) titles like End of Watch and Fury, even if Suicide Squad is rated a soul-killing PG-13, undeterred by fellow anti-hero Deadpool's recent ascension as one of the highest-grossing R-rated films of all time.

The team of no-gooders is assembled by the intriguingly poker-faced bureaucrat Amanda Waller, played by Viola Davis, and features the ever-genial Will Smith, surrounded by an army of up-and-comers of one stripe or another, and possessing varying degrees of villainy (of course, no character played by Will Smith can ever be truly evil, a universally understood truth the film doesn't seem to challenge). As I watched the Smithless Independence Day sequel collapse just barely over the one hundred million dollar mark last month, memories of the glory days of Smith's reign atop the summer movie box office came flooding back, and just in time for his comeback: Suicide Squad ought to be Smith's first big blockbuster since MIB III in 2012.

Smith is not, evidently, seen as the big ticket item on this menu: that's the double-team of Harley Quinn and the Joker, played by Margot Robbie and Jared Leto, two characters whose presence here has been hyped and advertised for months, and who will likely be responsible for something like half of the film's opening weekend take, at minimum. None of the other villains are very famous to the layperson (assuming there are any comic book laypeople left), although DC's Boomerang, an Australian assassin, sounds totally different from Marvel Comics' Boomerang, who is a hired killer from down under.

The opening weekend is the big question here: while tracking had Suicide Squad rising decisively through the mid hundred millions - $120 million, $130 million, and on and on into the stratosphere - the film's critical reception has been decidedly unsympathetic, plateauing at about 30% on Rotten Tomatoes, and then squeaking down to 27% just moments ago on this Thursday evening.

No amount of critical derision could drive Suicide Squad down under a $100 million opening, I think, but the film's legs seem increasingly questionable. Still, a late-summer hit is a late-summer hit, and even if Suicide Squad doesn't join the $300 million club (the admission criteria are 'very' lax this year), it should win this month with ease and little sweat.

Opening weekend: $123 million / Total gross: $265 million

2. Pete's Dragon (August 12th)

A week after the dust from Suicide Squad has presumably settled, and most of the debris have been cleaned, Pete's Dragon is the film that may emerge as the month's real sleeper hit, especially given Disney's recent track record for producing unreasonably high box office results. Pete's Dragon, about a boy and his monster, is based on a 1977 traditionally animated film that was never particularly well reviewed or, I think, beloved, but which has here inspired a more live action-based redo that's getting a warm early critical reception. Like Disney's The BFG before it, Pete's Dragon's marketing inevitably centers on the image of a small child and a giant monstrous figure that can never fully fit into the poster's frame. The director is David Lowery, previously of indie drama Ain't Them Bodies Saints, not necessarily one's first guess for a maker of children's entertainment, while the cast is nice and agreeable, including Bryce Dallas Howard and Robert Redford, whose 80th birthday will follow in the week of the film's release. Pete's Dragon isn't going to be another Zootopia or Jungle Book, I don't think - right? - but if those reviews hold up, and I suspect they will, it's looking like a strong opener and a film that can play well for a few weeks, even in the dog days of summer.

Opening weekend: $31 million / Total gross: $124 million

3. Sausage Party (August 12th)

A real tough one to predict, Sausage Party is a hard-R animation starring many of the best comic minds of their generation (and Seth Rogen). The film is about grocery store produce rebelling against what they discover is a certain death at the hands or the orifices of unfeeling humans, making it into a sort of Chicken Run - if the chickens had been captured, killed, processed, and then still wanted to get the hell out of there. Sausage Party perhaps has the appeal of a curiosity more than anything, but there's a good chance its potential audiences will be persuaded by the marketing and reviews: after all, if you believe Rotten Tomatoes, this film is perfect. It has 100%, from eight reviewers, and will probably retain a reasonably high score even as more of the nation's critical minds lend their assessment. The history of R-rated animation does not exactly provide us with ample samples for analysis - the magnificent South Park: Bigger, Longer & Uncut (1999), the defining animated film of my childhood, grossed $52 million domestically, while the luminous Heavy Metal (1981) seems to have taken in roughly half that. And for R-rated animation... that's about it. Sausage Party may easily beat those records.

Opening weekend: $20 million / Total gross: $49 million

4. War Dogs (August 19th)
Originally titled The Arms & The Dudes (and who even knows what that means?), War Dogs seems to have positioned itself as a kind of Mike and Dave need Grenade Launchers and AK-47s (and Wedding Dates, still). It is headlined by Miles [Teller] and Jonah [Hill], who seem just right to star in a buddy film about two real-life twentysomethings who embark on the traditional career path of arms dealers for the U.S. government (before their convictions for fraud and all the other icky conclusions that inevitably accompany such a story). The film is directed by Todd Phillips, helmer of Road Trip, Old School, and any and all Hangover films, and indeed Phillips mainstay Bradley Cooper surprises in some trailer appearances (he may well be in the film, too!). War Dogs is probably best marketed as a reasonably lunatic comedy, and in its madness may even win the weekend over its main competition, the more prestigious and dignified Ben-Hur.

Opening weekend: $18 million / Total gross: $48 million

5. Don't Breathe (August 26th)
In the naming tradition of Don't Go in the House or Don't Answer the Phone, this instructively-titled thriller comes with a more intriguing premise, about a group of truant teenagers who decide to rob the residence of an apparently harmless blind man, and who then get more or less what is coming to them. Don't Breathe is helmed by Fede Alvarez, who directed the Evil Dead remake, and stars two recent horror veterans, Dylan Minnette (of the Goosebumps film) and Jane Levy (who was in the aforementioned Evil Dead redo, and made it out more or less alive). Don't Breathe received raves when it premiered at South by Southwest earlier this year, and has maintained an upbeat Rotten Tomatoes score in the early 80s since. Lights Out, another under-the-radar horror film, rode a similar marketing campaign consisting of reviews and buzz to a very strong open, and Don't Breathe might be able to do just about same, especially on what looks like a fairly slow end-of-summer weekend or two, with little encroaching competition (the days when Final Destination 4 opened on the same August weekend as Halloween 2 are long behind us).

Opening weekend: $17 million / Total gross: $45 million

6. Ben-Hur (August 19th)
Ben-Hur is a perhaps-inevitable combination of two recent Hollywood trends, the remake and the Biblical epic, and is directed by a man who had previously shown no particular propensity for either: Timur Bekmambetov, producer of a handful of intriguing genre films (Unfriended and Hardcore Henry), and helmer of Wanted (2008), which was a good, solid, summer B-movie that has thus far oddly failed to inspire a sequel (it was also Chris Pratt's best performance, really). Graduating from memorable supporting work in American Hustle and The Longest Ride, Jack Huston looks and sounds right for the title role. The supporting cast is also creatively assembled, with Morgan Freeman, ever a delight, as Ben-Hur's dread-locked sidekick, while another Game of Thrones veteran (refugee?), Pilou Asbæk, plays Pontius Pilate, and the fierce-looking Toby Kebbell leaves largely unrecognizable roles in Warcraft and Planet of the Apes to play the chief Roman sentry, Messala. The film's late summer date may give it a little breathing room from Suicide Squad, and a combination of some faith-based marketing and decent reviews (assuming either is forthcoming) could inspire a decent run even beyond Ben-Hur's iconic chariot race. I suppose naysayers who lambast remakes have a harder case to make here, because Ben-Hur 2016 is technically the fifth theatrical telling of the story: I remember seeing the 1907 version in theaters like it was yesterday.

Opening weekend: $17 million / Total gross: $43 million

7. Kubo and the Two Strings (August 19th)

This intriguingly-animated film is the latest fantasy from Laika, makers of such journeys into the unusual as Coraline, ParaNorman, and The Boxtrolls. Kubo somewhat departs from their usual horror-infused storylines and into more of a traditional adventure story, drawing, it seems, from Asian mythology, about a boy, his monkey, and all the samurai warriors such a pair may encounter on their way through old Japan. The voice cast are certainly marquee names (Charlize Theron, Matthew McConaughey, Rooney Mara, and so on), and the trailers have been a strong showcase for the film's lush animation and unique story. Reviews are likely to be positive - really, can you see this with 19% on the TomatoMeter? - but, four or five animated $300 million grossers into 2016, I'm not sure there's a big children's audience left to attend this more unique and less robustly commercial entry, even if it will likely inspire a cult audience.

Opening weekend: $10 million / Total gross: $33 million

8. Nine Lives (August 5th)
This story, about an emotionally distant businessman learning much-needed and memorable life lessons after having been transformed into a cat, is a film that seems to belong in the 1990s. Then, it would have probably starred Tim Allen or Steve Martin, and would have likely been helmed by, well, Barry Sonnenfeld, who as it so happens has made the journey across the decades and directed this very film. I can not quite explain Kevin Spacey's presence in the lead role, except to say that he's an actor with deft and meticulous comic timing, perhaps pointed towards sneering at lesser mortals, which is an outlook that seems just right for a cat, now that I think about it, doesn't it? Jennifer Garner is the befuddled spouse, Robbie Amell is his son ("dad?"), and without even checking I can narrow down Christopher Walken as playing either a mystical sage helping resolve Spacey's vision quest, or a corporate rival he must confront even in feline form. Nine Lives' quest for box office success may have been seriously dented on the day the MPAA assigned Suicide Squad a PG-13 rating, which means that no bloodthirsty teenagers (that's a compliment) will have to buy a ticket to this film to get into that one.

Opening weekend: $6 million / Total gross: $20 million

9. Mechanic: Resurrection (August 26th)

Jason Statham returns as the killer-for-hire in this somewhat belated sequel to The Mechanic (2011), which itself was a remake of Charles Bronson's 1972 thriller. Neither film was a particularly bold or memorable entry in the filmography of their pleasantly stone-faced stars, although the Statham version took in a respectable $29 million and probably did well on the home viewing apparatus of your choice. Statham himself is now busy giving supporting roles to mega-blockbusters and Melissa McCarthy comedies, and indeed, the last "typical" Statham film to see wide release was Homefront in 2013 (the one where he beat up on a dope-running, swamp-dwelling James Franco). There are some interesting participants in the supporting cast here, like Jessica Alba, who's involved in much of the trailer action, and Tommy Lee Jones, lately of Criminal and Jason Bourne, and nearly-unrecognizable here under some creative wardrobe and makeup choices. Mechanic 2 should come in at about or just below its leading man's average, even if the trailer promises a lively, globe-trotting affair (people just need to die all the world over).

Opening weekend: $8 million / Total gross: $18 million

August is home to many smaller films that will likely expand into wide release, as the days pass and Suicide Squad is forced to surrender more and more screens. Chief among these strivers is Florence Foster Jenkins, with Meryl Streep as the famously tone-deaf singer and Hugh Grant as the enabler of her mischief (Golden Globe nominations are a near-given for all involved). Hell or High Water, with Chris Pine and Ben Foster as robber-brothers and Jeff Bridges on their trail, is another film that will likely ride very good reviews (100%, says Tomatoes) into a national release. Florence F. Jenkins may top out at around $20 million, while the Pine film will probably do half that. The August schedule also carries action films headlined by Mel Gibson (Blood Father), Liam Neeson (Operation Chromite), and the considerably more personable and housebroken Nicholas Hoult (Collide), some of which may be going into a degree of wideness. Southside with You, about the very first date of the current President and First Lady of the United States, is another indie that may play very well, and will surely serve as a sort of quiet and inoffensive prequel to a raucous political season.