Weekend Wrap-Up
Openers Surprise to the Upside at Weekend Box Office
By John Hamann
July 31, 2016
BoxOfficeProphets.com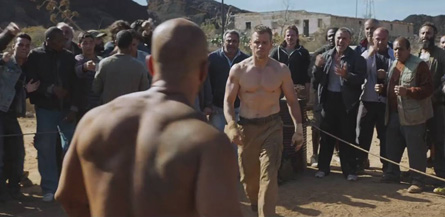 ---
Jason Bourne may be back in a very big, blockbuster-y way, but it was Bad Moms that really surprised to the upside this weekend (and Nerve to a lesser degree), which means theaters are going to be extremely busy when Suicide Squad opens next weekend.

We've been waiting for this weekend for a while, because I can count one hand the movies that have felt like "sure thing" blockbusters this summer (Finding Dory, The Secret Life of Pets, Captain America). Matt Damon brings that feeling back to the Bourne franchise, as we have a superstar in what has been one of the most reliable franchises over the last decade. The real surprises come from the smaller films this weekend, with Bad Moms breaking out a little with a debut in the range of We're the Millers, and we know how the legs turned out on that one. Lastly, Nerve opened on Wednesday, a move that I usually don't like, but doing so got it out of the way of the huge date night grosses of Jason Bourne and Bad Moms and allowed for strong word-of-mouth to work a bit. Bad Moms and Nerve give success to two studios that really needed some, as STX Entertainment and Lionsgate have struggled lately.

As expected, our number one film this weekend is Jason Bourne, Matt Damon's first return to the character since 2007 (has it really been that long?). The last time we had the Matt Damon and Paul Greengrass combo was The Bourne Ultimatum, released in August 2007 to an opening day gross of $24.7 million and an opening weekend of $69.3 million, the highest debut so far in the series. Tracking for Jason Bourne was pointing lower at $50 million, so it was needing a $15-17 million Friday with a $3-4 million preview. The previews showed that Bourne 4 was going to be successful, as it managed $4.2 million on Thursday alone. The combined opening day figure came in at an electric $22.7 million, which exceeded tracking expectations but removed any hope that this would peak as the biggest opener of the franchise.

Over the weekend, Jason Bourne shined, pulling in an awesome $60 million from 4,026 theaters, giving the series its second $60 million plus opener, and third $50 million opener (the second film, Supremacy, debuted at $52.5 million). These films have become more expensive to make, as the first film, The Bourne Identity, cost $60 million to make, Supremacy cost $75 million, Ultimatum's cost jumped to $110 million, and this version was budgeted at a massive $120 million - and all of these costs are before the mass marketing Universal is known for.

The series (forgetting Bourne Legacy) has cost Universal and partners $365 million to make, and with a billion in worldwide sales, Universal will likely continue to make these films. Jason Bourne will need $360 million worldwide to see theatrical profit, and I would be really surprised if it didn't make that mark. The Martian was huge, earning $400 million plus overseas to go with its $200 million plus stateside gross. If there is still a global superstar out there other than Chris Pratt, it's Matt Damon. The only concern that Universal might have is that the Bourne films have always earned more at home than they have abroad, but that will likely change this time around.

How did Universal find success despite a seven year break between Damon-led films? See: Jurassic World. This studio is good at this, as they used a similar strategy here as they did with the Jurassic blockbuster. Universal provided a great advertising campaign that put Damon upfront with the bareknuckle boxing, and instantly reminded us of the great pugilistic aspects of the film. The first film, Bourne Identity, showed a sharp hand-to-hand style, but that film's director was Doug Liman, whereas Paul Greengrass (who has directed all of the follow ups) does a better job at getting the performance out of Damon and provides sharper, more intricate stories.

This time around, though, critics grew a little tired with the sameness (and a questionable final act). Jason Bourne is 56% fresh, and reviewed less like the Bourne series (83%, 81%, 93%) and more like Bourne Legacy, which also finished at 56% fresh. I am proud to say I have never seen Legacy, and was a little disappointed that Jason Bourne didn't continue the positive review streak. The Cinemascore though provides some relief, as it came in at an A-, tying the first two films, and just missing Bourne Ultimatum's A.

Jason Bourne provides entertainment for adults for the first time this summer, and is likely seeing the bump up in the opening box office due to that factor. If you starve an audience for long enough, they are bound to come out. Unfortunately, positioning it behind Suicide Squad – which everyone knew was going to be a $100 million plus opener since it was announced – seems like a stupid idea. However, Ninja Turtles stole $200 million from your children while Guardians of the Galaxy earned $333 million at the same time, so obviously anything is possible. I do believe Jason Bourne could have been bigger with a May, June or July date, and had it opened against a film like the Independence Day sequel, it likely would have dominated. Good to see the support for the mid-40s Damon, but we'd better enjoy it, as we don't get another adult action pic until the end of August, when Mechanic: Resurrection opens.

Second place goes to Star Trek Beyond, but its financial hole is getting deeper with every day that passes. After opening last weekend to a lower than expected $59.3 million, the bottom drops out this weekend. Star Trek Beyond pulled in only $24 million, giving it a nasty drop of 60%. This is disappointing, because it shows us that the Star Trek series is falling into old patterns. The first two films in the reboot fell between 43 and 47% in their second weekends, whereas this one declined 60%. This is what the previous series did. Star Trek Nemesis fell a shocking 76% in weekend two ($18.5 million opening, $4.5 million second frame). Star Trek Insurrection fell 62%, but Star Trek: First Contact fell a more reboot-like 42%, as that was the first film in New Generation series. Paramount now has a real problem on its hands, as this one cost a stupid $185 million, and chances are getting bigger and bigger that some sort of huge writedown is going to be needed. So far, Beyond has earned only $55 million overseas and will need another $400 million globally if there is to be a chance at a theatrical profit (not going to happen).

Bad Moms starts big in third, never having a chance to really compete with Bourne, but still a very strong debut nonetheless. The female-driven comedy started powerfully on Friday picking up $9.6 million ($2.1 million from previews). As the always-awesome Kim Hollis said yesterday in the BOP's Friday update, upstart distributor STX Entertainment clearly had their biggest thing ever going, as their biggest to date was The Boy, the silly looking horror thriller with The Walking Dead's Lauren Cohan, which surprisingly legged out $64 million globally against a budget of only $10 million. The Boy opened to $10.8 million, a number Bad Moms easily doubles.

Bad Moms opened this weekend to a wild $23.4 million, about 20% better than what tracking was looking for (similar to Bourne). Bad Moms opens in that comedy sweet spot, shared by highly successful films like Trainwreck ($30 million opening – still love you Amy – make more films!), We're the Millers ($26.4 million open, $150 million domestic finish), and what is probably its closest kin in Bridesmaids ($26.2 million open, $288 million worldwide). Bad Moms got fairly good reviews – 63% fresh, which is worse than Bridesmaids but better than We're the Millers, but scores the A Cinemascore, which will create strong word-of-mouth. The Cinemascore is better than any of the other comedies mentioned, so I see big things in the future for this one, which stars Mila Kunis, Kristen Bell, and the very funny Kathryn Hahn.

The Secret Life of Pets drops from second to fourth this weekend. The latest Illumination blockbuster earned another $18.2 million this weekend, but drops a little higher than hoped at 39%. Universal's other big hit in the top ten now has $296.2 million in domestic coin, and is going to cross the $300 million mark in mere days. That means that half of Illumination Entertainment's releases have earned more than $300 million at the domestic box office, a feat accomplished by only 62 films in history. It also has earned $99 million overseas from only a few territories, and debuted in France and Germany this weekend. Expect it to hit $500 million in overseas sales before all is said and done – and all of it against a budget of only $75 million.

Lights Out is fifth, and after the thriller caught an awesome $21.7 million in its debut last weekend, it fell back to earth this frame. The out-of-nowhere horror hit earned $10.8 million as it got squeezed out of the big theaters due to an abundance of product. The drop comes in at 50%, which is fairly respectable for this type of film. It's even better for a film that cost only $4.9 million to make and now has earned $42.9 million, or almost nine times its budget.

Sixth goes to the tired Ice Age: Collision Course, which opened to a somewhat disappointing (but expected) $21.4 million last weekend. Like Star Trek Beyond, this franchise is tired, and in its second weekend it drops a painful 51%, as it earns only $10.5 million. The number to watch is the overseas figure, though. So far, Collision Course has earned over $212 million from countries outside of the US and Canada. Domestically, it's the opposite, as the gross has reached a comparatively tiny $42.1 million.

Seventh is the sadness that is the Ghostbusters reboot, something that should have been joyful and appreciated, but seems to have become the opposite. The reboot earned another $9.8 million this frame, but after a drop last weekend of 54%, and now a drop this weekend of 53%, this one is in serious trouble. Ghostbusters cost $144 million (someone thought it was a sure thing, and heads are going to roll), and has a gross to date of $106.2 million, as it falls over the $100 million mark on Saturday. Overseas totals are also pathetic at $52 million.

Eighth is Lionsgate's Nerve, which has a low rank but is still successful. Nerve, with Emma Roberts and Dave Franco, took in $9 million over the Friday-to-Sunday portion of the weekend, and $15 million since opening on Wednesday. In the last 15 years, I cannot remember a single success from opening a film on a Wednesday, but Lionsgate knew that A) they had a good film, and B) were going to get buried by Bad Moms on Friday night. This strategy worked as buzz was going to travel prior to the weekend, and this film was aimed at the demo that has the speediest word-of-mouth. The Cinemascore is an A-, and while likely critic-proof, the 56% fresh rating at Rotten Tomatoes could have been much, much worse. I understand that this film will have people talking, but will it be enough to lift the ranking versus Suicide Squad next weekend? I doubt it. It still has some work to do, as the budget for Nerve came in at $20 million.

Ninth is Finding Dory, as even the biggest star of the summer has to fade at some point. This weekend, Finding Dory's seventh, the little fish that could earned another $4.2 million, down 42% compared to last weekend. It currently sits as the eighth biggest release ever, having passed the original Star Wars and all of its follow up releases last week. The domestic total sits at $469 million and it will catch Star Wars: The Phantom Menace at $474.5 million for seventh, where it will likely stay. Overseas, the number is gaining on the domestic total, as it sits with $362 million, which means this should eventually be another billion dollar winner for Disney and Pixar.

Tenth is The Legend of Tarzan, a film that started slowly and then gained traction - but was never going to make up for its insane $180 million budget. This weekend, Tarzan earned another $2.4 million and fell 63%. It has earned $121.9 million domestic, and $187 million overseas.

Overall this weekend, the box office is hot, with healthy grosses all the way down to the eighth placed film. The top 12 came in at $177 million, well ahead of the $146 million last year when Mission: Impossible – Rouge Nation dominated, and Vacation flopped. Next weekend we play for the big money, as Suicide Squad opens. For me, it's simple: if people and reviewers like it, I'm there. If not, I guess I will have a double feature on Netflix with Batman v Superman in a few years, after the DC/Warner Bros. funeral.