Weekend Forecast for July 29-31, 2016
By Reagen Sulewski
July 29, 2016
BoxOfficeProphets.com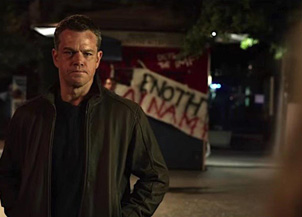 ---
In the long view of July going into the month, a lot of people had circled this weekend on the calendar thanks to a film that was a bit of a long shot to ever happen. Getting the gang back together has had mixed success so far this summer, but this weekend's entry has a better chance than most.

After three main films and a spinoff, it looked like the Bourne franchise was done, thanks to a stated disinterest in continuing it from its lead actor. Indeed, after The Bourne Ultimatum gave us what looked like the neat little bow tie on the franchise we didn't know we wanted, it didn't seem like there was a big reason to continue on with more films. However, director Paul Greengrass, he of the two best films of the series, has returned to it, bringing along Matt Damon for at least one more ride.

Unfortunately, the idea behind the film doesn't seem to be much more than "hey, let's make more Bourne films," and whereas the first three had something to say, the Big Idea behind the eponymously named Jason Bourne is murky at best. Do we really need a fifth run through the Treadstone files, across a series of international locations? Of course there's the counter-point that why not have another awesome action movie in what's amounted to the American James Bond series, all paranoid and brutal hand-to-hand combat.

Having written out most of the heavy hitters of the previous films, we're left with Damon and Julia Stiles for continuity, with Tommy Lee Jones stepping into the role of Old White Dude With The Truth. The latest It Girl Alicia Vikander steps into a role as an analyst chasing down Bourne once he pops back up on the grid, with Vincent Cassel being one of the few other recognizable names. And thus the chase is on, with a set piece on the Las Vegas Strip being a highlight of the ads, and a noticeably bulked up and more brutal looking Bourne skulking throughout (ask our site administrator about just how close he is to perfecting Damon's one-punch knockout). What's lacking from these ads is a sense of urgency, that something vital will be revealed that changes how we think about the series so far. Ultimatum had that amazing and prescient surveillance society scene in a London Underground station that served as both action and as commentary, and I wonder what Jason Bourne can do as a film to top that.

Reviews are uncharacteristically poor compared to the rest of the series, which has to this point enjoyed great critical support, though it's mostly being hit for not covering new ground. It may lose some territory in the box office compared to the most recent Bourne film with Damon, and the lackluster and kind of pointless Bourne Legacy with Jeremy Renner probably didn't help things. In a massive 4,000 venues, I'd expect about $62 million for an opening.


After a dearth of R-rated comedies in recent years, we are suddenly finding ourselves inundated with them, as the two-year reaction time of Hollywood rears its head. Bad Moms stars Mila Kunis as a mom at the end of her rope as far as responsibilities and the pressures of being perfect go, and revolts from the Stepford image, bringing along fellow moms Kristen Bell and Kathryn Hahn with her against the forces of Christina Appelgate's PTA-fuhrer. Cue the boozing and partying and making out with other ladies in a 30-something idea of letting loose. It's misbehavior within acceptable norms – go mildly crazy, folks!

The conceit is actually a pretty good one, and its ads highlight several quality gags, tapping into a well of rebellion, or at least wanna be rebellion among women. It's an idea that's been tried a couple times before with limited success – Bad Teacher and The Sweetest Thing come to mind, but failed for trying to too broad. Bad Moms boldly appeals primarily to women and doesn't really care much if men come along for the ride. That's a tone that audiences can sense, and they often respect it. This should be a successful strategy for the film, giving it about $27 million this weekend.

Expanding from limited release on Wednesday was Nerve, a twisty high-concept film about a social media app that dares people to perform risky and/or embarrassing stunts for cash. When a high school senior (Emma Roberts) is roped into a round of the app, it connects her with another player (Dave Franco) and sends them on a hellfire ride through New York City with ever escalating stakes. Meanwhile, the omniscient and possibly omnipotent overseers manipulate Roberts' life such that she's forced into continuing way past her point of comfort.

Directed by Henry Joost and Ariel Schulman, the pair behind the documentary Catfish, it plays like nothing so much as a millennial version of The Game, though one can only hope they match David Fincher's stark and urgent direction. Nerve has been a buzz film for some time, and opened strongly on Wednesday for a film with few stars, with just under $4 million. This should translate into about $12 million on the weekend.

Star Trek Beyond dipped significantly from the previous entries in the reboot franchise, with an opening weekend of $59 million. Disappointment from Into Darkness, combined with what I think has to be franchise fatigue this far into summer both played their part in this opening weekend, and it should see a fair drop to about $35 million this frame.

The Secret Life of Pets holds the flame for family audiences in its fourth weekend, and should earn about $18 million, pushing it close to the $300 million plateau. It's been largely a family film year, with four of the seven films to break $200 million domestic (soon to be $300) so far in 2016 falling into that category.

That's cold comfort to the latest in the Ice Age series, which may have finally worn out its welcome at the fifth entry and just a $21 million opening weekend, less than half of the previous film's. Worldwide box office may continue to be strong on this one (it was one of the original bellwethers to show that international figures were becoming important) but with what looks like a sub $80 million domestic total, further entries may be hard to justify, at least theatrically. It should bring in about $12 million here.

Horror film Lights Out was more efficient with its $21 million, coming as it does from a $5 million production budget. Still, as a horror film, heavy drop off is inevitable, and I'd expect about $9 million this weekend for it. Lastly, in terms of significance, we have Ghostbusters, which took about a 54 percent hit for its second weekend – a little high for a tentpole film these days, but not all-world bad. It certainly won't be matching the 1984 film's $240 million domestic, and should bring in about $10 million this frame.