Weekend Wrap-Up
Star Trek Boldly Goes Forward… Somehow
By John Hamann
July 24, 2016
BoxOfficeProphets.com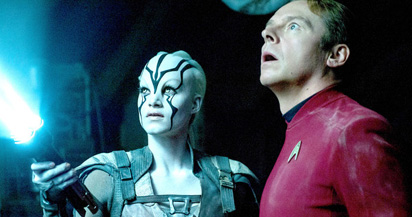 ---
On my 15th anniversary of writing this piece, and having seen four Star Trek films go by in that time period, I still have to wonder how these films are financially viable, as this group has cost Paramount a combined $585 million, and all told should earn a combined $1.4 billion worldwide. Sorry Trekkers, it might seem like a lot, but it is not enough to propel a franchise.

Openers this weekend include Star Trek Beyond, the third film in the most recent version of the franchise – a troubled one at best – but with news that the fourth film will circle back to Kirk's dad in the original, even I have hope for the next film in the series. The latest animated kids flick (enough already) is Ice Age: Collision Course (aka Ice Age: Something Something), which is set to take the fall for a summer dominated by cartoons for kids. Our last opener is the bright spot in our box office weekend, and it is Lights Out, the latest in the low budget horror film realm, but there's a surprise this time, as this one is actually good. Did audiences respond? Read on to find out.

The number one film of the weekend is Star Trek Beyond, the third film in the rebooted Star Trek franchise. Unfortunately, this one follows Star Trek Into Darkness, a film I found to be sacrilege against the earlier Shatner/Nimoy films. Reviews don't support my theory (86% fresh) and neither does the Cinemascore for the earlier film (A), but after conversations with fans and non-fans alike, I'm sticking with my opinion. The reboot started so well with the original Star Trek (95% fresh, A Cinemascore, $385 million worldwide), a film that set the stage for something that seemed destined to be really good. My problem is that the original cost $150 million to make, and if your film isn't making three times its production budget worldwide, I have trouble calling it a success. Lionsgate tried to build a franchise off Divergent, which earned $289 million from an $85 million budget, coming in just slightly over that 3x mark, and now the fourth film in the series is likely going straight to TV, as neither of the two follow-ups came close to hitting the necessary multiplier. It's the mark of death, and it's all over the last three Star Trek films.

Like the Divergent Series, Star Trek Into Darkness also failed to earn three times its budget. It earned $467 million worldwide, but Paramount lifted the budget to $190 million, leaving it searching for a massive $570 million worldwide, a number it fell $100 million short of. For Star Trek Beyond, Paramount reduced the budget to $185 million, leaving it looking for $555 million, an extreme longshot at best. Justin Lin (Fast and Furiouses) takes the reins this time, hoping to reboot the reboot into a better direction. Word on the ground is that we have a better film than last time, and overseas grosses have been increasing from film to film, so Paramount still has hope for this series.

Star Trek Beyond got started with $5.5 million from Thursday previews, higher than Into Darkness (it opened on a Wednesday) and better than Star Trek's $4 million (it opened on a Thursday). I hope that Paramount and Bad Robot enjoyed the party on Thursday night as that is where the good news ends. The Friday number came in at $22.5 million, comparatively similar to the two earlier films, but again these comparisons are wonky given the odd release strategies of the two earlier films. Given that on paper, Star Trek Into Darkness is a good, fan-friendly film, this has to be a disappointment for the studio, as it is the second consecutive time a Star Trek film has opened under the previous effort.

Following the original's opening weekend take of $75.2 million and the $70.2 million Star Trek Into Darkness debut, Star Trek Beyond found a new depth for the domestic opening. Beyond opened to only $59.6 million, another $10.6 million down from the second film, as this series starts to look like a deflating hot air balloon. Reviews and Cinemascores were generally good (85%/A- Cinemascore) with the Cinemascore down slightly from an A for Into Darkness. Overall grosses have been declining as well, as the reboot earned $257.7 million, and the follow up earned $228 million. At this rate, this one should clear $200 million, and then have to rely even further on overseas grosses.

Overseas is where the only hope lies for Paramount. The original earned $127 million overseas while the sequel earned $238 million (but also starred Benedict Cumberbatch). Should the Star Trek franchise continue to have an upward trajectory overseas, these films will make money at these budgets. Should this one top out between these two figures, I think Paramount needs to take a cold hard look at whether $200 million plus marketing is a good investment for a return like this one.

Finishing second this weekend is The Secret Life of Pets, the now three-weekend-old animated film from Illumination and Universal. Pets earned another $29.3 million this weekend and dropped 42% following a 51% drop last weekend. That's probably a little higher than Universal would have liked, but it brings the domestic total up to $260.7 million after only three frames. This one is going to cross $300 million in a few weekends and join what is sure to be a mighty overseas gross, which already stands at $63 million, despite only being released in a few countries. The Secret Life of Pets carries a budget of only $75 million – peanuts compared to its compatriots – and is only going to mint money going forward.

Third spot goes to Ghostbusters, or the reboot of Ghostbusters or the reimagining of Ghostbusters – whatever it is, I don't really care. The Paul Feig flick picked up $21.6 million after opening to $56 million last weekend. That proves to be a 53% drop and stings for a film that cost a ridiculous $144 million to make. Should little support come from overseas, Sony is going to have a large headache on their hands instead of a nicely rebooted franchise. This one has felt like everyone tried too hard, and the outcome is a scary gross to date of $86.9 million.

Fourth goes to Lights Out, the new horror thriller from Warner Bros.' New Line division. Made for only $4.9 million, this "little film that could" almost doubled its budget on opening day, pulling in $9.2 million including previews. That led to an absolutely stellar opening weekend of $21.6 million from 2,818 venues. This small film did it the old fashioned way – by making a good film. Lights Out scored a 77% fresh rating at RottenTomatoes, and then followed that up with a B Cinemascore, which is a home run in the horror genre. Warner Bros. did a great job on getting the word out for Lights Out, and ended up picking the perfect weekend to release it. This is how a franchise begins – a strong first film that makes a ton of money, before being followed up by lesser sequels.

Fifth is Ice Age: Collision Course (aka Ice Age 5 or Ice Age: One Too Many), which barely even made a blip on the domestic radar despite a huge budget of $105 million, $30 million more than The Secret Life of Pets. Even with the monstrous budget, marketing here was slim, as Fox is counting on the overseas grosses to keep the cash flowing. Domestically, Ice Age 5 opened to $21 million, about a thousand yards away from the last Ice Age flick, which debuted with $46 million in 2012. That sequel, Continental Drift, finished with $126 million in domestic dollars, but then powered up to $715 million in countries outside of the US and Canada. While this Ice Age likely won't see the same lofty heights again, it already has $179 million in sales overseas, a number it will never see from North America.

Sixth is Finding Dory, as it continues its climb on the all-time list. Dory earned another $7.2 million this weekend, declining 36%. That brings the domestic total up to an amazing $460.2 million, as it passes Avengers: Age of Ultron's domestic total at $455 million, and in the next few days will pass the iconic Star Wars at $461 million. Overseas, Dory has picked up $322 million, and that total is only going to continue to grow, turning this one into another monster for Disney and Pixar.

Seventh is The Legend of Tarzan, which has actually held better than expected, but is going to be much too little and way too late considering the budget here is $180 million (I am still scratching my head at that one). This weekend, its fourth, Tarzan earned only $6.4 million and fell 44%. That brings the domestic total up to $115.8 million, and overseas it has earned $146 million.

Mike and Dave Need Wedding Dates failed to recover much from its 54% plunge last weekend. In its third frame, Mike and Dave earned only $4.4 million, off 43% from last weekend. That brings the domestic total up to $40.4 million, which surpasses its $33 million production budget, but will need an impossible push from overseas audiences for it to be successful.

Hilary's America from Dinesh D'Souza is ninth, as it expands from three screens last weekend (where it had a $25,000 screen average) to 1,216 venues this weekend. The "documentary" earned $3.7 million in expanded release, and brings its domestic total up to $3.8 million.

Broad Green's The Infiltrator is tenth, after opening in eighth last weekend with $5.3 million. Mixed reviews are damning this one, as it could find only $3.3 million in its second weekend. The total for The Infiltrator has reached $12.2 million.

Despite the lackluster result from Star Trek Beyond, the overall box office still had a decent weekend thanks to a whole bunch of supporting players. This weekend, the top 12 earned $183.4 million, which compares very favorably with last year's top 12 of $141.7 million. Next weekend's releases will bring a surefire jolt to the box office as Matt Damon returns to his most popular role in Jason Bourne, and Mila Kunis, Kristen Bell and Christina Applegate try to light it up in Bad Moms. Opening Wednesday is Nerve, an interesting looking young adult thriller with Emma Roberts and Dave Franco.

On a personal note, I would like to thank anyone and everyone who has read any of my 750 columns on the subject of box office over the last 15 years. It's amazing how time flies and the amazing changes we have seen in box office behavior since 2001. A big thank you to David Mumpower and Kim Hollis for their support over all these years, and all the Prophets that make this site a success. Thank you for reading.