Friday Box Office Analysis
By Kim Hollis
July 23, 2016
BoxOfficeProphets.com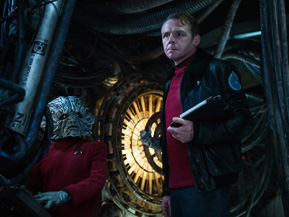 ---
In a year where sequels and remakes are being shunned by audiences, two new ones entered the fray this weekend. One performed slightly ahead of expectations, while the other one... well, let's just say that a fairly lackluster series that has been propped along so far by international earnings may finally be done.

Star Trek Beyond, the latest in a long series of adaptations of the TV series that debuted way back in 1966, reunited Chris Pine, Zachary Quinto, Zoe Saldana, Karl Urban, Anton Yelchin (who tragically passed away in an accident earlier this summer) and Simon Pegg (who co-wrote the film), while Justin Lin of the Fast and Furious franchise directed. Although it seemed that this Star Trek had little new to offer, positive reviews (85% fresh) and Lin's fanbase helped to drive the Friday number to $22.5 million, including $5.5 million from Thursday sneak previews.

It's tough to compare this iteration of Star Trek to the previous Bad Robot productions, primarily because the first film debuted on Thursday, while Star Trek Into Darkness started on Wednesday. It's probably safe to say that there was some fanboy rush here, and while a lot of outlets are forecasting a $60 million weekend, I think it'll be closer to $55 million. It's not on the level of Star Trek ($75.2 million opening) or Into Darkness ($70.2 million opening), but given positive audience reaction, this should do just fine moving forward.

Second place for Friday went to Lights Out, which comes from James Wan's production house. Audiences have a lot of trust in Wan's brand at this point, and as a result, the horror film earned $9.2 million on Friday. The film should come in with a weekend total around $24 million, which is pretty terrific considering the shoestring budget of around $5 million.

Now we come to the bad news portion of the update, as Ice Age: Collision Course managed to earn just $7.8 million for Friday. By the way, it couldn't even beat The Secret Life of Pets in its third weekend. Even if Ice Age has a fantastic multiplier, it's going to end up with just $23 million, which is half what the last two films made and is certainly a low point for the series. It's also only 13% fresh at Rotten Tomatoes, indicating to parents and other lovers of animation that there's nothing for them here. The film has earned $134 million overseas so far, but with a triple digit budget, it still will have a ways to go to turn a profit.

Dinesh D'Souza preaches to his already converted with Hillary's America: The Secret History of the Democratic Party and it earned $1.4 million. Give it about $4 million for the weekend and a slide into obscurity as the Democratic Convention takes over the headlines.

Finally, Absolutely Fabulous: The Movie debuted on 313 screens with $660,000. It was always going to have a niche audience, and will finish the weekend with about $1.8 million.