Weekend Box Office Forecast for July 22-24, 2016
By Tim Briody
July 22, 2016
BoxOfficeProphets.com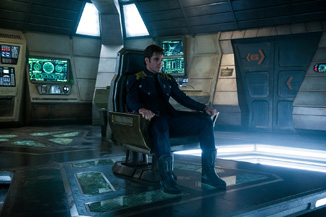 ---
The summer movie season continues to roll along with two more sequels, which might be problematic given how this year has gone so far, but at least these come with a pedigree.

Star Trek: Beyond is the third go around for the rebooted Star Trek franchise (with the first now seven years old already!) with J.J. Abrams passing directing duties on to Justin Lin, director of 4/7ths of the Fast and Furious franchise.

Having gone back to the Khan well in the last movie, the crew of the Enterprise (with all the major players returning, but more on that in a moment) is now on a five year mission to boldly go, yadda yadda, when a distress signal turns into something that sees the ship blown up real good and the crew separated on a strange planet.

As mentioned, Chris Pine is back as Captain Kirk, along with Zachary Quinto as Spock (no Spock Prime this time with the death of Leonard Nimoy in 2015), Zoe Saldana as Uhura, Karl Urban as Bones, John Cho as Sulu, Simon Pegg (who co-wrote this one) as Scotty and Anton Yelchin as Chekov in what will be his final major release after his sudden accidental death last month. For gravitas, Beyond adds Idris Elba as the film's big bad.

2013's Into Darkness gave back about $9 million from the 2009 reboot's $79.2 million opening weekend, and also dropped almost $30 million in overall box office, dropping from $257.7 million to $228.7 million. What we saw there (and in the majority of reboot sequels) is that things just aren't as special the second time around. Into Darkness wasn't a bad movie, but for whatever reason, fewer people cared. Beyond is bringing in reviews on par with the first film, which is a good sign (and means we may be establishing the trend with this reboot that the better movies are the odd ones), but it's been a rough year to be a sequel and there's just not enough buzz here (though the death of Yelchin made for some unfortunate free promotion) to recapture the magic from the reboot. Star Trek: Beyond takes another step back at the box office with a weekend of $61 million.

The long running Ice Age franchise may feel like a B-level player in the world of computer animation, but they've actually been reliable earners, with two films falling just short of $200 million and none doing any worse than $161 million (2012's Continental Drift). The story takes a weird turn when you find out that both Continental Drift and 2009's Dawn of the Dinosaurs rank in the top 50 movies in all time worldwide grosses, earning $879.7 million and $859.7 million worldwide respectively. So while a fifth entry was inevitable anyway, Ice Age: Collision Course is one of the first of many films that exists primarily for international audiences.

This time around, that rascally rascal Scrat accidentally launches some asteroids towards the Earth (look, just go with it), and it's up to Manny the Mammoth (Ray Romano), Sid the Sloth (John Leguizamo) and Diego the Sabertooth Tiger (Denis Leary) to save the day again, somehow.

Besides the returning Romano, Leguizamo, Leary, Queen Latifah, Seann William Scott, Wanda Sykes, Jennifer Lopez and Simon Pegg, thanks to the earnings of the last two movies, the casting department has gone drunk with power, adding the voices of Jesse Tyler Ferguson, Melissa Rauch, Nick Offerman, Adam Levine (yes, the singer) and Neil deGrasse Tyson to the cast. Why? Because they can.

While as I mentioned, the Ice Age franchise has been a very reliable performer (and damn near a literal world-beater internationally), there are some big problems here. First, Collision Course is currently sporting an 11% Fresh rating at Rotten Tomatoes. And while the target audience absolutely does not care about that, there may be a subset of parents who have had enough and don't want to subject themselves to yet another Ice Age movie. Second, it's running into the third weekend of The Secret Life of Pets, which took in $50 million last weekend and is well on its way to $300 million. Third, after Zootopia, Finding Dory and now The Secret Life of Pets, the argument is there that the animation market is oversaturated right now and something's got to give. Fox seems to agree that domestic box office is basically gravy at this point, as it's already earned $130 million internationally in just one week. Continental Drift opened with $46.6 million in July 2012, but the fifth movie is going to give back a big chunk of that. A weekend of $24 million seems appropriate.

Lights Out is your periodic horror/thriller made for loose change found under some couch cushions. Starring Teresa Palmer and Maria Bello, it's about a mysterious figure from a family's past that only seems to show up in the dark. The solution here seems really simple, but then I guess it wouldn't be much of a movie. It's getting above average reviews and should make enough of an impact that it'll more than double its budget with the opening weekend. Look for a weekend of $13 million.

I'm supposed to mention every wide release, but I feel absolutely dirty mentioning that the documentary Hillary's America: The Secret History of the Democratic Party is getting 1,200 theaters this weekend on the heels of the Republican National Convention. Filmmaker Dinesh D'Souza's previous effort, 2016: Obama's America did get in over 1,700 theaters at one point and *sigh* earned $33.3 million back in 2012. I'll say that the wide release does have some impeccable timing, but if you're reading this, do not give your money to this charlatan. That is all. It'll still make the lower ranks of the top ten this weekend, with about $4 million.

The Secret Life of Pets moves out of the top spot after two weekends, but not before earning $225 million in two weekends and headed towards the $300 million mark, which would make it three digitally animated films to cross that mark in 2016, which is still impressive. Despite the presence of Ice Age, it's still going to be the option of choice for families on the weekend, as it brings in a third weekend of $33.5 million.

Ghostbusters opened last weekend with $46 million, leading many people to suddenly become box office experts and declare it a massive disaster. It should be pointed out that these same people also declared that the project was crapping on the legacy of the original movies (first, they obviously haven't seen Ghostbusters 2, and second, it had their blessing, with the surviving original cast making cameos), then they declared that critics would destroy it (74% at Rotten Tomatoes, so no) and then declare that it would flop opening weekend ($46 million is the highest opening for a pure live action film in 2016, when you throw out the superhero movies). That's the sound of the goalposts moving that you've been hearing over the last week. In other words, bring it, haters. This is a good enough start that there will likely be a sequel, so I can't wait to go through all of this again in a couple years. For weekend two, I expect about $25 million.

The Legend of Tarzan continues its decently leggy run, passing $100 million last weekend, and Finding Dory moved into 10th place all-time domestically with $451 million to date, and will end up in eighth in a few more days. Both will earn a bit under $6 million on the weekend, and that's the end of everything relevant, as nothing else will be over $5 million.