Weekend Wrap-Up
Pets Slaughter Mike and Dave
By David Mumpower and Kim Hollis
July 10, 2016
BoxOfficeProphets.com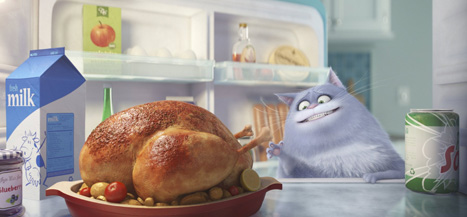 ---
The fireworks technically ended on Monday, July 4th, but Hollywood saved the box office explosion for the weekend. One of the most anticipated new intellectual properties of the year finally debuted a full year after the teaser sold everybody. Its success was a formality, but the degree of it is record-setting.

Yes, The Secret Life of Pets is the number one film in North America, absolutely obliterating the competition including the other major new release of the weekend, Mike and Dave Need Wedding Dates. The shock is in the actual number, though. The Secret Life of Pets debuted to an estimated $103.2 million. Yes, that's almost as much as Minions, which opened to $115.7 million, despite the fact that Pets is a new IP. It's also almost $20 million more than Despicable Me 2, which doesn't even seem possible.

There's a lot to unpack with that $103.2 million number, so let's start with the statistics then work our way back to the why of it. The Secret Life of Pets is now unequivocally the largest opening ever for a new animated property. Inside Out previously held that title with $90.4 million. What we can take from this is that audiences now view Illumination Entertainment as a brand in the same way that they've historically treated Pixar and, to a lesser extent, DreamWorks Animation. Pets operated as a de facto sequel to the Minions brand, substituting animals for one-eyed banana freaks. That's amazing in and of itself and cause for the Illumination Entertainment team to strut around the office all week.

What's more noteworthy is the larger industry perspective here. Removing the word "animated" from the equation, The Secret Life of Pets shattered some other barriers. Consider that Iron Man opened to $102.1 million. That's an adaptation of a Marvel title rather than a truly new IP. The same is true of Spider-Man and even Deadpool, which are the first "new" movie properties to open to $100 million and the current "new" movie property record-holder for opening weekend, respectively. We're not counting Marvel's The Avengers here since it's the sequel to three different Marvel characters' films.

Every other title mentioned here existed in literary form prior to theatrical release. The same is true of other "new" films currently ahead of Pets such as Alice in Wonderland, The Hunger Games, or The Jungle Book, the last of which may fall under Pets anyway once actuals are released tomorrow. Given the above, it's fair to state that The Secret Life of Pets is the first true original IP to open to $100 million. Universal Pictures has just achieved something truly historic here.

Why did audiences flock to a movie about lonely pets? Several explanations exist. The most obvious of them is the quality of the trailers. As mentioned above, the first teaser for Pets sold virtually everybody on the concept to the point that the movie would have performed almost as well if it'd come out that very weekend. Over the past year, interest has heightened, but when virtually everyone is already in, we're discussing a point of diminishing returns. The Metal Poodle joke sold ten million tickets on its own. That was the gag that did all the heavy lifting for the entire marketing campaign.

The only concern people might have had is if quality were an issue. We've witnessed countless projects die quickly in recent months due to their harsh reviews. Social media word-of-mouth is a powerful, sometimes crippling force. Thankfully, The Secret Life of Pets is well-reviewed, currently 76 percent fresh at Rotten Tomatoes, including 75 percent among top critics. It also merited an A- Cinemascore, which notably increased to A+ for the under-18 crowd. That brings us to the other marketing key for Pets. Whereas most animated films primarily target families, this one had a secret tactic. Adults without children still own pets, thereby expanding the usual family demographic into virtually the entirety of society. Universal crafted the rarest of rare four-quadrant animated movie, and that strategy has paid immediate, record-setting dividends this weekend.

One final note: The Secret Life of Pets had a budget of $75 million. If you're thinking that everybody involved with this project is getting a raise, you're right. They've crafted a $300+ million domestic performer that will have widespread international appeal (it already earned $42.6 million prior to its North American release). The first film in what's sure to be a franchise has vastly outperformed Despicable Me, the title that made Illumination Entertainment. The Secret Life of Pets is a perfect project.

Second place goes to The Legend of Tarzan, which just edged out Finding Dory with $20.6 million. It fell 47% from its debut frame, which was a bit of a shocker even if it still can't be quantified as a real success given the $180 million budget. The Legend of Tarzan has now accumulated $81.4 million from domestic play dates and adds another $54 million from its release overseas.

Finding Dory took an expected tumble this weekend given that The Secret Life of Pets was dominating screens, hearts, and minds. A 51% drop to $20.4 million still brings the North American total up to $422.6 million, which means that Finding Dory is now the top domestic earner of 2016. It surpassed Captain America: Civil War's $406.2 million to accomplish this feat. It still has a ways to go before it's done, and hasn't even received a full rollout in overseas venues. By the time it's said and done, it may hold the top spot for both domestic and worldwide, a mighty feat given the power of 2016's top tier films (Zootopia, The Jungle Book, Captain America: Civil War). Finding Dory has earned a solid $220 million from international theaters thus far.

Our second new release this weekend winds up in fourth place. Mike and Dave Need Wedding Dates, a comedy featuring Zac Efron, Adam Devine, Aubrey Plaza and Anna Kendrick had a somewhat soft weekend total of $16.6 million. Comedy has been tough in 2016, as studios have struggled to find a movie in the genre that provokes a significant audience response. While $16.6 million isn't a terrible debut given the $33 million budget, it definitely feels like there was some money left on the table. Alternately, it's possible people don't find Adam Levine as funny as we do. If so, they're wrong and we're right. Either way, given the film's 41% rating at Rotten Tomatoes and B Cinemascore, it's probably not going to find its way to cult status.

After a dominant opening weekend, The Purge: Election Year does what all "Purge" movies do in weekend two. It fell back to earth. With a 63% decline from weekend-to-weekend, The Purge was able to add another $11.7 million to its coffers. That brings its overall domestic total to $58.1 million, with overseas box office results really only just getting started. It's probably safe to assume that we'll continue to receive more sequels until audiences start to lose interest.

The best hold in the top ten goes to Central Intelligence, the buddy comedy featuring Dwayne "The Rock" Johnson and Kevin Hart (who is having a pretty fine summer given that he's also one of the primary voice actors in The Secret Life of Pets). The Warner Bros. release earned $8.1 million this weekend, down just 35% from the previous frame. With its conservative $50 million budget, Central Intelligence is looking like a bright spot in a summer full of misfires, as it has earned $108.3 million domestically and $32 million internationally.

Independence Day: Resurgence is only just now seeing its domestic total (almost) match the amount the first film made during its holiday inflated six-day opening weekend in 1996. The original film had earned a gaudy $96.1 million after that six day holiday frame; Independence Day: Resurgence has crossed the $90 million mark after three weekends of release and is falling fast. Its $7.7 million Friday-to-Sunday total represents a 54% decline from the previous weekend. If there is any good news to be found, it's that the film has so far earned $186 million from overseas venues, giving it a worldwide tally just over $275 million. Still, given the $165 million budget, this is nowhere near good enough. It's another of our examples of remakes/reboots/sequels that no one cared about this summer.

Steven Spielberg's latest directorial effort is nothing short of an unmitigated disaster. The BFG, the CGI/live action combo adapted from Roald Dahl's popular children's story, fell a precipitous 60% in weekend two to $7.6 million. So far, the Walt Disney production has earned just $38.7 million domestically and $11.9 million internationally, neither of which is going to be good enough to make a dent in the $140 million production budget. The film has decent reviews (72% at Rotten Tomatoes) and audience response (A- at Cinemascore), but the film simply wasn't marketed in a way that enticed people to go out and see it. It probably will find some sort of second life on home video.

Ninth place goes to the shockingly resilient little survival horror film The Shallows. Now in its third weekend of release, the Columbia release earned another $4.8 million and declined 45%, the second-best hold in the top 12. The Blake Lively starrer has now earned $45.8 million domestically against its modest $17 million budget.

Rounding out the top ten is the Bollywood "sports romance" Sultan. From Yash Raj films, Sultan was out to just 283 venues but still managed to gross an impressive $2.2 million, good for a $7,832 location average. The film's star, Salman Khan, is one of the most popular actors in Hindi cinema, so this niche audience was clearly excited for the opportunity to see him on the big screen.

The top 12 films at the box office earned a mighty $206 million thanks to the strength of The Secret Life of Pets. That number is... exactly even with 2015, which is when Minions opened to $115.7 million. Even though Minions had the stronger debut than Pets, the remainder of this year's top 12 showed more strength. Next weekend brings one of the big question marks of the year in Ghostbusters, along with the Bryan Cranston flick The Infiltrators.