Weekend Forecast for July 8-10, 2016
By Reagen Sulewski
July 8, 2016
BoxOfficeProphets.com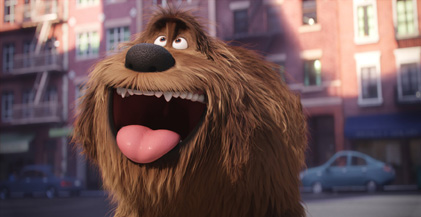 ---
After several weeks of anemic box office, a studio is offering up a novel strategy: putting out a movie people actually want to see.

At some point, and maybe this is already taking place, studios will take a look back at their slates for this summer and regret making it consist of 98% unnecessary sequels and reboots. That this week's films offer something at least mostly original (in that they aren't already a part of a franchise) content offers some hope that ideas have not completely left the building. The Secret Life of Pets jumps into the world of what pets do when humans are away, which varies from typical animal stuff, to parties that end with homicidal plots from rabbits.

In some ways this looks a bit like the Deep Impact or Antz (compared to Armageddon or A Bug's Life) to Disney's Zootopia from earlier this year, although the hypothetical is a bit different in this case – here it's our world and the humans don't notice (a la Toy Story) compared to the counter-factual society where humans didn't evolve. This one dwells in a bit more anarchic zaniness compared to the big picture from Disney, and thus pitched a little younger. It's an unsurprising move from the studio behind Minions, that world-bestriding franchise of little yellow agents of chaos.

A solid voice cast includes Louis C.K., Kevin Hart, Eric Stonestreet, Jenny Slate, Lake Bell, Ellie Kemper, and a whole host of other funny people, which won't really matter to its biggest target audience but does make it acceptable to adults. The biggest key to its success here is looking tolerable and even enjoyable to those actually paying for the tickets. As a new IP, that's its biggest struggle and this actually goes a long way to showing just why there are so many sequels and remakes – it's a safe bet, generally, and coming up with new ideas is the risk. Of course, with legitimately funny trailers, Pets looks like a home run and should open to about $83 million, leaving it primed for a seq... dammit.

Our other major release of this weekend is Mike and Dave Need Wedding Dates, a raunchy comedy in the tradition of The Hangover or The Wedding Crashers. Starring Zac Efron and Adam Devine as two brothers whose campaign to find two dates for their sister's destination wedding in Hawaii goes viral, it attracts the attention of the internet's girlfriends, Anna Kendrick and Aubrey Plaza, posing as "good girls" but who in reality are scam artists who just want a tropical vacation.

All hell predictably breaks loose with some wacky and injurious set pieces punctuated by frat/improv comedic bits – which may or may not hit, but at least have the rhythm or potential of humor. The bits themselves are not amazingly funny and really only inspire chuckles, so it's probably hoping for some residual support from the Neighbors films. And seeing how well Neighbors 2 did, well, good luck with that. The principles in this are quite funny people in general, but have generally struggled to carry films on their names – Efron notoriously had one of last summer's biggest bombs, and Plaza's The To Do List was also a big non-factor last year. Kendrick has the most success of anyone here, but it's also not an a cappella movie, so the Pitch Perfect movies are not illustrative here. I'd look for an opening weekend of about $11 million.

This means that Finding Dory finally gets knocked out of the top spot after three weeks and nearly $400 million in domestic box office. It should, by the end of this weekend, take over Pixar's top spot all time, and has a good shot at getting past The Lion King as well. Shrek 2's take of $441 million looks like a goner in the long run. Give it $22 million this weekend.

The Legend of Tarzan surpassed a lot of expectations to hit $38 million last weekend, which just tells you how lowered those expectations were. The $180 million budgeted action-adventure film may be banking on international business to give it an air of profitability, but that'll be tough with a sub $100 million domestic total. This film really just looks... there, and five years from now you'll probably forget it was ever made. It should bring in $18 million this weekend.

I'd expect an even steeper drop for The Purge: Election Year, following the pattern of previous entries in the franchise. The politically themed horror film should drop to about $13 million for its second frame. Meanwhile, the shockingly poor result for Spielberg's The BFG looks to doom it to a sub-$60 million domestic take unless something turns around dramatically. That should be about $10 million this weekend.

Rounding out our list of returning films are Independence Day: Resurgence and Central Intelligence, which should both grab about $7 million this weekend.