Weekend Wrap-Up
BFG Purged at July 4th Box Office
By John Hamann
July 3, 2016
BoxOfficeProphets.com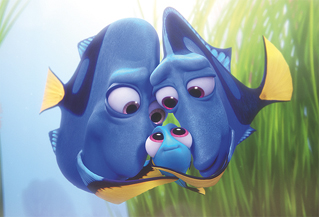 ---
We knew Tarzan and The BFG weren't going to be much this July long weekend, but was it as full of doom and gloom as other box office sites are saying it is? Absolutely not.

Welcome to the July 4th long weekend at the box office. If it's a long weekend, in summer, the box office should be on fire right? Actually, the July 4th weekend is an anti-box office weekend, as people are busy with barbecues, camping and outdoor activities, putting movies as a lower choice. History proves this fact, as July 4th openers that have debuted softly include 2015's Terminator: Genisys ($27 million) and Magic Mike XXL ($12.9 million), 2014's Tammy ($21.6 million), 2013's The Lone Ranger ($29.2 million), 2013's White House Down ($24.9 million), 2012's The Amazing Spider-Man ($62 million), and 2010's The Last Airbender ($40.3 million). July 4th was not kind to any of these films, and the recent trend line shows that openers struggle to get past $30 million in recent years.

New releases looking to beat the trend this July 4th weekend include Steven Spielberg's The BFG, an adaptation of the Roald Dahl book from E.T. screenwriter Melissa Matheson. This one is from Disney, who obviously ignored the lessons and results of 2013's Jack the Giant Slayer, another film about giants that was ignored almost completely, earning just $65 million domestic against a $195 million budget. Also opening is The Legend of Tarzan, a title I get sleepy just typing out. Whoever thought we needed a big, $180 million film about Tarzan does not live in my head, as Hollywood goes zero-for-two in terms of piquing my interest. Our last opener does have my attention, as it is The Purge: Election Year, one of the very few current horror franchises, that was actually built around original thought. With this release date, The Purge threequel is the only release strongly positioned this weekend, given its low budget ($10 million), built-in audience, and the rumored on-screen castration of Donald Trump (kidding).

While the openers scramble and feed off of each other, our number one film for the July 4th frame is the three-weekend champion, Finding Dory. The Pixar fish sequel is simply killing it. After earning $23.2 million last weekend, Dory dropped only 42% Friday-to-Friday. That's not bad considering it had already earned $330 million domestically before its third weekend began. It actually finished third on Friday behind two of the openers, breaking its consecutive days at number one streak at 14 days, but rose back into top spot on Saturday and Sunday.

Finding Dory earned a still-powerful $41.9 million from 4,305 venues this weekend, dropping 43% compared to last weekend's $73 million take. The hold is solid considering The BFG opened – albeit to a fraction of what the studio was looking for – which brings up an interesting point around scheduling. If you were Disney and opening Finding Dory on June 17th, would you schedule a Steven Spielberg kids flick on July 1st? Dory is performing at a beyond best case scenario, earning $40 million plus in weekend three, and had it performed as a mere mortal, it would only be earning $25 million this weekend. The gross this weekend is the eighth best third weekend of all time, which is extremely close to the $43.7 million The Jungle Book earned in its third weekend.

Finding Dory has now earned a stunning $372.3 million at the domestic box office, already in the top 30 domestic earners off all time, as it passes iconic films like Deadpool, Passion of the Christ and Despicable Me 2. It has almost passed the combined earnings of the original Finding Nemo and its 3-D re-release, which earned a combined $380 million. Finding Dory crossed the $350 million mark on Saturday, its 16th day of release, which puts it with the five fastest to reach that milestone. I think it's safe to say at this point that $500 million domestic is a no-brainer here, but the question will be about the effect that Secret Life of Pets has on Finding Dory next weekend. Despicable Me had little effect on Toy Story 3's fourth frame, where it fell only 31%. Overseas, it's a slow roll out for the Pixar film, but it has earned $166 million so far. Given that Toy Story 3 earned $650 million overseas, a $1 billion worldwide result is definitely swimming Finding Dory's way.

The Legend of Tarzan opens in second this weekend, and really, everything would be fine for this wannabe blockbuster had it cost about $100 million less than it did. I'm frankly surprised it did any business, and I am genuinely confused by anyone who thought it was a good idea to spend $180 million on a film that takes place prior to electricity. Also, why would they release this now, three months after The Jungle Book, and less than a month away from Margot Robbie appearing in a career-maker flick like Suicide Squad? I digress, but really, Tarzan making any kind of money should be considered success.

Given that, I was downright shocked on Saturday morning to see that The Legend of Tarzan managed to earn $14 million from its Thursday preview and Friday, a number I predicted it would earn for the weekend. The Abs of Alexander Skarsgård marketing strategy seemed to be working, and Warner Bros. was able to turn a decent opening day into a three-day weekend gross of $38.1 million. As far as movies opening on Independence Day weekend, Tarzan is 17th best, wedged between July 4 classics like Armageddon ($36 million) and The Last Airbender ($40.3 Million).

On top of all its other problems, The Legend of Tarzan at the end of the day just isn't a very good film. The score at Rotten Tomatoes sits at an ugly 34% fresh, and surprisingly, many critics panned the film's effects, despite it appearing that the entire $180 million went into the effects budget. Warner Bros. will at least get a little relief from its Cinemascore, which came in at an A-. At the end of the day, it's the budget that kills this ape man – a $110 million domestic gross will mean it will need to earn over $400 million overseas, and that is just not going to happen. It has just under $20 million so far from those international venues.

That puts our best new opener into third this weekend, but Jason Blum and the makers of The Purge: Election Year don't care, as the horror flick beat its production budget of $10 million on its first day. Yes, like most Jason Blum horror flicks, Purge 3 earned $14.5 million on day one, pulling off that rare feat of having most of your production and marketing budgets paid off after three-days of release. As expected, The Purge: Election Year didn't stay hot after opening night; however, the holiday Monday helped it more than other iterations of this franchise. Over the three-day portion of the long weekend, The Purge 3 earned an impressive $30.9 million from only 2,796 screens, which is 1,500 less venues than Finding Dory. Showings would have been packed on Friday, which always creates a good start for a film like this.

Why do packed houses help? Because audiences love The Purge: Election Year. The film scored an excellent-for-horror Cinemascore of B+, as this is true horror, not the run from the shark thriller that The Shallows is. Even the reviews were somewhat kind, with more positive scores than negative, and a mixed 54% score at RottenTomatoes – again a victory for this type of film. The even better news for Universal is that there is growth to The Purge as a franchise, especially overseas. The original Purge earned $25 million over there, the follow up took in $40 million. Once again over the silly summer season, the small, modestly budgeted film works, while the big budgeted behemoths suffer.

Speaking of over-spending (and suffering), Disney's The BFG is looking like an expensive mistake. The fantasy film earned $19.6 million over the three-day portion of the long weekend. At a cost of $140 million, the giant feature needs to earn over $400 million worldwide in order to even think about profitability. With this opening, even a multiplier over 4.0 will only push it toward $100 million domestic, leaving too much pressure on overseas grosses. The Steven Spielberg name will help, but this will need an Adventures of Tintin response if it has any hope. Spielberg's 2011 version of Tin Tin earned only $79 million domestically, but picked up a massive $300 million abroad, saving it from disaster.

The only hope for The BFG lies within itself. It would appear that Spielberg and Disney put together a strong piece of filmmaking. It is 71% fresh at RottenTomatoes – decent but not spectacular – and the Cinemascore is the same at an A-. Unfortunately, there isn't enough buzz or really anything to restart momentum on The BFG. Unless some bizarre groundswell of momentum happens, Disney is going to have another family film dud on its hands, as it joins Alice Through The Looking Glass.

Fifth goes to Independence Day: Resurgence, and despite having an opening weekend below $45 million, it still gets hammered in its second frame. Resurgence earned only $16.5 million in weekend two, giving it a disastrous drop of 60% and the final dagger. The only question now is how big the writedown is, as this one cost $165 million to make, and is in real danger of not making $100 million at the domestic box office. The good news is that it earned over $100 million overseas last weekend, but it has a long way to go to get to $500 million worldwide. So far, it has $72.7 million on the domestic side.

Sixth is Central Intelligence, which is quietly putting up some stellar numbers. This weekend, its third, the Dwayne Johnson/Kevin Hart flick earned another $12.3 million and fell a reasonable 32%. After three weekends, the buddy cop action flick has earned $91.8 million domestically against a $50 million budget. It has also earned $30 million overseas.

The Shallows also holds nicely, as the Blake Lively flick has a second frame at an amount closer to what we were expecting from the first weekend. The Shallows earned $9 million in its second frame, off a neat 46% compared to last weekend, an excellent hold for a genre release like this one. So far, this small $17 million release has earned $35.3 million domestically.

Free State of Jones is eighth, as everyone is getting off of this bus. The Matthew McConaughey starrer earned only $4.1 million in weekend two and dropped 45%. STX better hope they can sell this to schools, as it has a gross to date of only $15.2 million, against a $50 million budget.

The Conjuring 2 is ninth, as this horror sequel gets beat up a bit by The Purge: Election Year. The Conjuring 2 earned $3.9 million this weekend, off 50% from the previous frame. This small $40 million release has now earned $95.3 million stateside, and overseas its earned more than $175 million, making this one of the hits of the summer so far for Warner Bros.

Now You See Me 2 is tenth and is leaving us after only four weekends of release. This time around, the magical release earned $3 million, off 47% from the previous frame. The star studded thriller has now picked up a lean $58.7 million on the domestic side, and has earned more than $155 million overseas.

In limited release, Swiss Army Man, featuring the farting corpse, expanded to 636 screens. It earned $1.4 million and has a gross to date of $1.6 million.

Overall, it wasn't that bad of a July 4 weekend. The top 12 this weekend earned a combined $181.7 million over three days, which was much better than the last two years. A year ago, the top 12 earned $128.9 million over July 3rd - 5th, and the year earlier, the top 12 earned $120.6 million over July 4th - 6th. Next weekend brings more big hitters, as Universal and Illumination open The Secret Life of Pets, and Zac Efron opens Mike and Dave Need Wedding Dates.