Weekend Forecast for July 1-3, 2016
By Reagen Sulewski
July 1, 2016
BoxOfficeProphets.com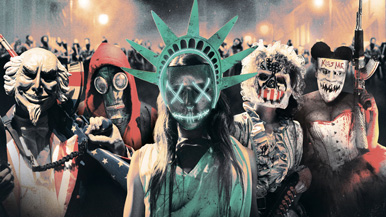 ---
To someone several years ago, this weekend's top release would have seem like a slam dunk winner – a Steven Spielberg-directed family film of a beloved children's book. And yet times have changed such that it's merely the highlight of a mediocre July holiday weekend.

Based on the Roald Dahl book of the same name, The BFG (standing for Big Friendly Giant, though my mind goes elsewhere on the initialism) is a hybrid animation/live action film about a young girl who finds herself in the clutches of the title character, sending her on an adventure. As it turns out, there are two types of giants – one kind, the kind indicated in the title, are meeker and milder, but responsible for things like the wind (by running really fast) and dreams, by blowing a magic trumpet into children's bedrooms, and then the other, which likes to eat people. So.

Recent Oscar winner Mark Rylance (who all the kids are just crazy about, I mean, they all saw Bridge of Spies) voices and mo-caps the titular giant, while relative newcomer Ruby Barnhill plays Sophie, the girl taken on the grand adventure. And while the fairy tale aspect of this has some appeal, it's more of the look of a tech demo than a story that needed to be told. It doesn't help that previous adaptations of Dahl's works, outside Charlie and the Chocolate Factory, haven't translated well to the screen in either manner or success.

Visually, this seems to be a bit of an update to the Zemeckis model of A Christmas Carol or The Polar Express, with some of the excess creepiness ironed out. Thanks to the combination of Spielberg and the Disney promotion machine, however, it should surpass the lackluster takes of James and the Giant Peach and The Fantastic Mr. Fox. Spielberg can elevate still less commercial material by his name – making films like War Horse and Bridge of Spies into respectable grosses – but gone are the days when everything tied to his name is an event film. I'd look for a very modest $27 million this weekend.

When it premiered three years ago, The Purge looked like an interesting little trifle of a thriller/horror film. Three years later though, and its alt-history take on a post-post-revolutionary America has reached its third film and a "ha ha ha now stop it" level of uncomfortably plausible plotting with The Purge: Election Year.

Several years into the new reign of a fascist party over the United States, The Purge – a 12 hour period where everything is legal barring things like setting off a tactical nuke – is a somewhat of an accepted notion, and used as a convenient way to rid society of its "undesireables" (i.e. the poor, minorities, and people who think that maybe anarchy is a bad thing). However, the tide might be changing as a popular presidential candidate (played by Elizabeth Mitchell) calls for its removal and a return to normalcy in society. But, whoops, here comes The Purge and wouldn't it be awful if she were to somehow perish in it?

So it's a bit of a survival horror film as Mitchell's character must run a gauntlet of attacks, both purposeful and accidental. Three films into this series, and The Purge is diving into an underbelly of America that's barely concealed and with the ascendancy of Trump, feels a bit too real to be funny or wink wink. Indeed, the film's ad campaign makes not so indirect reference to current events, in what's both a genius move, and a bit off-putting.

The second Purge movie dropped slightly from the first, to a $29 million opening, and the rather sadistic nature of these films is proving to be, like the Saw films, both its appeal and its potential downfall. The ugliness of the subject matter of this film might be a stumbling block to a breakout. Look for about $25 million this weekend.

Lastly, we have The Legend of Tarzan, another attempt at creating a franchise out of an easily adaptable literary adventure story, following The Jungle Book from earlier this year. Directed by David Yates (of late-series Harry Potter fame) and starring Alexander Skarsgård as the title character, it sees raised-by-apes Lord Greystoke living a comfortable life in London with his wife Jane (Margot Robbie) before being pressed into service as a trade emissary in the Congo. There, the evil Belgian (perhaps a first on screen?) mining magnate played by Christoph Waltz lures him into a trap and then it's CGI adventure for everyone.

While in principle I can understand why someone would try their hand at making a Tarzan franchise work, it's been proven multiple times of late that the appetite for these pulpy films has died out, or is at least on the wane. When the best result you can point to is King Kong, well, you're not in great company. What's worse is that with a $180 million reported budget, we could be in John Carter territory here – just a colossal misjudgment of audience tastes that could lead to job losses. International market anyone? Maybe. An out and out bomb is in store here, with a $17 million weekend.

Thus, Finding Dory gets a third weekend at the top, with what is likely to be about a $45 million take. This will put it in shouting distance of the $400 million milestone, and the eventual all-time Pixar mark of $415 million set by Toy Story 3.

The disappointing summer of sequels claimed another victim, with Independence Day: Resurgence managing just $41 million last weekend, a full 50 percent lower than the original film's hyped-up holiday opening weekend in *1996*. More than just being "too late", it was completely unnecessary and unwanted and targeted an audience that had long since forgotten or passed these kind of films by. A massive drop in weekend two should bring it to $15 million.

Following after that, we have Central Intelligence, due for about $10 million in weekend three, and horror/thriller The Shallows, which should find about $7 million in its second frame.