Weekend Wrap-Up
Dory Dominates Independence Day Sequel; Shallows Surprise
By John Hamann
June 26, 2016
BoxOfficeProphets.com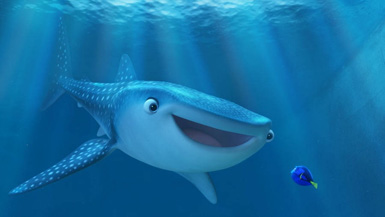 ---
Six months ago, I thought the sequel to Independence Day would be a $100 million opener. Today, half of that amount would be a victory for Fox, as we have another expensive sequel that is going to struggle stateside.

A year ago over the same weekend, holdovers dominated, as both Jurassic World and Inside Out repeated in the one-two spot, while new releases Ted 2 and Max suffered. This weekend, Finding Dory is the big holdover, and four openers try and cut into its business. Independence Day: Resurgence, the sequel to the 1996 world dominator that earned over $800 million, was the theoretical biggest new release. All those years in between films worked for Jurassic World - would it work for Roland Emmerich like it did for Steven Spielberg? Also opening is Free State of Jones with Matthew McConaughey, who tries something a little different with a historical war flick in the middle of summer. A more traditional summer release is The Shallows, Blake Lively's orange bikini movie - I mean shark movie - which is our lower budget pick of the week. Lastly, opening on fewer than 1,000 screens is The Neon Demon, the latest from Nicolas Winding Refn, who did Drive with Ryan Gosling. The big hitter in the room again this weekend, though, is Finding Dory, as it looks to hold after opening to $135 million last weekend.

Our number one film of the weekend is again Finding Dory, Pixar's latest smash hit, and its biggest opener amongst a very successful crop of films. On its second Friday, after starting last weekend with $54.7 million, Finding Dory earned $23.2 million, giving it a Friday-to-Friday drop of 58%. Dory had $9.1 million in Thursday preview grosses last week, so its "true Friday" amount was $45.75 million, which means the true drop was really 49%. This is a fantastic Friday hold for a film that opened so big. Minions fell 68% when comparing Friday to Friday, but Toy Story 3 is a better comparison. It had a first Friday of $41.1 million, and dropped 56% to $17.95 million on its second Friday. Toy Story 3 turned that into a second weekend take of $59.3 million, off 46% weekend to weekend. It would appear that Finding Dory is following the Toy Story 3 pattern, which would be very good news, as the Pixar threequel had an opening-to-total domestic multiplier of 3.76. Should Dory find the same, it would finish at over $500 million.

Over the weekend, Finding Dory earned a fabulous $73.2 million, falling an impressive 46%. That makes the second frame of the Pixar film the eighth biggest second weekend ever, wedged between the second weekends of The Hunger Games: Catching Fire ($74.2 million) and Captain America: Civil War ($72.6 million). This is incredibly strong, as last weekend, Dory opened as the 19th biggest film, and is now amongst the biggest second weekends of all time. It had a similar Monday-to-Thursday result. Dory had the 13th biggest non-opening Monday, the fourth biggest (yes that's correct) Tuesday ever, and the ninth biggest Wednesday ever. Finding Dory is simply a smash. Somehow it is finding a way to pick up steam, as it crossed the $200 million mark on its seventh day of release, and will cross the $300 million mark in a couple of days. It has a stunning standing total of $286.5 million after only 10 days of release. Overseas, it started last weekend with $50 million, and opened in a few more overseas markets this weekend, pulling in another $60 million, giving it a worldwide total of nearly $400 million.

Independence Day: Resurgence disappoints this weekend as lightning can't be bottled twice, and Fox can't recapture the blockbuster magic the original opened to in 1996. 20th Century Fox must have felt quite confident - it was opening a year after Jurassic World tapped into moviegoer nostalgia and pushed its opening weekend beyond $200 million. The original opened on a Tuesday and had a six-day opening weekend that amounted to a powerful $96.1 million, unheard of for 1996. The original went on to have a run that didn't have a weekend drop higher than 40% until weekend 14. Fox, of course, was planning on having a repeat with the sequel. Unfortunately, that didn't happen.

Independence Day: Resurgence got started on Thursday night at previews, and despite years of build-up, even the Thursday number was disappointing. It earned only $4 million on Thursday night, a number Finding Dory more than doubled the previous Thursday. The combined Thursday/Friday came in at an underwhelming $16.8 million, and its domestic goose was pretty much cooked right there. It's almost sad that one day's worth of box office can doom your blockbuster, but we knew Saturday morning that this one was A) going to open to less than $50 million, and B) earn less than $150 million at the domestic box office. When your film costs $165 million to make (rumored to be as much as $200 million), your film, will need a global gross of $500 to $600 million to see a theatrical profit. With this first day, the brightest hope for 20th Century Fox over the summer, has evaporated.

Over the weekend, Independence Day: Resurgence earned a disappointing $41.6 million from a massive screen count of 4,068, and an average of $10,226 tells us there were half empty theaters. The reason for the domestic disappointment is simple and completely ironic. Fox blew it on the marketing for Resurgence, creating a completely forgettable campaign. Adversely, the original Independence Day set the bar for marketing for a decade, as the clip of famous landmarks being destroyed created huge buzz. Lightning did not strike twice with the marketing, and the film was subpar as well. After a loud embargo, critics have come out slowly, giving it a 33% fresh rating at Rotten Tomatoes. The original is listed as 61% fresh at the site, but that's from a smaller sample.

The death blow for Independence Day: Resurgence is in the Cinemascore. The original Independence Day earned a hearty A, and given its rah rah nature that seems appropriate. The sequel did not match the original, and came in at a B, which is an ugly Cinemascore. That's the same score as Indiana Jones Crystal Skull mistake, and worse than all of the Transformers movies. Buzz is going to be limp coming out of opening weekend, and will push Resurgence's domestic total down further, putting even more pressure on the overseas gross. However, this is another film not really made for us in North America, as overseas it grossed $102 million over its opening weekend. That's going to help save Independence Day: Resurgence, but even that number is not going to bail it out of the loftier side of the budget ($165-200 million).

Resurgence is another summer of a 2016 sequel mistake, as it joins Alice Through The Looking Glass ($170 million budget/$82 million estimated domestic gross or EDG), Teenage Mutant Ninja Turtles: Out of the Shadows ($135 million budget/$85 million EDG), Now You See Me 2 ($90 million+ budget/$70 million EDG), and X-Men: Apocalypse ($178 million budget/$160 million EDG) as films that have had to rely heavily on overseas grosses so as to not be completely embarrassed at the domestic take. The globalized model works right now, but for how long?

Finishing third is Central Intelligence, last weekend's opener with Kevin Hart and Dwayne "The Rock" Johnson. After opening smartly last weekend with $35.5 million, this Warner Bros. thriller held well enough, dropping 48% in weekend two, taking in $18.4 million. That's a better hold than Ride Along 2, which fell 65% after opening to a very similar $35.5 million. It's also better than Get Hard, in which Hart was paired with Will Ferrell. That one dropped 61% after opening to $33.8 million. CI has the comedy field to itself until Mike and Dave Need Wedding Dates on July 8th, and it could see some summer legs. So far it has $69.3 million stateside and $14 million overseas.

The surprise of the weekend is fourth as The Shallows takes a bigger bite out of the box office than expected, doubling its tracking estimate. The Blake Lively thriller opened with a bang on Friday, earning $6.85 million, which includes $1.3 million from previews. The Friday number was just short of what tracking was looking for on the weekend, so Sony has one of the very few surprise hits of the year so far. Its weekend total came in at $16.7 million. The Shallows found success the old fashioned way - constant, engaging marketing, and a star with a ton of charisma willing to make the rounds and create awareness. Reviews were the best of the openers at 76% fresh, and the audience showed up. The Cinemascore is strong for the genre at B+. The budget is tiny at $17 million, and Piranha 3D, Open Water, and Deep Blue Sea all did decently overseas. The Shallows could realistically earn ten times its budget worldwide.

Fifth is Matthew McConaughey's Free State of Jones, the historical action movie that needed to work with critics if it was going to work with audiences. When STX Entertainment scheduled it for summer, we pretty much knew right then and there it wasn't going to win any Oscars. With a troubling 40% fresh rating in tow, Free State of Jones could only manage $7.8 million at the box office this weekend, much too low for the level of risk here. STX has about $40 million in exposure after selling off the overseas rights, but even a Cinemascore of A- isn't going to save it.

Sixth is The Conjuring 2. The now three-weekend-old thriller earned another $7.7 million this weekend, off a respectable 48% compared to last weekend. It has a domestic total of $86.9 million so far, and should see $100 million before its domestic run completes. It's on fire overseas, where it has picked up $156 million.

Seventh is Now You See Me 2, one of those confused and unnecessary sequels of 2016. The magic movie earned $5.7 million in its third frame, dropping a not bad 40%. It's all too little too late, though, as it has a budget of around $100 million and a domestic gross of $52 million. The overseas total has crossed the $100 million mark, but the trick is busted on Lionsgate and another hoped for franchise.

Eighth is X-Men: Apocalypse, the almost low point in the X-Men canon. This weekend, its fifth, X-Men earned $2.5 million and was off 53%. It has limped past X-Men First Class and its $146.4 million, and is going to have to stretch to beat the original X-Men's $157.3 million earned in 2000. So far, it has $151.1 million on the domestic side and $373 million overseas.

Ninth is Teenage Mutant Ninja Turtles: Out of the Shadows. The Paramount film earned $2.4 million and fell 54%. It leaves the top ten with a domestic total of $77.1 million.

Alice Through the Looking Glass is tenth, as it winds down its sad run. This weekend, it earned $2.1 million, and the sequel with promise is going to grind out fairly close to its current total, which sits at $74.6 million.

Finishing outside of the top ten this weekend are Captain America: Civil War and The Jungle Book. Cap vs Iron Man earned $1.4 million and brought its total up to $403.9 million. The Jungle Book earns $1.2 million and finds its domestic total at $358 million. Combined, the worldwide tally for both films has reached $2.07 billion.

Overall , the box office performed nicely despite the soft openings for Independence Day: Resurgent and Free State of Jones. The top 12 films this weekend earned $182.1 million, which is at least in the same ballpark as last year when the top 12 brought in $176.8, led by Jurassic World's third weekend gross at $54.5 million. Next weekend brings more interesting features, as Spielberg's The BFG opens, along with The Legend of Tarzan for Warner Bros. and The Purge: Election Year for Universal. I'm thinking there will be a lot of pressure to perform again, just like this weekend.