Weekend Forecast for June 24-26, 2016
By Reagen Sulewski
June 24, 2016
BoxOfficeProphets.com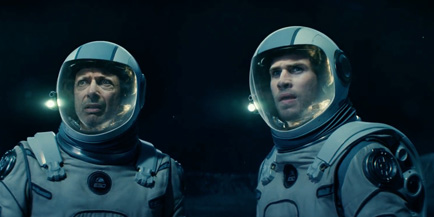 ---
Hollywood's trip down memory lane finally takes one step too far this weekend, with the return to a franchise that hasn't aged well in the mind's eye and might have best been left where it was.

The fact that it's taken 20 years to make an Independence Day sequel is a bit of a historical curiosity – if the first film (ID4, as all the hip kids called it back then) had been made this decade, we'd already really be on the fourth film in the series (ID4x4?) instead of a belated, half-thought out cash grab. The idea of a $300 million film (with close to one billion in worldwide grosses) not being repeated seems a bit quaint now. Meanwhile we're approaching our fifth Transformers film within a decade with a Bumblebee specific spinoff and things like Now You See Me are getting the "of course we're making a second one" treatment, since studios have totally run out of ideas. But I digress.

Independence Day was at the vanguard of the 1990s trend of "landmark porn", the ever escalating battle of tentpole disaster pictures in destroying recognizable buildings. In this case, it was a closing trailer shot of the White House getting blasted by an alien laser beam and splintering into so much debris that announced that this film meant business – it was something that hadn't been seen before in American cinema. Combined with the excellent hook of the film – an alien invasion of Earth and a release date that tied into the July 4th holiday – and it was a perfect storm of marketing.

Indeed, interest got to such a fever pitch that its release date was ultimately moved by two days, creating a six-day long opening "weekend" with the then-princely sum of $96 million brought in during it, and $50 million over three days. This, combined with the following year's The Lost World, kick-started a lot of the modern fascination of box office, and is a big part of the reason that I've been writing about this stuff for nearly 20 years (wait, that's wrong, isn't it?).

But, while it was a near perfect capture of the zeitgeist of 1996, this many years later, the idea is simply tired and stale looking, and the film itself disappeared into the memory hole rather quickly. It also hasn't been helped by director Roland Emmerich (who realllllly hates humanity) repeating his bit on multiple occasions, up to the nonsensical 2012 movie, which is kinda stealing this movie's bit already. It also marked the moment of ascendency for one Will Smith, who became the World's Biggest Star for a couple of years after this and who this time around plays Sir Not Appearing In This Movie, taking a major amount of wind out of its sails. But we've got Bill Pullman and Jeff Goldblum and Brent Spiner, you kids like those guys, right? … Ask your parents. OK, OK, Liam "The Other" Hemsworth. But that's a noticeable trade down.


Independence Day: Resurgence basically repeats the beats of the first film but biggerer and badderer, with the aliens returning to Earth and not messing around this time – instead of the city-sized ships last time, it's a Moon-sized ship (no line from a movie has more scientists slapping their heads this year than "it's got its own gravity" -- *everything* has its own gravity), as we attempt to do battle using the stolen tech from the first go round. Things go boom, rousing speech, thing goes bigger boom, lather rinse repeat.

In short, we've got a waaaay too late sequel that doesn't involve its primary star, was really time dependent and has been done to death at this point. One need look no further than another recent attempt to repeat a film from that legendary summer of 1996 – Into the Storm, which basically tried for a repeat of Twister, and was ignored completely.

Maybe in 20 years we'll be saying the same thing about all the super hero films out now, but man, we were hard up for some action blockbusters in the 90s. Independence Day: Resurgence looks to have missed its window entirely and is in danger of not matching an opening weekend from 20 years ago (and in domestic box office it's a dead certainty). I'd expect around $61 million this weekend.

A high-concept thriller, The Shallows has started to gather some buzz as reviews have rolled in. Blake Lively stars as a surfer, attacked by a Great White Shark and marooned on a rock a mere 200 yards from shore. That's it. That's the whole thing. It's almost the polar opposite to our previously mentioned big film, a stripped down thriller as opposed to the bombast of alien invasion. It's Lively (in a bikini), a rock and a CGI shark for 80 minutes. Oh, there's some 127 Hours stuff built in about wasted potential and family strife but really it's just woman vs shark – and the tide is rising.

Directed by Jaume Collett-Serra (late of a bunch of Liam Neeson films and the campy horror film Orphan), it's a bit of an amuse bouche for the summer season, and with solid reviews, this should mark out with about $12 million this weekend.

Matthew McConaughey stars in Free State of Jones, a historical drama about a small area of Mississippi that declared its independence from the Confederate States during the Civil War. Its leader, a local farmer, went even further than freeing slaves, by creating an egalitarian state on racial lines. The film follows this small county's efforts at resisting the Confederacy.

It is, of course, a film with its heart in the right place, but it's a dry looking film, packed full with speechifying and meandering historical side paths. It's Oscar bait, but rather saccharine and obvious bait from director Gary Ross of Pleasantville and Seabiscuit fame – and the Seabiscuit take on racism is exactly what you get here. The hopes of this film really rest on McConaughey's personal fame, which hasn't been that strong when he's been the key reason to see a film. I'd look for a modest opening weekend of $9 million.

This brings us to our returning films, led by Finding Dory, which crushed expectations with a $135 million opening weekend, 20th highest all-time, and highest ever for an animated film. Disney's amazing run continues, and this is a film that has a great shot at $500 million domestic, coming as it does with most schools being out, and the strong weekdays that that implies. Indeed, it'll have already crossed $200 million by the time you read this. While any major opening weekend like this is hard to follow up, as a family film it's got better odds than most. I put it at an $82 million second frame.

Central Intelligence was a mild disappointment with a $35 million start, landing at almost exactly the take of Ride Along 2 and the hoped for boost from Dwayne Johnson not really materializing. Thanks to strong summer weekday numbers, it's a good bet for $100-plus domestic, but not by much. I'd expect about $19 million this weekend.

Rounding out our significant films, The Conjuring 2 had a strong fall to $15 million after its over $40 million start. It should bring in about $7 million this weekend, slowing that fall somewhat. As well, Now You See Me 2, the most unnecessary sequel of all unnecessary sequels, dropped nearly 60 per cent to $9 million. It may hang on with about $5 million this weekend.