Weekend Wrap-Up
Finding Dory Sparks Summer Box Office
By John Hamann
June 19, 2016
BoxOfficeProphets.com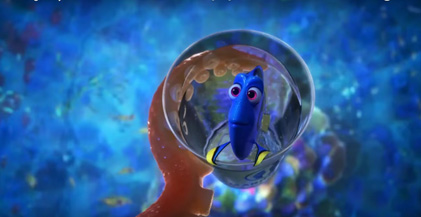 ---
And… we're back in business at the box office after a five-weekend power outage. Summer is officially back on.

After five weeks of pain and a losing streak through what should be the biggest month and a half of the year - the situation is now rectified thanks to a sequel that scads of people are actually interested in seeing, and an (unoriginal) original with two new-school A-Listers. Thankfully, Finding Dory set animation records this weekend for Pixar and Disney, and Dwayne Johnson and Kevin Hart's Central Intelligence still beat expectations (despite the massiveness of Dory).

Finding Dory is our number one film by a landslide - a summer smash - as the Pixar sequel exceeds expectations by $25 million, and opens with some of the biggest hitters of all time. Expectations heading into the weekend had Finding Dory, sequel to the 2003 Pixar original, opening at or around $110 million, in the same ballpark as Toy Story 3's $110.3 million debut, since it had the same beloved Pixar sequel thing going for it. That number was blown up as early as Thursday night, as Finding Dory had a preview gross of $9.1 million, not only a record for Pixar and Disney, but also a record for animation, as the former title holder was Minions with a Thursday preview take of $6.2 million - tiny in comparison. This number was an assault on my expectations, as I was looking for a $6-7 million Thursday and got $9.1 million. Dory was huge before its first Friday even dawned, and unless it was some weird blip, records were coming down.

The Friday with Preview amount for Finding Dory was reported at a simply stunning $54.95 million, easily the best opening day take for an animated film ever, handily beating Minions' $46 million debut, but also the 24th best on the all-time opening day list - sandwiched between a Hunger Games sequel and a Marvel film. Dory beat Toy Story 3's opening day ($41.1 million) by almost $14 million, so it was destined to be Pixar's biggest opener ever, and Disney's biggest non-Marvel, non-Star Wars opener ever. Dory's opening day was bigger than every opener since Captain America: Civil War, save for X-Men: Apocalypse, which opened to $65.8 million. The opening day also blew the tracking apart, as it earned half of what industry experts was expecting - $110-$115 million - before selling same day tickets on Saturday. Disney scheduled Finding Dory perfectly, as Friday was the first day out of school for a lot of kids, and they took advantage.

With all of those kids out of school, and the all-demographic appeal this one has, Finding Dory won't get the normal Saturday lift we see from animated movies. The Saturday number was reported at $45.8 million, and Sunday was estimated at $35.5 million, giving Pixar's Finding Dory a record-breaking-for-animation weekend take of $136.2 million, immediately breathing life into a troubled box office. It spanks former animated record holder Shrek the Third and its $121 million opening frame, as well as last year's Minions, which opened to $115.7 million. Dory earned that massive amount from 4,305 theaters, Pixar's widest release ever, as Brave is now second, having opened at 4,164 venues. Dory was good news for thirsty theater owners as the venue average came in at $31.634, and could possibly prop up fellow Disney flick The BFG, which has been reported to have low tracking numbers.

An opening this big can have a ripple effect on the box office going forward, and from what we've seen so far, the summer certainly needs it. Pixar averages about a 3.4 opening-to-total multiplier, so you can see how historic Finding Dory could be. The top ten is currently bereft of animated movies, as Shrek 2 sits at 11th, tapping out with $441.2 million. A 3.4 multiplier against Finding Dory's opening of $136.2 million puts it at a $463.1 million finish, and Toy Story 3's 3.77 multiplier would put it at $513.5 on the domestic side alone.

Finding Dory ends up claiming the 19th biggest opening weekend ever, higher on that list than anyone expected. Part of the reason for the big debut is the lack of action at the box office over the last couple of weekends, as it would seem North America was hungering for a blockbuster, and Finding Dory fit the bill. It's no wonder, as the sequel is built much like the original in terms of reviews and Cinemascores. Reviews were love letters, as the Rotten Tomatoes score came in at 95%, with only eight negative reviews by noon Saturday. Interestingly, five of those eight negative reviews came from larger media outlets, like The Hollywood Reporter, The Los Angeles Times and MTV. The original is one of the best reviewed films ever, with only two negative reviews out of 254 notices. The Cinemascore was strong at an A, which should mean another $400 million domestic grosser for Disney, a number Captain America: Civil War burned through this weekend.

Overseas, Finding Dory is getting a bit of a different rollout due to the Euro Soccer Championship. Dory opened in China, as well as a number of other less soccer focused countries this weekend, and managed to earn $50 million overseas, including $17.5 million from China (the original didn't play there). Nemo was huge internationally when it first came out in 2003, earning $555 million. Where this finishes worldwide is anyone's guess at this point, but I think it's fairly obvious that this will certainly join Disney's billion club, where the class of 2016 already includes Zootopia and Captain America: Civil War, with The Jungle Book having the potential to join as well before its worldwide gross wraps up. That's four films and what is likely $4 billion. Somebody is doing something right.

What a lovely six months Bob Iger is having at the box office. First, his Star Wars deal ($4 billion) paid off to huge rewards ($2.1 billion from box office alone), and the studio has another likely billion dollar winner looming with Rogue One: A Star Wars Story. Then, his Marvel deal (also $4 billion) paid off - again - with Captain America: Civil War earning more than $400 million domestically and over $1.1 billion worldwide. This weekend, Finding Dory, sequel to a beloved Pixar original that came out 13 years ago, shows off Bob Iger's Pixar deal - one that cost Disney $7.45 billion - as it breaks some long-standing records for animation. Iger's big risks are paying off handsomely for Disney and will for years to come.

Despite Finding Dory's utter dominance this weekend, Central Intelligence still found an audience and opened respectably. The action comedy got started on Thursday, earning a decent $1.8 million, which was better than both Ride Along movies. Its "Friday with Preview" number came in at a very respectable $13 million, which is about $1 million better than Ride Along 2, which opened to $35.2 million. It was also slightly higher than Hart's Get Hard, another bromance type flick, and that one went on to find $33.8 million. The Rock's Other Guys, the bromance he did with Mark Wahlberg, debuted to $13.1 million, on its way to $35.5 million.

The weekend total for Central Intelligence came in at a decent $34.5 million, matching the mix of films above and setting a good mark for Kevin Hart and Dwayne Johnson. This one cost New Line (Warner Bros.) and Universal $50 million to make, with New Line taking domestic rights and Universal overseas. Given the debut, it will put Central Intelligence in a good position to be profitable for both companies, as whatever Kevin Hart lacks overseas, Dwayne Johnson certainly makes up for. Central Intelligence received decent reviews, earning a 67% fresh rating, but more important, the Cinemascore came in at an A-, which could be good news for a film like this.

Finishing third is The Conjuring 2, which holds decently considering the genre and the competition. The original Conjuring fell a very nice 47% in its second weekend, earning $22.2 million after debuting to $41.9 million. The sequel, after debuting to $40.4 million, fell 62% to $15.6 million in its second frame. The main difference is that the original only had to face off against the $53 million earning Wolverine, whereas the sequel faces off against Finding Dory and Central Intelligence. It is also a sequel, which normally means there is more front-loading. The total for the $40 million film has reached a pleasing $71.7 million on the domestic side, and the overseas total is already over $116 million. The original earned $180 million over there, and the sequel should do a lot better.

Now You See Me 2 spends its second weekend in the number four spot, and also rides the down elevator at a greater rate than expected. The Lionsgate magic sequel earned only $9.7 million in its second weekend, dropping a severe 57% for an adult drama like this. The original, after opening to over $29 million, fell only 35% in weekend two, which made it the hit it became. With a budget at $90 million and a worldwide total needed at $300 million, this one is already in trouble. It might get to $75 million on the domestic side, and after a $20 million opening on the overseas side, Now You See Me 2 has a long way to go to see a theatrical profit. It has a running total of $41.4 million so far.

Warcraft goes down ugly this weekend, as any domestic success is simply not going to happen - period. Warcraft earned only $6.5 million in weekend two, off a devastating 73% compared to opening weekend. Despite a $24 million opening, Warcraft would be thrilled to get $50 million on the domestic side. Overseas, of course it has reached $340 million, but more than $150 million of that is from China. In China, Warcraft is being released by Legendary, so the rest of the planet's gross for Warcraft is thats much more than $150 million, as China carries the box office balance for Warcraft. So far, Warcraft has earned only $37.7 million at the domestic box office.

X-Men Apocalypse is sixth. Following an underwhelming $65 million debut, the Bryan Singer fell 65% and then 57% on the domestic side, while it was thankfully lighting it up overseas. This weekend, X-Men fall 48%, earning only $5.21 million in weekend four. Domestically, it has earned $146.1 million - still less than X-Men: First Class, but it has earned a powerful $364 million overseas, which will bail this one and its $178 million budget out.

Teenage Mutant Ninja Turtles: Out of the Shadows is seventh, as it picks up another $5.2 million. Now in its third weekend, the Ninja Turtle sequel also got dropped on its head, declining 64%. Obviously, movie patrons have simply been waiting for ANYTHING ELSE and got it this weekend, but it is leading to huge drops across the board. Out of the Shadows now has a domestic total of $71.9 million and has earned about the same overseas - despite a mile high budget of $135 million.

Me Before You also continues its freefall, but not as bad as the boy movies mentioned above. Me Before You, after opening to $18.7 million, fell 52% in its second frame to $9 million, and plunges again in weekend three by 54% as it earns $4.2 million. Warner Bros. smartly spent only $20 million on this, so its worldwide gross beyond $80 million is very good news for the studio.

The Disney misfire of the year, Alice Through The Looking Glass, is ninth. Alice earned only $3.6 million this weekend and drops 36%, bringing its domestic total up to $69.3 million. The $166 million earned overseas thus far isn't going to be enough, as this one cost $170 million to make.

Captain America: Civil War finishes 10th, as Disney dominates the top and bottom of the top 12 films. Civil War earned $2.3 million in its seventh weekend. It crossed the $400 million mark on Saturday, its 44th day of release (three days faster than Iron Man 3), and becomes only the 19th film in history to do so. The domestic total for the $250 million film has reached $401.3 million, and the overseas amount is approaching the $750 million mark.

The Jungle Book, another big Disney earner, pulled in $1.3 million this weekend. That brings its domestic total up to $103.2 million, and the worldwide total to about $922 million. To hit the billion dollar mark, The Jungle Book will need to earn $80 million in Japan when it opens there on August 11th. And finally, Zootopia earned another $1 million this weekend. Its domestic total is now $339.5 million, and the worldwide has just gone further past the $1 billion mark.

Overall this weekend, I don't have to tell you the box office has gone from fully dead to fully alive. The top 12 last weekend earned $143.6 million, where this weekend comes in at $225.9 million. Surprisingly, it still lags behind last year when Jurassic World earned $106.5 million in weekend two and Inside Out opened to $90 million. The total for the top 12 last year was an awesome $242.4 million. Next weekend, the hits could keep coming. Openers include Independence Day: Resurgence, Free State of Jones with Mathew McConaughey, The Shallows with Blake Lively, and The Neon Demon, the strange Cannes entry with Elle Fanning.