Weekend Forecast for June 17-19, 2016
By Reagen Sulewski
June 17, 2016
BoxOfficeProphets.com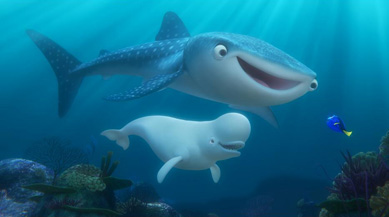 ---
There is a brief respite from The Summer of Meh this weekend, not due to original content, although there is some of that, but because in the middle of the multitude of pointless sequels, we are finally given one to a movie that at least makes some sense.

One of the big changes to Pixar after its official acquisition by Disney was a greater commitment to sequels. These have ranged from the transcendent and world expanding (Toy Story 2) to dire cashgrabs (Cars 2) with a others squarely in the middle. Finding Dory, this Friday's new release from the animated hit factory, might just finally get back to that first category. A sequel to 2003's Finding Nemo, which 13 years later (man, those fish would be long gone) is still the third highest grossing Pixar film, it reconnects with the breakout character from that film, the Ellen DeGeneres-voiced anmesiac blue tang fish, as she gets a flash of memory and attempts to journey across the ocean to find her family again.

In addition to DeGeneres, we also have the return of Albert Brooks as Marlin, guiding her along the way, and the sequel has added the voices of Katlin Olson, Ed O'Neill, Ty Burrell, Diane Keaton, Idris Elba, Bill Hader and the fish tank crew of the first film. One of the most beautifully animated films of Pixar's stable, the sequel promises advances on the gorgeous scenery of the ocean and its inhabitants, but also makes a move away from the sea to an aquarium environment. More than that, though, the original had one of the best overall stories of Pixar's history, which is a large part of its staying power. A strong connection to family and loyalty was worked throughout the film, and that appears to be present once again.

Finding Dory arrives at kind of a crucial moment, half a year after Pixar had what you might call its first ever "bomb," The Good Dinosaur, which opened to just $39 million. While the continued move towards franchisation is perhaps a bit cynical on their part, it's a studio with something to prove. Reviews of the film are spectacular and Toy Story-ish, and Finding Dory has received a huge media blitz thanks to its eminently marketable stars. When Pixar is on, it's *on*, and Finding Dory looks to be able to reach for the very heights of the studio's performance. Their own $110 million opening record for Toy Story 3 looks ready to fall, with about $120 million earned this weekend.

The buddy comedy is a classic go-to for Hollywood formula, but one which has fallen a bit by the wayside lately, as swamped as everything else has been in the super-hero tidal wave. Central Intelligence hopes to crack that by putting together one of the top comedy earners with one of the last true action stars. Kevin Hart and Dwayne Johnson star as former high school classmates who reunite after Johnson's CIA agent shanghais Hart into an international espionage plot after he's framed by his own country. The big twist here is that Hart was Big Man on Campus in high school, while Johnson was known as "Fat Robby" and suffered through a series of embarrassments which he used to turn himself into, well, Dwayne Johnson.

As a mismatched team (because, aren't they all?), these two seem to have a decent chemistry and the film seems to be going for a Rush Hour type vibe, with perhaps a hint of The Other Guys. Hart's manic energy, which can grate after a while, is balanced well in the ads by Johnson's relentless matter-of-fact sense of purpose in every scene, along with rather boundless optimism despite his situation. Like, what if that friend of yours being hunted by crack assassins was also really genuinely happy to see you again? How do you argue with that?

Reviews for the film aren't spectacular, which might hold it back a bit, but the ads themselves are strong enough to drive a good bit of business. Hart is riding a bit of an up and down streak of lately, though the $35 million for Ride Along 2 in its opening weekend has to be a good sign for his staying power – as lousy as that film looked. Johnson adds some much needed credibility in the action department, though hoping for anything like a Fast and Furious breakout is folly in the extreme. A solid weekend take of around $42 million is reasonable to expect, however.

The Conjuring 2 made a great case for itself as the next big horror franchise by successfully opening to around the same amount as the first film, with $40 million. A little growth would have been nice to see, but it's a franchise that started out hot instead of building, so it's acceptable. It should, however, still drop steeply in weekend number two, falling to about $18 million this frame.

Warcraft beat back horrific reviews and the insane decision to actually release footage of the completed film as advertising, earning $24 million last weekend. Its massive international take is the real story here, as this is one of the bellwethers of the new film market where more and more films might view the North American market as a bit of an afterthought. Watch this fall to around $10 million this weekend.

A similar fate awaits Now You See Me 2, a first ballot "...why?" Hall of Fame movie. The con man movie about magicians failed to match the first film's opening weekend, and with little sense of urgency, it's due to hit that $10 million mark this weekend as well.

In other returning films, Teenage Mutant Ninja Turtles 2 should careen downwards to $6 million, with X-Men: Apocalypse and Me Before You both just hanging on at $5 million.