Weekend Wrap-Up
Two Sequels and Warcraft Keep Box Office in its Funk
By John Hamann
June 12, 2016
BoxOfficeProphets.com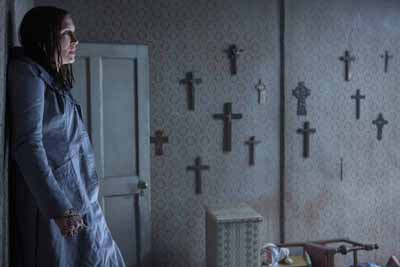 ---
A year ago, Jurassic World opened to $208.8 million. This year, two sequels and an expensive video game adaption can't earn half that – combined.

Yes, the sequel onslaught continues this weekend, as 2016 has now had 16 sequels released, and since Batman v Superman opened in April, 11 more have been forced upon us. Of the 16 sequels, only seven have opened at number one, and really only one – Captain America: Civil War – has made a whole bunch of money for its studio. I don't include Batman v Superman as a hit, as that cost $250 million to make and needs three times its budget worldwide to see a profit. So, at a worldwide gross of $873 million, Batman v Superman is more of a push than a profit. Same goes for Kung Fu Panda 3, which cost $145 million, so it needed $435 million worldwide to see a profit, and earned $518 million worldwide.

Profitability was more in reach for at least one of our sequels this weekend, as The Conjuring 2 cost a neat $40 million to make, so if it could match the original's domestic gross of $137 million, it would be profitable; however, with a litany of sequels left to die on the side of the road, no one is safe. Speaking of not safe, Lionsgate releases our other sequel this weekend, Now You See Me 2, at a cost of $90 million, which means it needs $270 million worldwide to see a profit. The original earned $350 million worldwide, so it will have to see a repeat performance to earn a theatrical profit. Out last opener is not a sequel, but it's not an original idea either. That film is Warcraft, based on the once popular video game. Warcraft cost a scary $160 million to make, which means a half-billion worldwide gross needs to be in play. Given that Warcraft earned $145 million through Saturday in China, Warcraft has an ally in the middle kingdom it is definitely going to need to depend on.

Our domestic number one this weekend (Warcraft is the worldwide winner) goes to the correctly budgeted horror sequel, The Conjuring 2, follow up to the July 2013 original that opened to a surprise $41 million and finished with $137.4 million domestically, along with $318 million worldwide. The original cost a mere $20 million to make, which means the sequel could earn nothing, and despite a doubled budget to $40 million, the original would still easily pay for everything. This is the only situation where a sequel should be greenlit – as there have been so many box office mistakes with sequels lately. Studios have spent too much on unnecessary sequels. The Huntsman: Winter's War, Ninja Turtles 2 and Alice Through the Looking Glass had an average production budget of $140 million, so the $40 million cost for The Conjuring 2 is tiny in comparison.

The Conjuring 2 was hoping to find the lightning the original did, and while it performed similarly, there was less surprise this time, so less excitement with the result. The Conjuring 2 earned $3.4 million from previews, tying the first film, and if there was true excitement for the sequel, it certainly didn't show up in the preview results. Viewers who are truly excited for a sequel will show up on Thursday, and in this case, it looks like the same people that showed up for the original, showed up for the sequel. The "Friday with Previews" amount came in at $16.4 million, about a half-million off from what the original did. So while it certainly wasn't going to break out, signs were pointing to it matching the production budget with the first weekend domestic gross, something that hasn't happened at the box office since April when Barbershop: The Next Cut opened to $20.2 million, against a $20 million budget.

Following the Friday number, it looked like the James Wan film was going to finish about $1.5 million behind that of the original, but it still had two days of play. Over the weekend, The Conjuring 2 earned $40.35 million, $1.55 million less than the original, which opened to $41.9 million. The original Conjuring opened on 2,903 screens, while the sequel had 3,343, so it had the opportunity to overtake the original, but failed. The opening hit the tracking number on the mark, and this should end up as a good earner for Warner Bros. and New Line, as the original was embraced by overseas audiences as well, to the tune of $180 million.

Like the original, The Conjuring 2 had quality going for it, as the returning cast includes Vera Farmiga, and Patrick Wilson, with director James Wan (Saw, Furious 7) returning as well. The pedigree of the sequel was strong, as the original had a RottenTomatoes score of 86%. This time around, it's a bit softer at 75%, but still solid for horror. On the Cinemascore side, it was the same as the box office and the reviews – the same as the original. Both films earned a very solid for horror score of A-, which is rare for the genre. Legs should be similar this time around as well, with lots of profit out of this smartly made thriller.

Second is Warcraft, which is a flop on the domestic side and a hit on the international side (aka China). Once upon a time, Warcraft was a popular video game in North America, but that was a few years ago, as new, shinier things have come along since. It does still have a strong following in China, which is evident by the box office slaughter there, but results were always expected to be muted in the US. Warcraft got started on Thursday night, taking in $3.1 million in previews, which would be devastating for a normal $160 million release, but this one is more Transformers than normal. The "Friday with Preview" number was reported at $10.7 million, which was a little higher than expected, but meh nonetheless. The weekend number couldn't be saved by the kids, and comes in at $24.36 million. Universal didn't even go ultra-wide like they would with a normal $160 million release, so instead of 4,000+ screens, this one gets 3,400. A meager effort was made in North America, and it was a good strategy.

Overseas, Warcraft is a monster. Prior to its China release, Warcraft opened in 28 territories, and had already amassed $70 million in sales over two weekends, prior to the China/North America release. Through Saturday, Warcraft had earned $145 million in China alone over opening week, and had an overseas total of $261.7 million. So, despite the domestic take looking like it won't come close to $100 million, overseas its going to bail this one out, as it needs $500 million for a theatrical profit. I'm not sure how, as reviews were hateful with a 27% fresh RottenTomatoes score (20% from "top critics"). Surprisingly, the Cinemascore was decent at B+, but that's likely coming from a lot of 12-year-olds.

Third spot goes to Now You See Me 2; however, like Reagen Sulewski said in the Thursday Preview at BOP, this should have been called Now You Don't, as the Now You See Me, Now You Don't Blu-Ray boxset would have made a great Christmas present. That's about all the sequel to the summer 2013 release is worth, as reviews were worse than the original (which weren't great to begin with). Now You See Me 2 earned $23.03 million over opening weekend, not reaching the same height as the original's $29.4 million opening. While I enjoyed the first film, I didn't think it was sequel worthy, and this one is going to the same pile as many others have so far in 2016.

The original Now You See Me had a certain wow factor, which accounted for its almost $30 million opening, $117 million domestic finish, and $350 million worldwide gross, all against a budget of $75 million. This time around, reviews are worse at 36% fresh, but the Cinemascore is the same at a healthy A-. I still feel like the wow factor has left Now You See Me, and think the legs are going to be much worse than last time, at least in North America. That's not going to help a film that cost $90 million to make - $15 million more than the original. Overseas box office will need to see at least a repeat performance of the original's $234 million result for Now You See Me 2 to stay effective for Lionsgate.

Surprise, surprise – Teenage Mutant Ninja Turtles: Out of the Shadows does a nice impression of a kamikaze pilot, diving severely from last weekend's underwhelming $35 million opening. This weekend, the unneeded Megan Fox film earned only $14.8 million, giving it an embarrassing drop of 58%. The 2014 reboot fell a much better 57% in weekend two, so I wonder if Paramount has figured out that positioning this the weekend before Warcraft opens is a bad idea yet. The $135 million Turtles sequel (I am not typing it every time, they aren't worth it) has now earned $61.04 million stateside, and had picked up $35 million overseas before the start of the weekend.


Fifth is X-Men: Apocalypse, which continues to get pasted in the weekend drop department. This weekend, the Fox release earned only $10.0 million, which gives it a decline of 56%, after falling 65% last weekend. While it won't be the lowest earning X-Men film, it will be close. It will get by X-Men: First Class (ironically the best X-Men film is the franchise's lowest earner) at $146 million, but will have to work to get by the original's $156 million, which it earned in 2000. So far, X-men Apocalypse has pulled in $136.37 million domestically, and (thankfully for Fox) over $300 million from overseas theaters.

Sixth is last weekend's slight surprise, Me Before You, and unsurprisingly this weekend it tanks, much like Fault in our Stars, which plunged 69% in its second session after opening to $48 million. Me Before You, after opening to $18.7 million, dropped 51% to $9.21 million this weekend giving us a sign it's heading for a quick exit. Regardless, this is going to be a winner for Warner Bros. and MGM, as it cost only $20 million to make and has earned $36.82 million at the domestic box office already. Overseas, it had also picked up another $15 million prior to the start of the weekend.

The Angry Birds Movie takes the seventh spot, earning $6.7 million. It fell 34%, and continues to work toward a respectable domestic gross. It has picked up $98.17 million in North America thus far, and will cross that $100 million mark next weekend. Overseas, the total is approaching $200 million, so all will be fine financially for this $73 million film.

Alice Through The Looking Glass is eighth, as it tries to quietly slip away. Alice earned only $5.54 million this weekend, giving it a drop of 51%, following a 58% decline the weekend before. The $170 million Disney film has now earned only $62.43 million on the domestic side, and has $125 million on the overseas side, so it looks like Disney will take at least a $250 million writedown on this one.

Ninth is Captain America: Civil War, which is spending its sixth weekend in the top ten. This time, Cap and his former friends pulled in $4.3 million, dropping 45% from last weekend. Civil War has now picked up $396.86 million, and will be seeing $400 million shortly. Overseas, it's also a monster, picking up almost $750 million.

Tenth is The Jungle Book, which looks to spend its last weekend in the top ten over its ninth weekend of release. The Jungle Book earned $2.72 in weekend nine, dropping 39%, but moving its domestic take up to $352.65 million. That in turn pushes the worldwide gross beyond the $900 million mark, and the question now is if it can get to $1 billion, like Disney has with Zootopia and Captain America. It has one more market to open in – Japan – but it will likely need $90 million from that country alone to hit the $1 billion worldwide mark.

Overall, the box office was miles away from last year, as one year ago today, Universal was celebrating a $208 million opening frame for Jurassic World. This weekend, the top 12 continued to struggle, earning $145.24 million. That's better than the last few non-Memorial Day weekends, going back to Captain America: Civil War. Next weekend, things are going to get better really fast. Disney and Pixar open Finding Dory next weekend. It's getting a ton of love from critics and should have a $100 million plus opening weekend. The other opener is Central Intelligence, which is a bit more of a wild card, but stars Kevin Hart and Dwayne Johnson, so anything could happen.