Weekend Forecast for June 10-12, 2016
By Reagen Sulewski
June 10, 2016
BoxOfficeProphets.com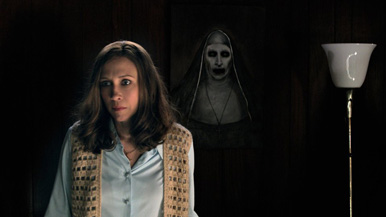 ---
Hollywood's parade of unoriginality marches on this weekend with vigor, but in comparisons to last weekend's "NO DO NOT WANT" we have more of a "...huh?" situation with a couple of our new releases this time around.

Probably the only one of the three new wide releases that anyone is truly enthusiastic about, The Conjuring 2 follows up 2013's surprise horror hit and James Wan's proof that he had a second trick up his sleeves. Based on the "real" stories of paranormal investigator husband and wife team the Warrens, The Conjuring 2 puts them back into a haunted house situation, attempting to find the story behind a poltergeist that seems to be haunting a young girl – this time in London. Patrick Wilson and Vera Farmiga once again do battle with what the movie assumes to be the Devil (I'm gonna guess in the movie universe, it ain't Ol' Mr. McGillicuddy).

While the story isn't anything new and it's essentially covering the same territory as The Exorcist, what it does have going for it is an especially effective presentation, with the some of the creepiest ads in some time. That, more than anything, is going to be the deciding factor for what can be a very fickle audience – one that's sent only four movies over even the low hurdle of $50 million in the last two years. Horror fans like what they like until they don't like it anymore, which is something that Wan is very familiar with through his Saw series, but a phenomenon he's come through the other side of safely. These films and their relative classicism could be seen as a reaction to the Paranormal Activity/found footage wave that swept through horror for about a decade, and burned out almost completely. With these being films that Wan basically tosses off in between blockbuster tentpoles, Wan very definitely has had the last laugh about the death of that earlier horror franchise. The first Conjuring film managed a $41 million opening, and this may be able to build off that figure, to around $45 million to start.

While some sequels are readily justified like that, some are... headscratching to say the least. Now You See Me 2 (unforgivably not titled Now You Don't – I mean it's right there!) is the focus group-greenlit sequel to the magic themed OK-buster from the summer of 2013. Most of the cast of the first, including Woody Harrelson, Jesse Eisenberg, Dave Franco, Mark Ruffalo, Morgan Freeman and Michael Caine return for this heist film, with Lizzie Caplan filling in for the "what's that guys? mumble mumble busy washing my hair sorry can't do it" Isla Fisher. The plot finds the Four Horseman of the first film back to their magically delicious crime spree ways, this time at the behest of an evil tech genius played by Daniel Radcliffe (I'd call evil Harry Potter stunt casting, but basically everything he does is stunt casting, so...).

The hook of this franchise, if we can really and truly call it that, and the announcement of a Now You See Me *3* means that someone is desperately trying to Make This A Thing, is that you can't really trust what's being seen on screen, and this is all a trick somehow – woo, so you're basically talking about CGI, huh? Basically, the whole thing is one giant double bluff to the point that the audience knows not to take anything seriously and checks right out. You can't fool someone that wasn't even paying attention in the first place. The original film opened to a modest $29 million and had what passes for legs these days plus a solid international take, and I suppose that's justification enough for a sequel. Don't expect a repeat of this, though, and we'll likely see about $22 million to start.

Speaking of films that Just Aren't For You, we have Warcraft, the film loosely based on the mythology of Blizzard's RTS and MMPORG money-factory game universe. Already off to a blistering start in China, it's being met with bewilderment and horror in North America. A mix of high and low fantasy, it takes place in Blizzard's world of Azeroth, populated here mostly by humans and orc – the latter of whom director Duncan Jones has rather unwisely tried to make sexy, creating a very unsettling look on-screen.

Anyway, after what I'm presuming is an initial half hour of wood chopping and stone mining, humans and orcs come to some sort of peace pact to fight a greater evil of demons and something something warmed over Tolkien. It's clear that an inordinate amount of effort has gone into making this the best Warcraft movie that could appear on screen – but the sad flip side to that coin is that a Warcraft movie just can't be that good. This is a thoroughly repellent looking film that brings to mind Gods of Egypt from earlier this year – a film that its makers took very very seriously for no good reason. Warcraft falls into this same category and has been garnering comparisons to Battlefield Earth, though that feels unfair, as this film at least looks competently made. With a rather unfathomable $160 million budget, this needs massive turnout to justify its existence – and it won't get it, opening to about $17 million this weekend.

Returning films are led by the equally horrific Teenage Mutant Ninja Turtles, which opened to $35 million and shocked looks all around. This is a rather hefty hit from the 2014 film's $65 million debut and hopefully cuts short any plans for a third film (hear that, Michael Bay? Stop producing these and go back to making your terrible Transformers films... oh, man, there's just no winning here, huh?). The legs here should be abysmal, considering the last film dropped by over half in its second weekend, and people were still kind of curious then. Look for $13 million this weekend.

X-Men Apocalypse showed the way to this kind of result last weekend, falling by two-thirds to $23 million after its already unimpressive start. It's all but assured to finish well below the $200 million mark domestically, and shows that this franchise is starting to move backwards again – time for another reboot? Great stewardship, Fox. It should add about $11 million this frame.

The weepy romance Me Before You was a small, positive surprise with $18 million, putting it in Paper Towns, but not The Fault in Our Stars territory as far as this genre goes. Some positive word-of-mouth should push this into a decent run in theaters, but about $11 million is probably a best-case scenario this weekend.

Our last significant returning films are The Angry Birds Movie, which should land with about $7 million this weekend, and Alice Through The Looking Glass, hanging on with about $5 million.