Weekend Wrap-Up
Turtles Are (Finally) Cooked, Me Before You Surprises, Popstar Flops
By John Hamann
June 5, 2016
BoxOfficeProphets.com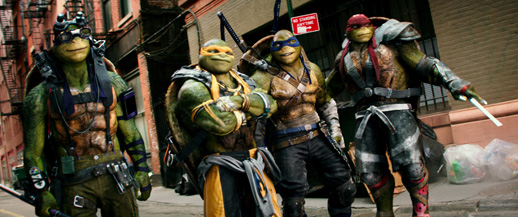 ---
First, X-Men and Alice disappointed last weekend. Now, the Ninja Turtles do the same. This is another prime time summer weekend where the box office champion is going to end up a financial loser, at least theatrically.

That sucking sound you hear is the results at the box office after the first two traditional weekends of the summer box office, which goes from Memorial Day Weekend to Labor Day Weekend. Over the long weekend in the last frame, Disney's Alice sequel, Through The Looking Glass, flopped, and X-Men: Apocalypse under-performed. Yes, overall results were better than last year, but they were worse than the three previous Memorial Day weekends and almost $100 million behind the 2013 result when Fast and Furious opened.

The post-Memorial Day frame looks like trouble as well. Openers include the Teenage Mutant Ninja Turtles sequel, Out of the Shadows, a completely unnecessary sequel to a long expired idea, Me Before You, another youth dying film a la The Fault in Our Stars or the much better Me, Earl and the Dying Girl, and finally Popstar: Never Stop Stopping, another of Andy Samberg's silly "one good idea stretched into a movie" concepts, much like 2007's Hot Rod. More amazing is that Popstar is the best reviewed title of the bunch.

The number one film over this drab weekend is Teenage Mutant Ninja Turtles: Out of the Shadows, the sequel to the 2014 reboot that opened to a wild $65.6 million in 2014. Had it been me, I would have pulled my chips off the table after the 2014 version finished with just short of $500 million worldwide, which means it had a theatrical profit despite costing $125 million to make. Two years later, Paramount is back, this time spending $135 million on the sequel. The follow-up adds nothing new – except for super box office draw Laura Linney – and added a subtitle that has been used a dozen times in movies and TV over the last dozen years.

The expiration date hit on Ninja Turtles about two weekends after the last one opened, and it really only had legs due to a lack of product in the marketplace. It was the film that famously opened at number one in between number one weekends for Guardians of the Galaxy. If you're still not clear, Let's Be Cops was a top ten film for seven weekends that August and September when GoG and the Turtles were dominating.

The Ninja Turtles sequel got started on Thursday at previews, earning $2 million, less than half the Thursday of the first film. If you're a sequel like this one, and you're not selling tickets to the fanchildren for the preview, your film is not going to open well. Friday came in at $12.5 million - $10.5 million without those pesky previews. The good news is that its opening day was above $10 million, but the bad news was that the Thursday/Friday combo was off 51% from the original's start, and remember, this one cost $10 million more to make than the original. Out of the Shadows needs over $400 million worldwide to find a profit, and the last one earned $493 million. Now, your domestic opening day for the sequel is less than half the original. The only thing coming out of the shadows was Alka Seltzer for the suits at Paramount and Nickelodeon.

Over the remainder of the weekend, Teenage Mutant Ninja Turtles: Out of the Shadows did not improve on its Friday much, and was left with a weekend take of $35.5 million. It maintains that drop from the original at around 46%, likely a devastating amount for these Turtles. Legs aren't happening this time around, as there is way too much competition in front of it, so it won't get the free ride the original got unless this summer continues to go in the sink. Reviews were ugly at 37% overall, and even worse from top critics at 29%. The glimmer of hope comes from the Cinemascore, as it came in at an A-, up from the original's B. Let's face it, that's not going to work, and these Turtles are going to need the same result overseas as the original ($302 million). That is just not going to happen.

As the wonderful Kim Hollis mentioned in the Friday Analysis yesterday, Hollywood all of a sudden seems to have problems with sequels. In some cases, they are like Ninja Turtles, desperately not needed, useless piles of trash. However, films like this were at least born from success. In other cases, the franchise is simply manufactured from nothing – yes, like usual I'm looking at you Divergent series – as companies try and manufacture this crap. Films like Batman v Superman make money and aren't very good, and then everyone just tries to copy the same model – repackaging crap instead of making movies.

Second this weekend is X-Men: Apocalypse, which drops hard despite not having much competition. Sure, the Turtles are directly invading the demo, but the small gross should have reduced the impact. Days of Future Past fell 64% from $90.8 million to $32.6 million against a combined $100 million from Maleficent, A Million Ways to Die in the West and Godzilla; X-Men Apocalypse fell 66% after earning $65.8 million last weekend and only $22.3 million this weekend. X-Men First Class, which opened more in the ballpark of Apocalypse, fell 56% in weekend two. The result is abysmal for Fox, as this one will not hit $200 million domestic. It carries a production budget of $178 million, so Fox would be looking for a worldwide gross of well over a half-billion, meaning more pressure will be on the overseas gross if we're going to see more X-Men.

Third is a small bright spot in the top ten, as Me Before You opens toward the top end of estimates, proving that moviegoers are not collectively dead. The teen/romance/death movie (it's becoming a genre) earned a strong $18.3 million from only 2,704 screens (Turtles had 4,071). It had a venue average of $6,757 – better than X-Men Apocalypse's $5,376. Me Before You managed to tap into that teen thing that worked for The Fault In Our Stars ($48 million opening) and Paper Towns ($12 million opening). This is a much better career step for Emilia Clarke than Terminator Genisys (and almost matched its opening weekend), as the Game of Thrones actress looks to break out.


Is Me Before You the next Love Story? It doesn't look like it, even though films like this are review proof. Critics were actually kinder than I thought they would be, leaving Me Before You at 54%, but top critics were more disapproving with a 39% rating. The key to a film like this is the Cinemascore, as really good scores could indicate a summer phenomenon. It scored an A, but so did Fault in our Stars, and that film had an opening-to-total multiplier of only 2.6. Me Before You does have more of a chance to build an audience, though, as it didn't break out as far as Fault did opening weekend.

Alice Through The Looking Glass is fourth, and the news does not improve for Disney. The Johnny Depp flick earned only $10.7 million in weekend two, giving it a nasty drop of 60% from its $26.9 million opening frame. Like X-Men, Alice needs a half-billion to succeed theatrically, and with a domestic gross so far of $50.8 million, Alice would be extremely lucky to make it to $100 million stateside, which means it's going to need a lot more than the $176.3 million worldwide it has so far.

The Angry Birds Movie is fifth, and it is another film just not getting the expected holds from weekend to weekend. In its third frame, The Angry Birds Movie earned $9.8 million but fell 48% compared to last weekend, when it lost 51% of its opening weekend total. So far, the $73 million film has earned $86.7 million domestically and is doing fine overseas, picking up over $196 million overseas.

Captain America: Civil War is sixth as it enjoys its fifth weekend of release. Civil War pulled in another $7.6 million this weekend, dropping 50%. Civil War has been the most bulletproof of the releases so far this summer, and has been rewarded with a domestic gross of $388.9 million and an overseas gross beyond $740 million.

Popstar: Never Stop Stopping is seventh and our lowest opener, despite being the best reviewed. The Andy Samberg flick earned only $4.6 million over its opening weekend, lower than the $5.3 million that Samberg's Hot Road earned in 2007. The budget here is $20 million, so this is very quickly in trouble. Hopefully the 78% fresh rating and B Cinemascore can get it out of some trouble.

Neighbors 2: Sorority Rising is eighth, and is another sequel that had a questionable greenlight and an unsurprising response. Neighbors 2 earned $4.8 million this weekend and declined 50%. It has a running total of $48.6 million.

The Jungle Book is ninth, as Disney still represents three times in the top ten. The Jon Favreau flick earned another $4.2 million in its eighth weekend, and has a gross to date of $347.5 million. It's coming up on $900 million domestically.

Tenth goes to The Nice Guys, who oh so often finish last. The Nice Guys earned $3.5 million in weekend three and fell 46%. The Russell Crowe/Ryan Gosling experiment has failed with a gross to date of $29.1 million.

Overall, the box office is somewhat on the ropes, but it won't stay down for long. The top 12 films this weekend could only muster $124.3 million, but like last weekend, last year's results struggled as well. A year ago, Spy disappointed, and led the top 12 to $124.9 million, virtually the same as this year's total.

Next weekend, things should start to lift, but the reign of sequels doesn't stop. At least next weekend's are better choices. The Conjuring 2 looks to improve on the original's opening weekend of $41.9 million, and early reviews are strong. Also opening is Now You See Me 2, which is getting more of a mixed response from critics, much like the original. The final opener is original but based on a video game, in the form of Warcraft, from Source Code director Duncan Jones. Combined, these three films could open to $150 million, but the way the box office is going so far, studios will be happy with $75 million.