Friday Box Office Analysis
By Kim Hollis
June 4, 2016
BoxOfficeProphets.com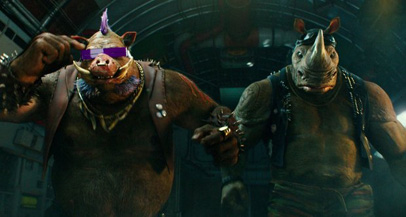 ---
There won't be many pizza parties in Hollywood this weekend, as Teenage Mutant Ninja Turtles debuted to less than half the amount of the 2014 edition. We've had a lot of conversations about superhero fatigue, but audiences seem to be most unenthusiastic about sequels to films that weren't that great in the first place.

In 2016 alone, we've seen movies like TNMT, Allegiant, London Has Fallen and The Huntsman: Winter's War all fail significantly when compared to the films that came before them. The common denominator, besides a lack of originality, is the fact that none of the original films was highly regarded at the time of release.

Yes, Teenage Mutant Ninja Turtles: Out of the Shadows earned just $12.5 million yesterday. That's more than a 50 percent decline from 2014's Teenage Mutant Ninja Turtles, which had a debut Friday of $25.6 million and an opening weekend of $65.6 million. $2 million of Out of the Shadows' Friday box office came from Thursday previews, again less than half the amount of the first Michael Bay reboot.

If Teenage Mutant Ninja Turtles: Out of the Shadows follows a similar trajectory to that of the 2014 version, it should finish with a debut weekend of $30.5 million. Considering the $135 million budget, this start simply isn't high enough to lead to profitability for Paramount, and hopefully puts an end to this ugly-looking, murky franchise.

Second place for Friday went not to X-Men: Apocalypse, but rather Me Before You, the weepy book adaptation that features Game of Thrones' Emilia Clarke and The Hunger Games' Sam Claflin. Apparently on the strength of being a Girls' Night Out sort of film, Me Before You earned a solid $7.8 million on Friday night. Usually, these tragic romances tend to have lower weekend multipliers than your typical film, which means it should manage a three-day total of $18.7 million.

Our final new opener was Andy Samberg's Popstar: Never Stop Stopping, which opened whether we like it or not. Most people appear to fall on the "not" side of the fence, as Popstar was only able to manage $1.8 million yesterday. It will probably be estimated at right around $5 million for the weekend before fading away to try to capture an audience on home video.

Despite being down a hefty 75% from last Friday, X-Men: Apocalypse still was able to cross the $100 million mark yesterday, its eighth day of release. The middling reviews and so-so word-of-mouth aren't doing this film any favors, and it will have a second weekend of just $23 million, still good enough for second place, at least.

Alice Through the Looking Glass also had a heady drop, as it was down 68% from last Friday where the opening day total was already thoroughly deflated. The Friday total of $3.2 million should mean a weekend take of $10.7 million. It may appear that international box office could bail this one out, but it's a disaster. Fortunately for Disney, their other massive hits of 2016 will more than make up for what they've lost here.