Movie Review: The Nice Guys
By Matthew Huntley
May 31, 2016
BoxOfficeProphets.com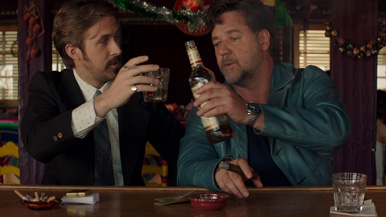 ---
The Nice Guys is such a Shane Black movie. He's the writer behind the Lethal Weapon movies and The Last Boy Scout, among others, as well as the writer-director of Kiss Kiss Bang Bang. And if you're at all familiar with these films, you'll see traces of them in The Nice Guys, which is yet another buddy movie about a pair of mismatched partners with ultimately good intentions but less-than-stellar techniques for solving a crime.

The "guys" of this picture are out of shape, drink and smoke too much, and stumble upon clues mostly accidentally. And just like Black's previous efforts, The Nice Guys mixes violence, comedy, emotion and sex in ways that probably shouldn't work. But Black specializes in making disparate thematic pieces somehow fit together, even if he has to pound them extra hard.

As far as the plot, which is rather layered, what you need to know for the purpose of this review is that a young woman has been killed and another has gone missing, and it's up to Jackson Healy (Russell Crowe) and Holland March (Ryan Gosling), a couple of independent private eyes, to get to the bottom of it and how the two ladies connect. Crowe's Healy is sort of an older, heavier version of his famous L.A. Confidential character, Bud White, whom Crowe played with such fierceness and intensity we wouldn't dare mess with him. Healy is just as tough, but he's also got a soft side, which makes him more approachable. We might not mess with Healy, either, but he doesn't exactly scare us.

Gosling's March, on the other hand, would probably be scared of us. He's a bit of a fool who has a hard time making ends meet, and so he doesn't feel all that guilty when he milks his clients for extra fees. Even then, everything he does is sort of half-assed, probably because he's always knocking back a few drinks before performing any investigative work. He's either got a shot glass in his hand or a cigarette, or sometimes both, and it's mostly his level-headed daughter, Holly (Angourie Rice), who's keeping him in line. As a prepubescent, Holly is very mature for her age.

Back to the plot, it takes place in Los Angeles in 1977 and starts with the death of the first woman, a porn actress named Misty Mountains (Murielle Telio), whose car crashes off the road and stumbles down a Hollywood hill. Naked and bleeding, her last words are to a pre-adolescent kid who happened to be gazing at his dad's nudie magazine, "How do you like my car, big boy?" The second woman is a wannabe actress named Amelia (Margaret Qualley), who pays Healy to make a couple of guys following her go away. One of them happens to be March, who started tailing Amelia because of her connection to Misty, whose aunt (Lois Smith) has paid March to locate. Even though there are official reports of Misty's death, the aunt is certain she saw her niece two days after she was confirmed dead.

Healy pays March two visits, the first one as an assignment to tell him to stay away from Amelia, and the second to get information from him. Because both guys essentially want to solve the same mystery, they unofficially team up and find themselves deep in a conspiracy that involves contract killers, auto industry executives and members from the Department of Justice.

Although The Nice Guys sells itself as a retro buddy comedy with slapstick humor, its plot is surprisingly thick and involving, which was refreshing because we go into it thinking it will mostly be a mindless exercise during which Crowe and Gosling will simply show off their comedic skills, which both possess. But to our surprise, we actually follow and care about the plot more than we anticipate and appreciate the way Black keeps us on our toes with consistent developments. And yet, as a buddy comedy, the movie yields enough humor and original moments to work strictly on this level, too, so if it's a comedy you're after, The Nice Guys works.

However, despite working on multiple levels, the movie doesn't quite go beyond the "good enough" label. Black is perhaps too in love with his own writing and lets the whole production go on for too long, almost to the point where it collapses under its own wit and creativity. The same way the movie mixes multiple genres it almost feels the need to fit in too many of the conventions associated with each one. Around the three-quarter mark, the energy and tension begin to unwind and we seem to get multiple endings, along with the usual explosions, kidnappings, chase scenes, people falling out of buildings, a complete summary events, etc. The movie loses its edge a bit and we simply wish t had quit while it was ahead.

Nevertheless, The Nice Guys has more goods than flaws. Crowe and Gosling show they have what it takes to be comedic actors as well as dramatic ones while Black once again displays a knack for fusing light, dark and offbeat material into one cohesive presentation. The result is not always the most riveting, riotous or original experience, but it's entertaining and fun, and we walk away mostly satisfied.