Weekend Wrap-Up
Memorial Day Top Two Net Soft $73 million at the Box Office
By John Hamann
May 29, 2016
BoxOfficeProphets.com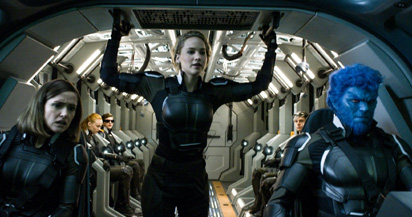 ---
X-Men versus Johnny Depp and Disney – on paper, this should be a great way to start the silly summer season at the box office. However, this is the Memorial Day Weekend at the box office, a weekend where there are no guarantees. Anything can happen, from big hits to middling disappointments.

With X-Men: Apocalypse carrying a $178 million budget and Alice Through The Looking Glass costing $170 million to make, this was a historic showdown at the Memorial Day Weekend Box Office simply due to the size of the contenders. Both films would need to earn at least a half-billion worldwide to get to profit, so a decent domestic start would be key for both films. Fox was going to need an X-Men: Days of Future Past result ($748 million worldwide) instead of an X-Men: First Class result ($353.6 million worldwide).

One would think that Alice Through The Looking Glass would play to the result of its predecessor Alice in Wonderland ($116 million opening weekend, $334 million domestic gross, $1 billion worldwide), but with six years in between films, no Tim Burton, and a recent Johnny Depp resume that has included The Long Ranger and Transcendence, Through The Looking Glass was going to need a miracle to over-perform compared to the original.

These days, when betting on box office, never bet against the comic book movie. X-Men fans turned out this weekend and buried Johnny Depp badly. X-Men: Apocalypse got started on Thursday night at previews, earning a powerful $8.2 million, more than the $8.1 million earned on Thursday by X-Men: Days of Future Past. Things were looking up for the sequel, as the Thursday was up, and one of the biggest long weekends of the year was stretched out in front of it. Unfortunately, X-Men: Apocalypse had to work uphill from there. The problem is that this X-Men pales in comparison quality-wise to the previous film, Days of Future Past. That film earned a fresh rating of 91%, four points better than the 87% rating that X-Men: First Class earned in 2011. X-Men Apocalypse has a much lower fresh rating at only 48%, and a more troubling 36% when looking at what RottenTomatoes calls "top critics." In these days of the social media revolution, this was going to catch up to our heroes over the long weekend.

The Friday number came in at $26.4 million, underwhelming considering the hot start from Thursday previews. Days of Future Past had an opening day of $35.5 million, which led to an impressive three-day weekend of $90.8 million and a four-day Memorial Day weekend haul of $110.6 million. Obviously, the same kind of success was not going to be found with Apocalypse. The question was whether it could position itself to recapture that massive $178 million budget.

The good news is that X-Men: Apocalypse has already gotten a strong start last weekend overseas, earning $115.4 million prior the domestic opening. That start takes the pressure off the domestic gross, as if it earns $300 million overseas, it will only need $200 million domestic for Fox to see a theatrical profit.

The Saturday figure came in at $20.3 million, well off the $29.3 million that Days of Future Past earned on its first Saturday. The Sunday was estimated at $18.4 million, which means that X-Men: Apocalypse finishes with a three-day Memorial Day Weekend figure of $65 million, and a likely four-day of about $77 million. That throws well under the Memorial Day frames of X-Men: The Last Stand ($102.8 million three-day), and Days of Future Past ($90.8 million three-day). The rest of the series contains openers in the $80 million area (X2: X-Men United and X-Men Origins: Wolverine) and the $50 million range (the original released in 2000, and X-Men First Class). This debut puts it in the middle of the pack, giving it a number that Fox is likely not overjoyed with, but one where no one will lose their jobs, either.

How X-Men does in terms of legs is going to be very interesting. X-Men has never had great legs. Never has a film in the series earned an opening-to-total multiplier of 3.0, meaning no X-Men film has earned three times its opening weekend at the domestic box office, a multiplier most films have no problem achieving. The other problem X-Men Apocalypse has is the Cinemascore. This one took a step down from the A earned by X-Men: Days of Future Past, to an A-. That's better than the B+ First Class earned, but should Apocalypse match the opening-to-total multiplier of First Class (2.65), its domestic total will only reach $162.5 million, so it will need every dollar overseas to reach the $534 million it needs to find theatrical profit.

Finishing in an ugly second is Alice Through The Looking Glass, the sequel to the $116.1 million original released in 2010. Things got ugly early for Through The Looking Glass, as tracking had it opening to less than half the original. The actual result is even worse. The Friday box office was only supplemented by Thursday to the tune of $1 million, and the result was an opening day of only $9.7 million. The first Alice earned $40 million on opening day, so it wasn't hard to tell that the sequel was likely going to finish with less than 25% of what the original opened to six years ago. The three-day weekend was going to struggle to earn what the original did on opening day.

The Saturday figure provided no support. Alice Through The Looking Glass earned $xx.xx million on Saturday, again a few football fields away from the original's $44.3 million Saturday. In the end, Alice Through The Looking Glass earned an extremely disappointing $28.1 million from 3,763 venues, about 400 fewer than X-Men. Quality-wise, Through The Looking Glass earned even worse reviews than Alice In Wonderland, which had mixed reviews at best (55% fresh at Rotten Tomatoes). Looking Glass came in at only 28% fresh overall, and top critics were only 14% fresh. The Cinemascore remained at an A- just like the last film, and Disney will have to hope that legs and overseas grosses can pull this one out of the quagmire.

Like X-Men, Alice will likely be bailed out overseas – the original earned almost $700 million away from America, and I don't think we will see as bad a slide there as we did over here. However, if it earns $150 million stateside, and half what the last Alice earned overseas, this one is going to struggle to find a profit, and like X-Men, will likely end up as a push. What happened to Alice to make her worldwide gross drop by almost two-thirds? When the last one came out in 2010, Johnny Depp was coming off two huge Pirates of the Caribbean movies, Public Enemy, and Sweeney Todd – he was a worldwide superstar. This time he's coming off of Black Mass, Mortdecai, Transcendence, and The Lone Ranger – three dangerous flops and a film where he didn't look anything like himself. Many are blaming the reduction on 3D not being new anymore, but I think this is all about Depp.

Finishing third is The Angry Birds Movie, as Sony tries the Shrek move, opening their animated opus the weekend before Memorial Day weekend, hoping to have a solid hold in its second weekend. However, with both openers taking some of the audience away from Angry Birds, there was bound to be tarred feathers on the second weekend gross. The Rovio creation earned $18.7 million in its second weekend, down an okay 51% compared to its $38.3 million opening. This is a bigger drop than something like Kung Fu Panda, which fell 44% in its second weekend, and Despicable Me (42%). The Angry Birds Movie cost $73 million to make, so it likely needs a worldwide total of at least $225 million to see a profit. The likelihood is strong as this is a hit overseas, with a gross to date of $xxx.xx million, which combines nicely with the domestic gross, currently sitting at $157.2 million. Angry Birds will also likely top out at $125 million domestic.

Captain America: Civil War finishes fourth this weekend and manages to hold at least decently against X-Men Apocalypse. The Marvel/Disney blockbuster earned another $15.1 million in its fourth frame, bringing its massive total up to $372.6 million. This isn't going to be a $400 million monster, though, as three consecutive 50% drops are hindering its legs. Still, it certainly isn't hurting the worldwide gross. That number has now hit $1.1 billion.

Fifth is Neighbors 2. After starting softly last weekend with a $21.8 million opening frame, things did not get any better for Zac Efron and Seth Rogen this weekend. In its second frame with no direct new competition, Neighbors 2 earned only $9.1 million and fell 58%. Made for $35 million, the comedy was able to match that production figure this weekend, and it now sits with $38.3 million at the domestic box office. A similar overseas gross ensures that Neighbors will be fine financially, but it won't come close to the $370 million the original earned.

Sixth is Disney's other monster, The Jungle Book, which leapfrogs the original juggernaut, Zootopia, on the all-time biggest earners ever list. This weekend, the Jon Favreau flick earned another $7 million and dropped 36%. The domestic total has now reached $338.5 million (versus Zootopia's $335.9 million). Overseas, The Jungle Book had cleared $530 million prior to the weekend, and continues to climb the all-time list.

The Nice Guys is seventh, but the Russell Crowe/Ryan Gosling release holds up pretty well after opening to $11.2 million last weekend. This weekend, the well-reviewed film earned another $6.4 million and declined a solid 43%. The Nice Guys was put together for $50 million, so it will have to stretch a long way internationally to be financially successful. Stateside, The Nice Guys has earned $21.7 million; overseas it has opened in a handful of markets and pulled in more than $2 million.

Eighth is Money Monster, another summer experiment that hasn't worked. After dropping 53% last weekend, the George Clooney flick didn't recover much this weekend, earning only $4.3 million and falling 39%. The $27 million Sony TriStar release now has a domestic total of $33.9 million and has pulled in another $10 million overseas.

Love & Friendship, the small, historic comedy-drama from Whit Stillman expanded from 47 screens last weekend to 493 this weekend, and enters the top ten because of it. Love & Friendship managed a weekend take of $2.5 million, giving it a venue average of $5,063. This small, $3 million film now has a domestic gross of $3.5 million and has yet to open overseas.

Tenth is Zootopia, as the 13-weekend-old Disney earner could not be pushed out of the top ten this Memorial Day weekend. Zootopia earned another $831,000 and dropped 51%. This is likely Zootopia's last weekend in the top ten, and it leaves us with a massive gross to date of $335.9 million.

The Darkness, this month's disposable horror film, is 11th. This weekend, The Darkness earned $750,000 and fell 67% compared to last weekend. The $4 million film has now earned $10 million.
Finally, A24's The Lobster finishes twelfth. This odd, festival-embraced film earned $750 thousand, after expanding from 24 theatres last weekend to 116 theatres this weekend. The Colin Farrell release has pulled in just under $10 million stateside.

Overall this Memorial Day Weekend, the box office improved a little over last year, but that's not saying much as last year Tomorrowland flopped, leading the box office with only a $33 million opening weekend. The box office was lucky last year, as films like Pitch Perfect 2, Mad Max: Fury Road and Avengers: Age of Ultron provided the openers some much needed support, and drove the top 12 to $147.5 million. This year, the top 12 films earned $158.4 million. Next weekend, three new releases hit screens: Teenage Mutant Ninja Turtles: Out of the Shadows opens, as does Andy Samberg's Popstar: Never Stop Stopping, and Me Before You, the latest dying teen drama.