Weekend Wrap-Up
Angry Birds Slingshot to the Top
By David Mumpower and Kim Hollis
May 22, 2016
BoxOfficeProphets.com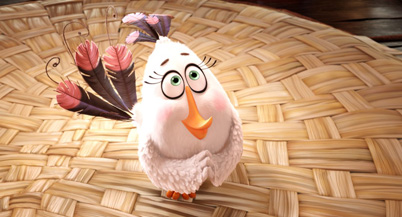 ---
The birds were angry this weekend, my friends. They stormed out from their smartphones and tablets, ferociously assaulting their sworn enemies. While the pigs were reduced to bacon bits, movie-goers across North America watched a different type of avian flu evolve into a pandemic. The end result is that a civil war took a backseat to a species-based genocide. Children's entertainment is much more bloodthirsty than you might remember.

Yes, the number one film in North America this weekend is based on a cellphone app. On a seemingly unrelated note, you're old. Whether you play Angry Birds or not, you've undoubtedly heard of these suicidal flyers that will spare no expense or overlook any contraption in their quest for vengeance. Slingshot technology hasn't been this popular since the days of David and Goliath.

What's impossible to ignore about Angry Birds is how young the fanbase skews. Kids love the absurd bits of cartoon violence, their equivalent of the Three Stooges or Tom and Jerry/Itchy and Scratchy. That's why the idea of a movie based on the games has floated around for several years now. As ubiquitous as the marketing arm of Angry Birds might seem, the game has only existed since 2009, making its omnipresent market penetration that much more astounding.

Sony eventually chose to bank on the birds in a big, big way. They spent $73 million on the production budget, somehow persuading even Sean Penn to voice one of the parts. Then, Sony invested more than $300 million in marketing this film, anticipating that a blockbuster would lead to a franchise as well as a fortune in licensing revenue. By Sony's own account, they are more than $400 million in Angry Birds the movie, a refreshingly honest take that Warner Bros. wasn't honest enough to admit about their failed Batman v. Superman endeavor. Sony obviously needs Angry Birds to delight a lot of the under-10 demographic to see any sort of return on their investment.

The opening results are largely positive. Despite arriving only two weeks after Captain America: Civil War, Angry Birds managed to win the weekend, earning $39 million in the process. Exhibited in 3,932 locations, its per-venue average of $9,919 is perfectly fine, albeit not dazzling by any stretch. While $39 million on its own is nowhere near enough to justify a $400 million budget, the number that matters is its worldwide take of $143 million, which includes two weekends of international revenue.

China was especially receptive to kamikaze revenge, paying $29.2 million to watch the birds seek vengeance. As BOP has noted, Hollywood's return on investment in China is modest relative to other international markets due to governmental regulations there. The end result of this is that Angry Birds the movie still has a lot of work to do for Sony to earn a lot of revenue. The corporation is playing the long game here, though. They are following the same playbook as Universal Pictures did with Despicable Me. The first film is simply the introduction. The hope would be that several other titles are possible, each of which will come with its own merchandising opportunities.

How well this strategy works depends on audience reception to Angry Birds. Those results are mixed. Its Cinemascore of B+ is modest but acceptable. Its RottenTomatoes score of 43% is troubling. This film is obviously not directed toward critics but instead small children, though. The B+ Cinemascore is the more important data point, and it helps that no genre competition exists for family films until Finding Dory in four weekends. That leaves it fighting long-in-the-tooth titles such as Jungle Book and Zootopia. At this point, the ultimate fate of Angry Birds is still in question, but it aced its first exam with more than $143 million to start.

What's so civil about war, anyway? Marvel fans continue to debate this answer as the #TeamCappy vs. #TeamTony debate continues for a third weekend. Captain America: Civil War fell to second place after 14 straight days at the top of the North American box office. Another $33.1 million brings its domestic total to $347.4 million. Depending on your perspective, there are two ways to evaluate this total. The glowingly positive one is to mention that the third Captain America movie has a decent chance to overtake Iron Man 3's $409 million to become the strongest non-Avengers Marvel performer.

The more negative take that a lot of critics have chosen is to compare it to the second Avengers movie, Age of Ultron. That title had earned $372 million after 17 days in theaters. The rationale for this comparison is that Civil War is an Avengers movie in every way save for name, which is valid. Still, the movie has a $250 million budget and a global take of $1.05 billion. With the same financial outlay, it's only $400 million behind Age of Ultron after only 17 days in release. Compare that with Batman v Superman, which cost more in terms of negative cost and completely died at the box office at $870 million.

Marvel continues to be the gold standard in superhero cinema, and the proof of the statement is that the top two releases of 2016, Deadpool and Civil War, are both from them. Disney is having an almost incomprehensible year as they either own the characters involved with or produced the top four films of the year. Joining Deadpool and Civil War on this list are two titles we'll discuss below, Zootopia and The Jungle Book. The latter of those two films will pass Batman v Superman by Tuesday of this week.

Comedy sequels have had a rough go on it recently, with projects from Horrible Bosses 2 to Ride Along 2 failing to capitalize on the strength of the original film to increase their opening weekend box office take. The latest movie to follow this trend is Neighbors 2, which couldn't even manage half the opening weekend total of its predecessor. Again starring Seth Rogen and Zac Efron, the film added an element of girl power by making the "enemy" a set of hard partying sorority girls, including Chloe Moretz.

Although the weekend debut of $21.8 million will be viewed as a disappointment relative to the $49 million start Neighbors had in 2014, it's important to put things in perspective. First, the original Neighbors came out of nowhere and blindsided prognosticators with the strength of its opening. Second, Neighbors 2: Sorority Uprising was put together on a tiny budget of $35 million, meaning that it won't take much work for Universal to reap a profit from this picture.

With regard to long-term prospects, Neighbors 2 is going to struggle to maintain the type of hold that the first film did for a few reasons. Primary among these is the lower critical review scores on Rotten Tomatoes, as Sorority Uprising's 61% is just on this side of positive, compared to the stronger 73% for Neighbors. Both films received B Cinemascores, which isn't usually the best sign for a comedy (although Neighbors was obviously able to overcome). The toughest hurdle for Neighbors 2, though, will be the perception of failure that will be perpetuated by the media. The fact that it came in so far behind the original film will be the story rather than the fact that the studio will be able to come out ahead with an easy profit on a relatively low investment.

Although the position may change when actual numbers are released tomorrow, final new release The Nice Guys is currently holding onto the number four position. The wildly positively reviewed film from Russell Crowe, Ryan Gosling and director Shane Black earned $11.3 million, right around where tracking predicted it would land. The Warner Bros. project had a $50 million budget, which means this one may have to wait for home video release for profitability, especially considering the aggressive marketing push. The film has an amazing 90% fresh rating at Rotten Tomatoes, which will undoubtedly help long-term prospects, but the B- Cinemascore is perplexing given the critical love.

The fifth and sixth place entrants this week are a blockbuster and a quietly strong performer people will remember as a dud. As referenced above, The Jungle Book is a staggering box office triumph. Costing only $175 million to produce, this retelling of Rudyard Kipling classic garnered another $11 million this weekend, bringing its domestic total to $327.5 million. Its global tally of $857.7 million actually surpasses both of Favreau's Iron Man movies, which is going to be a great trivia question down the line. Money Monster is a much different situation. Featuring three of the most recognizable names in the industry – George Clooney and Julia Roberts as stars and Jodie Foster as director – this modestly budgeted $27 million film grossed $7 million in its second weekend. That drop of 53% is fairly hefty for a film of this scale, but it has still earned $27 million in 10 days. It's going to be profitable for Sony, but virtually nobody will remember it that way.

The situation is similar with the films finishing in seventh and eighth place this weekend. The Darkness is a low-budget indie film starring Kevin "Didn't You Star in Footloose?" Bacon, whose salary ask used to be twice this film's $4 million cost. After debuting in fourth place last weekend, it slides to seventh with another $2.4 million. That brings its running total to $8.5 million, which is enough to put the project in the black, even if it's a future punchline. Conversely, the dictionary doesn't have any superlatives to describe Zootopia, which hung around with another $1.7 million this weekend. That brings its domestic total to a dazzling $334.4 million, and it's going to pass a billion globally over the next few days. With massively less hype, Zootopia is going to approach Frozen's $1.28 billion total.

The other two films in the top ten this week are both losers that never deserved a greenlight. The Huntsman: Winter's War cost $115 million to produce. Its weekend take of $1.2 million ups its total domestic performance to $46.7 million. While its global tally of $158 million may cause you to believe this film is profitable, it wasn't. Not even a little bit. Mother's Day is a bit more interesting in that its $25 million budget is modest enough that it could wind up in the black. Another $1.1 million this weekend takes it up to $31.3 million domestically with another $10 million internationally. It's not profitable yet, but it has a chance. In terms of opportunity cost, however, it's a huge and a miss from what a good movie would have earned with the same cast.

Combined box office for the top 12 this weekend was $131.2 million, down 11% from 2015's $147.5 million. The number one worldwide release this weekend is the big story at the moment. It opens domestically next Friday, and it'll be the story of the weekend. The film in question is X-Men: Apocalypse, and it gained $103.3 million overseas prior to its domestic debut. It squares off against another international heavyweight in a fascinating match-up.

Alice in Wonderland is the film that identified the potential potency of both the 3D and international markets. At one point, that title was in the top 10 all-time in terms of global box office with more than a billion dollars earned, which is more than any X-Men movie has ever managed. Oddly, virtually no demand for a sequel existed, which makes the release of Alice Through the Looking Glass a bit of a question mark, at least domestically. It should still perform extremely well overseas. Combined with the Memorial Day holiday's standard box office inflation, next weekend should be explosive.