Weekend Wrap-Up
Captain America: Civil War a Money Monster
By John Hamann
May 15, 2016
BoxOfficeProphets.com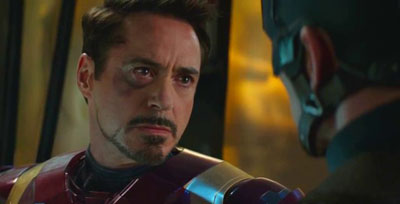 ---
Is scheduling a film called Money Monster - in the shadow of what is sure to be the biggest opener of the summer – irony? Is it stupid, or sly, like a fox? After the debut of George Clooney's latest, I'm leaning to the latter.

Following the massive $179.1 million open for Captain America: Civil War last weekend, the box office moves toward normality this weekend, as we have two openers – a thriller for adults in Money Monster with George Clooney and directed by Jodie Foster, and The Darkness, the latest in Jason Blum's '$5 million or less' horror campaign, this time bringing Kevin Bacon and Radha Mitchell out for support. No matter how you slice it though, this weekend is Disney's, as Marvel's Civil War, The Jungle Book and Zootopia all make the top ten, and all have grosses beyond $800 million worldwide, and finishes just a few million short of the same studio having three $300 million domestic earners in the top ten at the same time. This has never happened in the history of box office.

Our number one film for the second weekend in a row is Captain America: Civil War, the latest Disney/Marvel steamroller and third consecutive dominator released by the Mouse House within the last 11 weekends. After Civil War debuted with that powerful $179.1 million last weekend, all eyes were on the drop heading into the second frame. Civil War was looking to have a similar drop as Avengers: Age of Ultron, which opened to $191.3 million and then fell 59% to $77 million in its second frame. Iron Man 3 opened to $174.1 million on the same date in May 2013, and fell 58% to $72.525 million in weekend two. To stay in line with Ultron and Iron Man 3, Captain America 3 would need to earn about $73 million, and after a Friday gross of $19.44 million, a target multiplier of 3.75 was needed to keep the drop below 60%. Age of Ultron scored a 3.66 second weekend multiplier and Iron Man 3 a 3.68, so the pressure was on.

On Saturday, Captain America: Civil War earned a very strong $32.1 million, up a monstrous 65% from Friday -just missing Age of Ultron's second Saturday gross of $33.8 million. Over the weekend, Civil War pulled in $72.56 million in its second weekend, an extremely strong result. That gives the threequel the 8th biggest second weekend of all time, finishing beyond Spider-Man's $71.4 million, Shrek 2's $72.2 million, and even Iron Man 3's $72.53 million second frame. The drop here is even better than expectations, as not even a touch of sequel-itis can take a bite out of this one, as the 59.5% drop matches Ultron's 59.4% and comes very close to Iron Man 3's 58.4% drop. Civil War will cross the $300 million domestic mark tomorrow, only its 11th day of release, as it has a domestic total to date of $295.9 million.

Civil War should have another strong domestic weekend in the next frame, before facing off against X-Men sequel and the Alice sequel two weekends from now. It should have no problem getting to $400 million. The global take this weekend for Captain America 3 came in at an ungodly $84 million in its third overseas weekend, as it hits a global tally of $940 million. It moved past Batman v Superman like it was standing still, as the Warner Bros. product has earned 'only' $868 million worldwide. It should finish behind only Marvel's Avengers ($1.5 billion worldwide), Avengers: Age of Ultron ($1.4 billion) as the biggest worldwide Marvel products ever - and may catch Iron Man 3 ($1.2 billion). The Disney combination of Zootopia, The Jungle Book and Captain America: Civil War is going to earn an almost guaranteed $3 billion trifecta for the studio.

In a bit of a surprise, The Jungle Book holds very strongly this weekend, despite being in release for five weekends. This weekend, the other Disney power house earned another $17.8 million, and drops only 28% compared to last weekend's $24.5 million haul. For biggest fifth frame of all time, It finishes a stunning 10th, between Jurassic World ($18.2 million) and Guardians of the Galaxy ($17.1 million) as it plays with some of the leggiest blockbusters of all time. The domestic gross has hit a wild $311.8 million, crossing the $300 million mark on Saturday, its 30th day of release, the same amount of time it took leggy classics like Inside Out and Minions. The Jungle Book is already pushing toward the $200 million mark in China alone, and now has an overseas gross of $516 million. That puts the global at $828 million, and with Japan and Hong Kong still to come (and likely adding another $100 million in sales) The Jungle Book is still on track to reach the billion dollar mark.

Finishing third is Money Monster, the adult thriller from director Jodie Foster, and starring George Clooney and Julia Roberts. This is an old school star vehicle, a real time hostage drama with lots of scenery chewing and big speeches. Audiences were drawn to the star power, and the film managed a decent but not spectacular opening frame of $15 million. This is on the high end of what tracking was looking for, and given what we've seen lately from some star driven films, this is a fantastic result for a film than cost $30 million to make. It won't be profitable stateside with a probable finish around $50 million, but with Clooney and Roberts on board, it's going to at least match what it earns stateside overseas, if not do far better.

Money Monster could have been bigger over opening weekend. This is a timely story about the 1%, and had the movie been better and carried more buzz, this could have been a $20 million opener. Some smart strategic moves were made here, as the open was timed with the Cannes Film Festival, which meant reviews were held until its screening there, which happened to be the Thursday prior to its Friday release. It was an embargo on purpose, and when reviews were counted, they came in at an overall 56% fresh – disappointing considering the star power. Better news was that RottenTomatoes' top critics came in higher at 61%, and the Cinemascore was decent at B+ (but you need it higher for a star driven thing like this). Sony's TriStar is distributor only here, with Clooney's SmokeHouse Pictures producing alongside Allegiance Theatre, who put the film together. It rolls out overseas over the next three weekends.

The Darkness, the new horror title being released by High Top Releasing, an offshoot of Focus Features, finishes fourth, a ranking that does not fit the weekend gross. The Darkness earned only $5.2 million, and while that is a small amount, it did come in at the higher end of expectations. High Top put it out to only 1,755 venues, so the weekend take does fit the screen count. Starring Kevin Bacon, The Darkness cost only $5 million to make (yes, Jason Blum is involved) so this one likely won't cost anyone too much pain. The best thing about The Darkness is that it still carries a 0% fresh rating at RottenTomatoes, and the Cinemascore was super ugly at a C. This one got what it needed this weekend, but it certainly isn't going to get much more.

Fifth is Mother's Day, and after resurgent second weekend where it was up 33% from opening weekend, the bottom fell out this time around, as there was no Hallmark Holiday to prop it up. Without Mom's Day on Sunday, the Garry Marshall flick went into freefall, earning only $3.3 million and dropping a wild 71%. The $25 million Open Road release has now pulled in $28.8 million (not enough) and has another couple of million earned overseas.

Sixth is Zootopia, Disney's other killer soldier. This one has been out now for 11 weekends, and is still holding on as nothing has yet to come to replace it (Angry Birds will next weekend). Zootopia earned another $2.8 million this weekend, and drops a ridiculous 12%. It now has a domestic gross of $331.8 million and its worldwide take is now one of the 30 best ever, as it sits at $970 million.

The Huntsman: Winter's War is seventh, as it slowly wanes away. The Huntsman earned another $2.6 million this weekend and drops 35%. The beleaguered prequel has now earned $44.5 million domestically for Universal, and has crossed the $100 million mark overseas, but it's not enough, as the budget came in at $115 million.

Eighth is Keanu, the Key & Peele flick that didn't work with audiences. This weekend, Keanu earns $1.9 million and drops 42% after falling 65% last weekend. It has pulled in only $18.6 million to date, against a $15 million Warner Bros. budget.

Ninth is Barbershop: The Next Cut. The Ice Cube sequel earned $1.7 million this weekend and drops 40%. The Warner Bros. feature has now crossed the $50 million mark and sits with $51.4 million. Melissa McCarthy's The Boss is tenth with $1.2 million. It drops 38% and leaves the top ten with $61.1 million.

Overall this weekend, the top 12 films at the box office are lucky to have the support from Captain America, as the total for those films finished with $125.1 million. That's well back of the same weekend last year when the top 12 earned $176.7 million, led by a surprise opening weekend from Pitch Perfect 2, and the open of Mad Max Fury Road. Next weekend brings three new titles and a sequel to the summer race. Openers include Neighbors 2: Sorority Rising, which will look to improve on the original's $49 million open, Angry Birds, an animated original and based on the game, and The Nice Guys, the nicely reviewed comedy thriller with Ryan Gosling and Russell Crowe.