Friday Box Office Analysis
By John Hamann
May 15, 2016
BoxOfficeProphets.com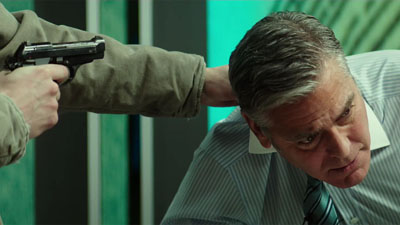 ---
Bring on the question: Does a film like Jodie Foster's Money Monster stand a chance, opening in the shadow of Captain America: Civil War?

Money Monster

George Clooney has his second release in four months in Money Monster, Jodie Foster's take on the current financial system, but told as a thriller. Following a so-so Thursday preview amount of $600,000 (this ain't the type of flick that has the fanboys rushing out to see it before everyone else), the combined Thursday/Friday amount came in at $5 million, better than the $4.3 million Hail, Caesar! earned on its first Friday, when it was on its way to an $11.3 million weekend. Clooney remains a good choice for a film that costs $30 million or less to make - he is usually good for a $10 million plus opening, as well as some bankability overseas. Considering the dominance of Captain America 3, Money Monster reached the higher end of estimates, and its production companies, including Clooney's Smokehouse Pictures, have to be pleased with this result.

Given the demographic attending something like Money Monster, I expect the internal multiplier to be somewhat better than your typical superhero or teen flick, despite the lackluster reviews, which currently sit at 57% fresh at RottenTomatoes. The better news is a B+ Cinemascore, which should keep this one in play through the early summer season – and there is nothing for adults on the horizon until the beginning of June. For opening weekend, let's give it a 2.9 multiplier and a weekend estimate of $14.5 million, and what should end in success for Clooney, Foster, Roberts, and Sony's TriStar.

The Darkness

I think many people would be surprised to know there is a new horror film out this weekend, with Kevin Bacon starring in something called The Darkness. Maybe my ninja-like PVR skills are helping me avoid this dreck, maybe I'm just not the right demographic, or maybe I'm just lucky. A few folks knew it was out there, as it earned $2.1 million on Friday night, despite a current RottenTomatoes score of 0%. This one cost $5 million to make, but probably cost another $10 million to market. HighTop Releasing (The Green Inferno) is the distributor. Expect $5.7 million for the weekend, as this one gets a bit beyond estimates as well.

Notable Holdovers

The master of disaster at the box office is Captain America: Civil War, which enjoyed another strong weekend, after opening to a blistering $179 million over three days. Last Friday, Civil War debuted with a mammoth $75.5 million over Thursday and Friday. Yesterday, Civil War earned a solid $19.4 million on its second Friday, off 74% when compared to last Friday's Thursday Friday amount, but off a better 61% when looking at only the Friday amount ($50.3 million) after removing the Thursday preview.

Civil War continues to play in the same ballpark as Avengers: Age of Ultron and Iron Man 3. Ultron had a $21.2 million second Friday, and Iron Man 3 at $19.7 million. Ultron had a strong internal multiplier over its second weekend at 3.66, so Civil War could finish the weekend with as much as $72 million. That would give it the 10th biggest second weekend ever, and will be close to $300 million domestic after only 10 days of release.

The Jungle Book earned another $4.2 million on its third Friday dropping only 25% compared to last Friday. It will cross the $300 million mark on Saturday, its 30th day of release. That's the same amount of time it took Minions and Inside Out, two films released in the height of summer, to reach that level. The half-billion mark has been crossed overseas, as this one heads towards the top 25 biggest worldwide grosser list.

Check back tomorrow for final weekend estimates.