Movie Review: Keanu
By Matthew Huntley
May 9, 2016
BoxOfficeProphets.com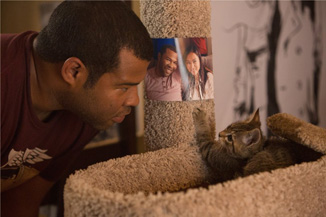 ---
I must admit, Keanu is really cute. I can see why his new owner goes to such lengths to get the little guy back after he's kidnapped. And I'm not talking about posting traditional "Lost" flyers on telephone poles. Over the course of one very long night, Rell (Jordan Peele) and Clarence (Keegan-Michael Kay) actually risk their lives to ensure Keanu's safe return. But then, given his high-pitched meow and soft, cuddly face, how could they not?

Keanu is, of course, a kitten, and after surviving a massacre at a drug warehouse, he treks across the greater Los Angeles area and finds his way into Rell's apartment, and shortly after, his heart. For Rell, Keanu's arrival couldn't have come at a better time. Rell is a lonely and recently single pothead and film buff, just on the verge of severe depression. His cousin Clarence thinks he can cheer him up with some In-N-Out Burger, but when Clarence arrives, it's too late. Keanu has already made Rell's world all right again. In fact, Rell is so infatuated with his new pet that he begins making a calendar with Keanu posing in famous movie scenes.

Two weeks go by and Clarence's wife Hannah (Nia Long) is heading out of town with their daughter. She tells Clarence to let loose for the weekend and finally do what he wants to do instead of what others expect him to do. Clarence is kind and caring, but also uptight, prudish and a bit of a dork. Rell would say he comes across as "Richard Pryor doing an impression of a white guy," which is not a completely unfounded statement given Clarence's obsession with George Michael and Wham!

So Clarence treats himself and Rell to the latest Liam Neeson action flick, but when Rell comes home, he finds his apartment ransacked and Keanu missing. His pot dealer, Hulka (Will Forte), who happens to live right next door, tells him the cat-nappers were likely the 17th St. Blips, a local gang that works out of a sleazy strip club appropriately called "HPV." Before going in to get his cat back, Rell tells Clarence to put on his "gangsta" face. In other words, "act more black," which, for Clarence, means talking louder and dropping F-bombs. They assume the names "Tectonic" and "Shark Tank" and meet gang members Hi-C (Tiffany Haddish) and Bud (Jason Mitchell), who bring them before the Blips' leader, Cheddar (Method Man), who mistakes Rell and Clarence for the ultraviolent and acrobatic Allentown Boys, who carried out the shoot-out at the beginning. Cheddar does, in fact, have Keanu but only agrees to give him back if Tectonic and Shark Tank go on a run to sell the Blips' latest wonder drug.

What transpires is a series of amusing and sometimes laugh-out-loud moments as Rell and Clarence embark on a series of increasingly dangerous misadventures, and in the tradition of other zany buddy comedies of this sort, Keanu places its heroes in unbelievable situations in which they'll continue pretending they're somebody else; foil some bad guys; get physically hurt in one way or another; and eventually take part in either a big fight or a chase scene, or both. And when the night is over, they'll be all the wiser, braver and more confident for it. We can even assume Rell will find a new love interest and Clarence will gain courage and the ability to let loose.

Keanu isn't terribly unlike others of its kind and it's not hard to see traces of other comedies in it that no doubt inspired Peele and Alex Rubens' screenplay (Adventures in Babysitting, Rush Hour and Road Trip are just a few that come to mind). But despite its recycled plot and formulaic structure, the movie is still appealing, not only for its humor, but also the affection it shows toward its characters. It also has an underlying social commentary, which aims to send up stereotypes and ultimately relay the message there's more to people than what we perceive on the outside. This may seem obvious, but it's funny and effective just the same. I was especially a fan of the scene in which Clarence, as Shark Tank, instructs the other gang members on the importance of fatherhood through George Michael's "Father Figure" song and how the others actually respond to it.

The movie is nothing groundbreaking, and even though we're not laughing all the time, its heart and sweetness keep us smiling. And hopefully after Keanu, the new-to-film duo of Key and Peele, who recently ended their series on Comedy Central, can take their talents beyond the buddy comedy template and produce something more cutting edge. Keanu certainly proves they have the presence, charm and comic abilities to do so. Plus, it features one of most adorable movie kittens ever. Keanu simply makes you want to hug, kiss and play with him all day long, so much, in fact, he alone seems worth the price of admission. I'm sure Rell would agree.