Weekend Wrap-Up
Disney and Marvel Score Again With Captain America: Civil War
By John Hamann
May 8, 2016
BoxOfficeProphets.com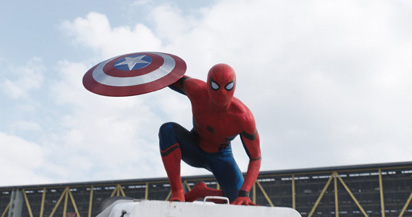 ---
It's a good time to be Disney. They already have $1.7 billion in worldwide grosses from Zootopia and The Jungle Book, and will easily double that over the next three months as Captain America: Civil War hits North American theaters this weekend.

This is the weekend of Captain America: Civil War, the showdown between Cap and Iron Man and their respective teams of superheroes going at each other. This is wannabe Avengers, and its competition (and box office) behaved like it. All other studios hid in fear this weekend, leaving Captain America: Civil War as the lone opener. Other than The Jungle Book (Disney's other film in the top two), only Mother's Day managed to earn more than $1 million on Friday night, which shows the box office is primed for new product and the summer onslaught. Disney's trifecta of awesomeness (Civil War, Jungle Book, Zootopia) managed to earn a combined $200 million plus at the domestic box office, and worldwide? Huge amounts of money for Disney.

Marvel and Disney's Captain America: Civil War landed hard at the box office this weekend, and as expected, it dominated, but it didn't reach or surpass any of the higher estimates out there prior to the weekend ($200 million plus over three days). Still, there is absolutely nothing to be disappointed about here. Captain America: Civil War got started with a bang on Thursday night, earning an awesome $25 million from previews, which started at 7 p.m.. While not at the level of The Dark Knight Rises ($30 million plus from previews), Civil War still had a very strong Thursday, finishing just behind Age of Ultron in terms of Thursday previews ($27.6 million) and Batman v Superman ($27.8 million). At this point, we knew that records were likely not falling, but Captain America: Civil War was prepping for an excellent weekend and a huge start to the summer season.

The usual Marvel/Disney formula struck again, as the two companies have constructed the almost perfect pattern for filmmaking and release. Captain America: Civil War started with Marvel and Disney bringing back Joe and Anthony Russo to direct this sequel to their own Captain America: The Winter Soldier, the film that almost doubled the first Captain America's worldwide gross ($714 million worldwide versus the original's $370 million worldwide). The Russos have been tapped to direct this one and Avengers: Infinity War, Parts I and II. These guys seem to get Marvel; Captain America: The Winter Soldier's Rotten Tomatoes score came in at 89% fresh, and they did even better with Civil War which is 91% fresh to date. They definitely understand the action, but the banter amongst the superheroes reflects that the Russos also did the pilot for Arrested Development and have a strong knack for dialogue.

On Friday, Captain America: Civil War did the expected, pulling in a very strong $75.3 million for the first day plus previews. That gives Cap and friends the eighth biggest opening day ever, finishing about a half million behind The Dark Knight Rises, which earned $75.8 million on opening day, and comfortably in front of The Twilight Saga: New Moon, which had a first day gross of $72.7 million. Will Civil War's opening day remain at eighth going into 2017? Probably not. Suicide Squad might have an outside shot at it, but my money is on either Fantastic Beasts and Where to Find Them (coming in November) or Rogue One: A Star Wars Story, opening on December 16th. Records don't last long these days.

Captain America: Civil War followed that $75.3 million Friday with a Saturday that was bound to be down from Friday. The Saturday came in a $61.1 million, off a respectable 19% from Friday – guaranteeing placement as one of the top ten opening films ever. As a comparison, Batman v Superman was off 38% when comparing Saturday to Friday, as Dawn of Justice earned $81.55 million on opening day and followed that number with $50.65 million on Saturday. Iron Man 3 earned less on Friday than Civil War ($68.9 million) and then slightly more on Saturday ($62.3 million). On Mother's Day Sunday, Captain America: Civil War earned $45.4 million, turning in a very good weekend.

For the three day weekend, including Thursday previews, Captain America: Civil War earned a very powerful $181.8 million, finishing as the fifth biggest opener of all time. Considering the first Captain America is (now) 112th on the all-time openers list at $65.1 million, and the second is 42nd with a $95 million debut, Captain America's move into the top films of all-time is significant. Of course, that's because this one plays more like an Avengers film, even if it's missing The Hulk and Thor. Still, the real Avengers films will come soon enough, as Avengers: Infinity War Part 1 is scheduled for May, 2018, with Part 2 scheduled for May 2019. At $250 million per film (at least), it is no wonder why Disney wants to package these things together and potentially save a few million.

Unlike Batman v Superman, there is no fallout for Civil War stemming from being a bad movie. With its 91% fresh rating, Civil War isn't carrying the baggage that the 27% Zach Snyder film is (or was). The Cinemascore was brilliant, coming in at an A, and Deadline reports that it missed the A+ score by inches. That's step one in making a blockbuster. The second is a strong release date (which this one definitely has), followed by an impressive marketing campaign. Civil War's campaign – going back to the Super Bowl - invited audiences to choose a side, creating the buy-in that studios love. Captain America 3 cost $250 million to bring to the screen, and according to some, close to another $200 million to market globally. I will be looking for it to earn $750 million prior to profit, but this one is going to have it in the bag, as it also earned $220 million overseas this weekend (including $96 million from China), meaning the global gross for Civil War has already a staggering worldwide total of $678.4 million (it actually opened in some markets last weekend).

That puts fellow Disney release The Jungle Book down into second for the first time in four weekends. Disney expected The Jungle Book to be earning closer to $10 million in its fourth weekend, as they expected it to open at $70 million instead of $103.3 million and then hold at average weekend declines of 35%. So, it's almost a bonus for Disney that Civil War is cannibalizing The Jungle Book – both going after that younger male demographic. The Jungle Book felt it this weekend, but maybe not to degree you might think.

On Friday, The Jungle Book earned $5.7 million, off 45% from its previous, third Friday. That's a couple of points better than its first Friday drop (48.6%), but that was compared to a Thursday preview/Friday gross combination. The Jungle Book went on to have a solid fourth weekend despite Civil War, earning $21.9 million and dropping 50%. That puts the domestic gross of $285 million within knocking distance of $300 million, while the worldwide gross is up to $776 million. This one cost $75 million less to make than Captain America: Civil War, and just might earn more globally. Yes it IS a good time to be Disney.

The Jungle Book's fourth weekend $20 million plus gross, puts it into some pretty elite company. Prior to this weekend, only 25 films had earned $20 million or more in weekend four, but with The Jungle Book, there are now 26. It also shows the power of Zootopia – despite opening to $25 million less than The Jungle Book, its fourth weekend came in at $24 million, higher despite opening so much lower. Of the 26 films that have earned $20 million in weekend four, half of those are Disney products, which is an excellent reflection of their brand.

That puts Mother's Day into third – one spot up from last weekend. Keanu did a serious disappearing act, as the cat certainly didn't come back this weekend. Mother's Day did the expected and held very well over its namesake weekend. The very bad Garry Marshall film earned another $9 million and increased 8% in the process. Next weekend will be ugly for this one, but so far, the $25 million film has earned $20.7 million. It has picked up a couple of million overseas, but has a long way to go to get to profitability.

Fourth goes to The Huntsman: Winter's War. After earning $9.6 million last weekend, The Huntsman shrivels in weekend three, earning only $3.6 million. That gives it a drop of 63%, and a domestic total to date of $40.4 million. The $105 million it has earned overseas will help, but with a $115 million budget, this is heading for a loss regardless.

Fifth is Keanu, and Warner Bros. must be having to use the chip embedded in the cat to find it. After opening last weekend with $9.5 million, the Key & Peele flick earned only $3.1 million, giving it a nasty decline of 67%. If there is good news here, it's that this kitty movie cost only $15 million to make, as it has a gross to date of only $15.1 million.

Our sixth place film is Barbershop: The Next Cut, which had a weekend total of $2.7 million as it fell 56%. Thus far, the well-reviewed Ice Cube comedy has accumulated a North American gross of $48.8 million, and probably doesn't stand to make much from overseas venues.

Zootopia is seventh, as even the stalwart of the top ten struggles with such a big film opening. This weekend – amazingly its 10th – Zootopia earned another $2.68 million, as it dropped 50% compared to last weekend. That brings the domestic total up to $327.6 million, and joins an overseas gross that has crossed the $625 million mark already. Worldwide, Zootopia is the top earning film of the year so far.

The rest of the top 12 fail to make $2 million apiece, which really demonstrates how front-loaded this group of films really is. The Boss drops to eighth, as even Melissa McCarthy is no match for Captain America and Iron Man. The Boss earned only $1.8 million and fell 59%. The $29 million Universal release has now earned $59 million domestically and gets another $10 million plus from overseas to narrowly turn this into a winner.

Ninth is Ratchet and Clank, the animated feature from Focus Features that missed last weekend. In its second frame, Ratchet earned $1.5 million and declined 70%. It has a total of $7.1 million to date.

Tenth is sad old Batman v Superman: Dawn of Justice, which got schooled by Marvel. Dawn of Justice spends its last weekend in the top ten, earning only $1 million and dropping 73%. That brings the domestic total up to $327.3 million (Zootopia has now passed it in North America), which joins the $540 million overseas gross, against its $250 million budget.

In limited release, The Weinstein Company's Sing Street expanded into 120 theaters, but earned only $422,000, giving it a poor venue average of $2,758. From Once and Begin Again director John Carney, Sing Street should find an audience – it is 97% fresh and is in the running for best film of the year to date. Get out there and support this one!

Overall, the top 12 was huge thanks to the massive haul from Captain America: Civil War. The top 12 films earned $230 million this weekend, which spanks last year's top 12 take of $122.3 million, and ahead of last year's May 1st frame, when Age of Ultron led the top 12 to $226.4 million. Next weekend, Civil War will marinate, and will be joined by The Darkness, with Kevin Bacon, and Money Monster, Jodie Foster's drama with George Clooney and Julia Roberts.