Weekend Wrap-Up
Jungle Book Rules, Civil War Looms
By John Hamann
May 1, 2016
BoxOfficeProphets.com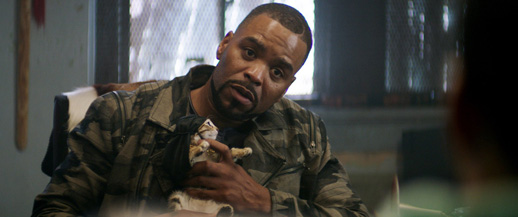 ---
Over the last nine weekends, a Disney film has finished at number one an amazing six times. They are going to be eight for 11 very soon, as here comes Marvel's Civil War.

2016 is an odd year. Normally, this is a blockbuster weekend, as it is the 18th weekend of the box office year, a weekend that has seen such historic releases as Avengers (and its sequel), Iron Man (and Iron Man 3), and Spider-Man. Instead, this weekend we get a comedy about a cat in Keanu, another bad Garry Marshall Hallmark card movie in Mother's Day, and a lower class animated feature called Ratchet & Clank. So, instead of a blockbuster weekend, we get the opposite, and this weekend's results are creating a massive vacuum for next weekend's Captain America: Civil War, which is going to be ripe for a huge opening weekend.

Our number one film, for the third consecutive weekend, is The Jungle Book, Disney's latest box office juggernaut currently dominating the planet. The Jungle Book is a seemingly unstoppable force. Even over a slow weekend like this one, the Disney release still held remarkably well. The Jon Favreau film earned another huge $42.4 million this weekend, dropping 31%, better than last weekend's fantastic 40% dip, but with the superhero blockbuster coming next weekend, it needs to earn while it can. Given the massive initial reception and the gross-to-date, one might expect The Jungle Book to wane a bit this weekend, but the opposite happened. The critically-adored family flick records the seventh best third weekend ever, beating Zootopia's third weekend when it earned $37.2 million and Age of Ultron's $38.9 million, and just missingThe Dark Knight's $42.7 million.

The Jungle Book crossed the $200 million domestic mark on Tuesday, its 12th day of release. It also crossed the $250 million mark today, its 17th day, which is incredibly speedy for a film not released in summer or at Christmas (it tied Iron Man 2). The Jungle Book now stands with a stunning domestic gross of $252.1 million after three weekends – and will now likely hit $350 million at the domestic box office. The $175 million film has also crossed the $430 million mark overseas, and has passed the $680 million worldwide mark.

Where it finishes will depend on how it plays against Civil War next weekend. Yes, it will likely be decimated next weekend, but I expect it to perk up for a few weekends after. It is amazing to think that Disney will likely have three $300 million earners released within three months of each other, as they stack up Zootopia, The Jungle Book and Captain America: Civil War. All three films will be in the top ten next weekend.

Second (just barely) goes to the nightmare that is The Huntsman: Winter's War, Universal's lame sequel to Snow White and the Huntsman from 2012. After disappointing last weekend with a $19.4 million frame, Winters War got crushed further this weekend, as the Chris Hemsworth starrer pulled in an ugly $9.39 million, dropping a severe 52%. Remember, this one cost $115 million to make, so it will need a $350 million worldwide gross for Universal to see a return on investment. Domestically, Winters War has earned only $45 million, while its overseas total has risen to $97 million, leaving this one gasping for air.

Keanu, the new film with Comedy Central standouts Key & Peele, finishes in third place, though that position may change when actuals are reported. Despite being marketed like mad, Keanu failed to make much of an impact at the box office. The comedy earned $9.35 million from a muted screen count of 2,658. The count is either a mistake, or a brilliant piece of strategy. Critics embraced Keanu (it earned a 76% fresh rating) and when it goes up against Civil War next weekend, Warner Bros. can still expand if they want and maybe leg out a win. For now, the opening is somewhat soft, but it has a real opportunity to play as counter-programming over the next few weekends.

Keanu's Cinemascore does not support expansion unfortunately, and will likely seal the fate of the comedy. The Cinemascore came in at a B, definitely lackluster for comedy, as it earns the same score as the Tina Fey miss, Whiskey Tango Foxtrot, as well as recent box office nightmares like Allegiant and Batman v Superman. The good news is that Keanu cost only $15 million to make, so if it can find cult status, or earn 3.5 times its opening weekend, Warner Bros. should do just fine with this one. The bad news is that this probably doesn't play well overseas, putting pressure on that final domestic gross.

Fourth is Mother's Day, which is another of those Hallmark Holiday movies that has a stellar cast but no script or direction. Garry Marshall, the man who brought you classics like New Year's Eve and Valentine's Day, is back creating his own kind of destruction this weekend with another bad film. This one is 9% fresh at RottenTomatoes, lower than The Boss, lower than Allegiant or even God's Not Dead 2. Audiences caught on, and Mother's Day earned only $8.3 million from 3,035 venues.

Open Road Films is distributing Mother's Day for a fee, so the production companies behind this dreck have to hope that it really pulls audiences in next Sunday, on Mother's Day. It had better – this piece of sunshine cost $25 million to make, a figure I doubt this one will see throughout its domestic run. The good news is that New Year's Eve earned more overseas that it did domestically, and Valentine's Day was close. It earned a B+ Cinemascore, so all is not lost, but the production companies behind this one need to really hope for a foreign bailout.

Fifth is Barbershop: The Next Cut, which is now in its third weekend. After a slightly softer than expected opening and a somewhat hurtful second weekend drop of 48%, this MGM, Warner Bros. product was looking to even the ship this weekend. The Ice Cube starrer took in $6.1 million in weekend three, bringing its domestic total up to $44.7 million. This one simply should have been bigger. It cost $20 million to make and should eke out a profit before it exits theaters.

Zootopia is sixth, and is still showing admirably well, as despite nine weekends of release and a gross beyond $320 million, it still continues to hold. This weekend, it earned $5 million, and even though it lost another 300 screens, the Disney release fell only 24%. It won't reach $400 million domestic, but it should pull another $20 million stateside, adding to its current total of $323.5 million, and finish within an arm's reach of $350 million. Overseas, Zootopia crossed the $600 million mark, as it tries to reach $1 billion worldwide.

New release Ratchet & Clank, a film I couldn't pick out of a lineup, opens in seventh. From what I understand, this is an animated feature about a video game that is more than a decade old, but has sequels that are very much alive. The audience didn't show this weekend, as Ratchet earned only $4.8 million from 2,891 venues. Released by Focus Features, but made by Playstation and Sony Interactive, Ratchet cost $20 million to make, and is another new release that will struggle to match its production budget stateside.

Eighth is The Boss, Melissa McCarthy's latest. Now in release for four weekends, The Boss earned $4.3 million this time around and fell 32% compared to last weekend. The Boss has now earned $56.1 million stateside and has passed the $10 million mark overseas. This one cost $29 million to make and will need every nickel from its slow overseas rollout.

Ninth goes to Batman vs Superman, and it is being shown the door just in time for those Marvel bullies to show up in the next frame. Now in its sixth weekend, Dawn of Justice earned another $3.8 million, and declined 31%. It has now reached $325.1 million domestically and has cleared the $860 million mark overseas.

Tenth is Criminal, Lionsgate's latest miss. The Kevin Costner/Ryan Reynolds flick earned another $1.3 million and dropped 58%. It has earned only $13.5 million since being released.

Green Room with Patrick Stewart expanded, moving from 30 theaters last weekend to 470 this weekend. The news for the thriller is only okay – it earned $960,000 from those screens, and finished with an average at $2,043. Also expanding this weekend is Tom Hanks A Hologram for a King, moving from 401 venues to 523. The result was solid, as Hologram earned $931,600 million this weekend, dropping a slim 18%. It has a gross-to0date of $2.6 million.

Overall this weekend, the box office was down against last year, but that's what happens when Keanu goes up against Avengers: Age of Ultron. The top 12 films this weekend earned $96.8 million, obviously off of the $226 million earned last year, but better than last year's previous weekend, which took in $85.9 million. Next weekend, of course, brings Captain America: Civil War (a film I think should have been called Marvel's Civil War, but what do I know?), a film that should approach $200 million over opening weekend.