Weekend Forecast for April 29 - May 1, 2016
By David Mumpower
April 29, 2016
BoxOfficeProphets.com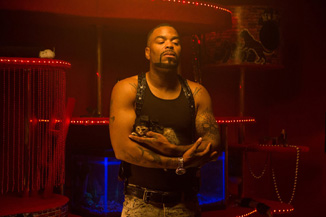 ---
Keanu, the long awaited biopic about one of the most popular actors of our generation, debuts today. *checks notes* Whoops, Keanu, an obsessive love story about a man and a kitten he's known for a matter of days, debuts today. Hmm, that might be a biopic about me. Nobody's gonna wanna see that.

Let's start over again. In 2014, a pair of sitcom actors from Fox's The New Girl co-starred in a high-concept comedy entitled Let's Be Cops. It cost $17 million to produce while earning $82.4 million domestically and another $55.8 million abroad. I swear to you that one of the main comedic actors is named Jake Johnson. I mention this since it was such a strong instance of the concept selling tickets that a relatively anonymous (but very funny) person could anchor an extremely popular comedy. It's the hook that's the key.

Key & Peele have basically carried the Comedy Central flag in recent years. They're so popular online that their YouTube channel started including a notification to online fans of the comedy duo that they could watch Donkey Teeth-esque skits on the television show as well. Key & Peele are one of the first hybrid acts of the viral video era. They already had strong sketch comedy reputations from their time on Mad TV. Then, they started posting some of their Comedy Central bits online, and the internet loved them as the beautiful geniuses that they are.

The release of Keanu comes on the heels of the duo's unexpected announcement last year that they were ending their wildly popular television series. They sensed that their opportunity to capitalize on their emerging popularity was through a Let's Be Cops-style buddy comedy. My perception is that they've timed this perfectly.

First of all, Key & Peele are hysterical. I'm a huge fan, as are most of the people I know who have watched their work. Second, the concept of Keanu, if anything, surpasses that of Let's Be Cops. An adorable kitten, basically the backbone of internet image sharing, gets separated from its new owner, eventually winding up in the hands of some scary people. So, the lamest two dudes on the planet enter the criminal underworld trying to find the cat.

Keanu has a couple of things going for it. The first is that the trailers are laugh-until-you-cry funny. The second is that the reviews of this R-rated comedy are glowing, which almost never happens. Key & Peele are extremely talented men and two of the finest actors nobody appreciates yet. While their first joint effort debuts in only 2,658 locations, it's probably not going to match Let's Be Cops, which earned $17.8 million from 3,094 playdates. I do think it's going to surprise some people, though. It's currently tracking right at $10 million for the weekend. I expect it'll wind up closer to the $14 million range as word spreads that it's a terrific movie.

Speaking of terrific movies, Mother's Day is not that. At all. Seriously, it borders on being an insult to mothers. The film is currently 8% fresh at Rotten Tomatoes, and that's probably cause to purge 8% of current voters. This is the latest Garry Marshall holiday-related film that's really just an excuse to get a lot of famous actors together to pretend like they care for a few weeks. It's the worst sort of cynical moviemaking project. Still, stars go along with it since Marshall is one of the greatest living Hollywood icons. Dude invented Happy Days, for God's sake.

The first time Marshall tried this sort of film, Valentine's Day became a shocking hit, albeit a wildly frontloaded one. The film grossed $110.5 million, $56.3 million of that coming from opening day. Then, Marshall tried again, and that led to one of my favorite stories from my time with BOP. We got received a panicked message from a producer for a major cable news network. They wanted to know if I could have someone on-air in 90 minutes. Generally, we get like six days of notice for this sort of thing. They simply couldn't find anyone to say nice things about New Year's Eve as a movie. Their scheduled guests backed out once they saw the writing on the wall. It was that loathsome a project.

The box office bears this out. New Year's Eve earned $54.5 million domestically against a budget of $56 million. The lone saving grace – and it wasn't much of one – was that international consumers added another $87.5 million of revenue, enough to turn it into a box office draw of sorts. Mother's Day is a cynical attempt to trade on the good names of Julia Roberts, Kate Hudson, and Jennifer Aniston. The idea is that the film will earn some money on opening weekend, and then it'll get a bump next weekend, which is the titular holiday. Personally, I think audiences aren't that stupid. I'm expecting a $12 million debut and a lot of remorse expressed by children foolish enough to take their mothers to this as a "special treat" next Sunday.

The final major new release this week is Ratchet & Clank. This animated film is based on the videogame franchise of the same name. While I'd like to claim expertise on the subject, I can't. My wife purchased this game for the Playstation 2 a few weeks after it came out. We owned it for the body of a decade without ever taking the game out of its wrap, eventually selling it in an eBay purge a couple of years ago. The fact that we got anything back for a game that old speaks volumes about the passion some people have for the characters and concept.

Still, this is an obscure animated movie without a wide base of fans to carry it to any sort of solid opening weekend. With 2,891 exhibitions, it somehow garnered more venue counts than Keanu, which should cause a lot of programmers to have some uncomfortable conversations with their bosses this weekend. Expect a $6 million weekend and a lot of puzzled looks if you ask any of your friends if they've seen Ratchet & Clank. They'll probably wonder if it's a 1970s detective show.

The number one film again this weekend will be Jungle Book, which will continue its unlikely ascent to $300 million worth of domestic box office. Another $37 million this weekend would represent a 40% fall in its third frame. We're still in April, and we've already had two of the oddest (eventual) $300 million blockbusters in recent years.