Weekend Wrap-Up
The Huntsman Is No Box Office Fairy Tale
By John Hamann
April 24, 2016
BoxOfficeProphets.com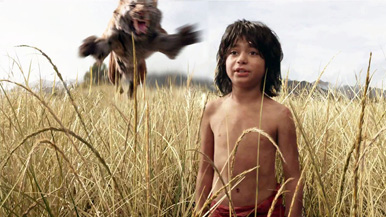 ---
You can put Emily Blunt, Charlize Theron, Jessica Chastain and Liam Hemsworth into a Snow White prequel and expect success, but without the fair maiden and a pile of bad reviews, you've got nothing at the box office – leaving a large amount of room for a repeat win for The Jungle Book.

Universal's The Huntsman: Winter's War didn't have a chance this weekend, as nothing was going to mess with the roll that The Jungle Book is on. Since the Disney film is behaving like a steamroller, No Snow White and the Huntsman got crushed. The Jungle Book is too hot - $103.3 million last weekend, another $27.5 million Monday-to-Thursday (in April), and an overseas gross to Thursday of $246.7 million pushed its worldwide total to an awesome $393.7 million. The heavy hitter on top made room for some smaller films to sprout, as Lionsgate's Pantelion got Compadres started, and Roadside Attractions debuted Tom Hanks in Tom Tykwer's A Hologram for the King.

Number one this weekend is The Jungle Book. That result has always been a foregone conclusion, but it's the number and the percentage drop that are key. The Jungle Book's fate between blockbuster and mega-blockbuster will be almost completely decided this weekend - at least domestically. A strong hold in the sophomore frame like this can mean the difference between a 3.5 opening-to-total multiplier (good), or a 4.0 (great). For a movie like The Jungle Book, that's a $50 million dollar gap between the low side and the high side. Strong legs will also turn a movie like The Jungle Book into a phenomenon, giving it more of that key ancillary business like toys and blankets.

Disney would be looking for a sub-50% decline, a tough achievement for any film that opens over $100 million. Disney didn't want a performance like Minions ($115 million open, 57% second weekend drop). They wanted a repeat of Toy Story 3 ($110.3 million open, 46% second weekend decline). Toy Story 3 and Minions opened within $5 million of each other, but finished $80 million apart at the domestic box office after all was said and done.

The Jungle Book started its second weekend with a $16.4 million Friday gross, off only 49%. I say "only" because last weekend's Friday take of $32 million included $4.2 million from Thursday previews, making that drop only more stellar at 41%. The recorded 49% decline was only going to improve over the course of the weekend, as kids and families are thronging to this one. The weekend estimate came in at a very powerful $60.9 million, easily putting it in the top 20 best second weekends ever (Deadpool at $56.5 million is now 22nd). The percentage decline is awesome at only 41%, putting The Jungle Book in a position to easily land in the $350-400 million domestic range. It won't be easy – Alice in Wonderland opened to $116.1 million, dropped 46% in weekend two, and finished with $334 million domestically.

Overseas, The Jungle Book earned another $96 million, pushing its international take up to $337 million. I think that if Disney can get the international box office up to $600 million, they are going to have a chance at a $1 billion property, similar to Alice in Wonderland. Leading up to the release of The Jungle Book, most comparisons were looking at Cinderella, but should have been pointing at Alice, as that appears to be the model the Jon Favreau film is following. Alice earned $334 million domestically and $691 million overseas against a $200 million budget. The Jungle Book cost a bit less at $175 million, which means The Jungle Book is already a financial winner for Disney.

Disney has put itself in a position to have a ridiculously big year. It had hit $1 billion worldwide by March 25th, on the strength of the latter half of Star Wars and Zootopia's worldwide take (at the time) of $416 million. With second half of Zootopia's result moving to the second billion and now The Jungle Book, the mouse house should be knocking on the door of $2 billion shortly. Next for the conglomerate is Captain America: Civil War (which might as well be called Avengers 3), and given that this one can earn $400 million LESS than Ultron and still turn in a billion, that's pushing Disney to $3 billion. Then, unless it's a complete dog, Alice Through the Looking Glass could pull in another billion worldwide, pushing Disney up to $4 billion.

After May is through, the studio features the summer trifecta of Finding Dory, Pete's Dragon and The BFG, three films that should easily combine for another billion, if not $1.5 billion worldwide. To keep it easy, we will say just $1 billion, putting the studio's total up to $5 billion. Doctor Strange and Moana are likely another billion (now up to $ 6 billion), and then the studio has another Star Wars film, which is likely good for another standalone billion. If everything goes right, I'm seeing a $7 billion dollar year- minimum - for what is currently the greatest studio on earth.

Finishing a sad second is The Huntsman: Winter's War, a title that is beyond ugly, barely relating back to the first film, and dropping the key element from the original's title (Snow White). With all the good things about the original gone, like the built-in audience due to Snow White's titular involvement, and Kristen Stewart, this poorly titled sequel had an impossible uphill climb to find success, which was exacerbated by a large $115 million budget. And fail it did, getting started on Thursday with a sad $1 million take from previews, not enough when your film carries that kind of budget. The Friday number was soft at $7.3 million, especially when you consider that it had the help of the preview in that number.

Universal's Huntsman finished the weekend with a rough $20.1 million from a large 3,791 venues. The original Huntsman opened to almost three times that amount at $56.2 million, pretty much the opposite of what Universal expected to happen. You shouldn't have to ask what went wrong, because everything did. The studio, as did most people, severely under-estimated The Jungle Book, but that wasn't the fatal mistake. That came in the making of the film, which fell apart with the central concept of Snow White gone. The Huntsman is currently 17% fresh at RottenTomatoes, and top critics came in even worse at only 9%. Since that 9% message is going out to major media, you are pretty much done, as social media isn't alone on sending the word out to the general public.

The result is going to be an ugly loss for Universal. At $115 million, The Huntsman needs to earn at least $350 million worldwide to see a return on investment. This one will be lucky to earn $60 million at the domestic box office, which means overseas would need to pull in $290 million. The original didn't hit that, so it is unlikely the sequel will. It has earned $80.2 million overseas so far, not close to what it needs to succeed. The only glimmer of success that the Huntsman can take away is that it did better in the Cinemascore department than the original. The first film earned a B Cinemascore, whereas the prequel earned a B+. Huzzah.

Barbershop: The Next Cut is third, but MGM and Warner Bros. are going to be disappointed by the result. After opening to $20.2 million last weekend, Barbershop 3 couldn't hold despite fantastic reviews. It earned only $10.8 million and fell 47% compared to last weekend. The budget for this one came in at $20 million, which means it has a long way to go to get profitability, as it has a gross to date of $36 million and will struggle to do any business overseas.

Fourth is Zootopia, as again, Disney dominates the top five, and it appears they will until mid-May at the latest. The animated film is now its eighth weekend, and it earned another $6.6 million. It dropped a slim 19%, and thanks to its batch of tiny drops, has now entered the top 50 domestic grossers of all-time, with a domestic take of $316.4 million. Overseas, Zootopia is working its way toward $600 million, and now needs less than $100 million to get to the billion dollar mark worldwide.

Fifth is the Melissa McCarthy vehicle The Boss, as it worms its way down the top ten. This weekend The Boss earned another $6.1 million, off 30% compared to the previous frame. That brings its total up to $49.5 million against a $29 million budget.

Batman v Superman: Dawn of Justice is sixth, as even it sees a better hold than usual. The Zack Snyder lucrative disaster earned another $5.5 million and fell 39%. The domestic total has reached $319.5 million, and given that current number, Zootopia should end up finishing with more at the domestic box office than two of the most iconic superheroes of all time.

Last weekend's dud Criminal is seventh, as it earned $3.1 million and dropped 46%. It has earned only $10.9 million to date, a disaster considering the $31 million production budget. My Big Fat Greek Wedding 2 is eighth, earning $2.1 million. Its total has now reached $55.4 million against an $18 million budget.

Ninth is Compadres from Pantelion, a division of Lionsgate that focuses on Latin American films. Compadres got started with $1.4 million from only 368 screens. Made for $3 million, this one has already earned $4.2 million in Mexico, so it should finish as a success.

Our 10th place film is Eye in the Sky, which keeps hanging on thanks to some weakness in the bottom half of the top 10. It earned $1.2 million and declined just 22%. So far, the Helen Mirren/Alan Rickman thriller has earned $15 million domestically.

Eleventh is Hologram for a King with Tom Hanks. The Roadside Attractions release debuted on only 401 screens, and managed to earn $1.2 million. This is a decent start for this small film, but its 62% fresh rating may hold it back from finding a wide audience.

Overall, the box office was obviously not as strong as last weekend's haul of $167.9 million. It did manage $119.5 million from the top 12, still well ahead of last year's $85.9 million top 12, which was led by the fourth weekend of Furious 7. Next weekend, three films debut, looking to be counter-programming options against Marvel's Civil War. Openers include Keanu, the cat comedy with Key & Peele, Mother's Day, another of those Gary Marshall Hallmark Card movies, and Ratchet and Clank, a silly looking animated feature, strictly for kids.