Weekend Forecast for April 22-24, 2016
By Reagen Sulewski
April 22, 2016
BoxOfficeProphets.com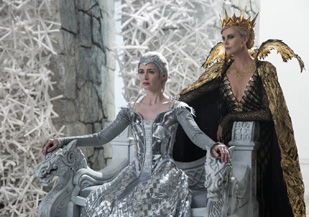 ---
Last weekend's astounding box office will be met by... a giant-sized meh, as we get a sequel for a film that might be one of the least memorable blockbusters in the last decade, and that's basically it.

The Huntsman: Winter's War is the sequel to 2012's Snow White and the Huntsman, the FX demo reel that happened to also star Kristen Stewart, Charlize Theron and Chris Hemsworth, at the height of his Thor fame. Debuting the start of the "let's make fairytales, and everything else, gritty and dark" phase, it opened to a surprising $56 million and made over $400 million worldwide. It's now famous mostly for being the movie where director Rupert Sanders cheated on his wife with Stewart and that weird milk bath scene.

This, along with tons of demand from overseas markets, is apparently enough to greenlight a second film, with Winter's War taking the prequel route. This brings back Hemsworth and Theron, and adds on Jessica Chastain and Emily Blunt, with the latter playing the good queen to Theron's evil incarnate, and and some battle for some fantasy land that we've never really heard of or care about takes place. The whole thing feels like warmed-over Hobbit, and that series did its level-best to smack the fantasy genre around a bit and take some air out of it.

This looks to be a rather soulless but pretty demonstration of the power of foreign markets, and a slightly more marketable version of a film that might have been made by Alex Proyas or Tarsem Singh. Released two weeks ago in most major foreign markets, it has earned about $40 million to date, which isn't that impressive, but it has some time to work. In North America, I expect this to be greeted with a spectacular yawn, or perhaps even an angry one. Why must this exist? I guess at least it's a female-heavy cast in an action film, so that's something. I'd look for about $22 million.

This leaves things wide open to The Jungle Book, which blew past the already huge expectations to earn over $100 million last weekend, the now slightly mind-boggling 38th movie to do so. The combination of Disney magic, the apparently unstoppable directing force that is Jon Favreau and a rare young-ages-appropriate action adventure film in the market made for an early season hit that rather firmly establishes the "any time, all year" blockbuster market that Hollywood has been pushing. Barring something strange happening, this will be the fourth movie to earn $300 million domestic released before May this year, and we can add on the $100 million-plus of the January-released Kung Fu Panda 3.

The question of legs is always a tough one with huge films, as they have built-in challenges beyond the usual. It's simply hard to pull out a huge number of people when you've already pulled in an even hugerer (a real word because I say it is) number the week prior. Recently, though, Zootopia has proven that a huge opening weekend (albeit smaller than this one) is no barrier to holding on to that audience, if there's a solid audience reaction to the film. I don't think Jungle Book is quite as heavy on the "no really, it's excellent" factor, but it's clear that it's no crap, and should be able to grab about $68 million this weekend.

Barbershop: The New Cut was a solid addition to the franchise in terms of box office, almost matching the original's $20 million – albeit 12 years later. To be fair, those middle tier opening weekends have not changed much in that time, and it's really only on the very upper end that we've seen that opening weekend stretch happen. These slice-of-life films are essentially endlessly adaptable, as they simply seize on the issues of the day and play off the actors' natural chemistry. In some ways, it's strange that it's taken this long for a new film in the series, other than the fact that Ice Cube has had different things to do, and his attempt to pass it off didn't work all that well. I'd look for significant drop-off here, to around $11 million.

Zootopia should leapfrog the rapidly cratering The Boss and Batman v Superman to move back to fourth place with around $5 million this weekend. It may actually end up moving back above the DC flick, which is only about $3 million ahead in the 2016 standings. That film has been rapidly shedding dollars, with its absolute *best* weekend only costing it just over half its previous weekend. Give it, and the largely abhorrent Melissa McCarthy movie, just under $5 million apiece.